A new career, more money, and a greater sense of life purpose — Imagine this! Sounds like a dream, right?
You are talented and skilled and you are convinced freelancing is for you. You've even organized your home office, contemplated your fees, and ordered some luring business cards.
But what about finding clients?
It turns out that the most difficult aspect of working for yourself is finding freelancing clients. You're your own salesman.
The good news here is that there are many doable and practical strategies to promote yourself and attract business.
Although selling yourself is a challenge. But if you're looking in the right direction, anything is possible! So let's jump right into it!
How To Get Your First Few Leads?
Before you can close your first client, you must find your first few leads. How can you do that? Here are some of our tips.
1. Friends and Family
Spread the word! Inform your loved ones that you are starting a freelancing career. Ask them if they require any writing, designing, web development, or other services that fall under your area of expertise. And ask them to spread the word about your availability to their contacts as well.
2. Former Co-workers and Bosses
Inform old coworkers about your freelance work and request their help in spreading the word as well. Don't forget to get in touch with your former boss, particularly if you had a nice working relationship. Inquire if they are aware of any prospects or if they have any tips for locating customers in your industry. Once the word spreads, you can immediately start getting enquiries. After all, they already know how awesome you are.
3. Social Media
Social networking is frequently one of the first places clients use to find freelancers. It's just disposable. They can access it from anywhere, check out your work, gauge your sense of personality and reach out to you. Making the most of your use of social media is undoubtedly critical. Moreover, you can learn a digital marketing course to excel in this field.
4. Coworking Space
Freelancers and entrepreneurs frequently flock to coworking spaces to find those first few leads. Not just that they can also enjoy the benefit of a professional office being an independent soul and benefit from those early freelancing related conversations involving mistakes to avoid. In addition to sharing printers and saving money on rent, you already have a networking setup. You can take help from experienced freelancers for referrals.
Check out the best place to work as a freelancer.
5. Networking
When you're just starting out, it can be hard to get clients. That's why networking is so important! You need to meet people in your industry and let them know that you're available for work if they ever need something done.
Attend events where other freelancers are present; this will help you get introduced to potential clients also. Who knows what doors open up just my meeting a few new people? We highly recommend!
Get advice from those who have been there before—they'll know what works best when it comes time for closing a deal with a client. Don't shy away from talking to people. Nothing to loose here. Keep your questions handy.
Check out how to increase quality leads as a freelancer.
How To Close Your First Few Clients?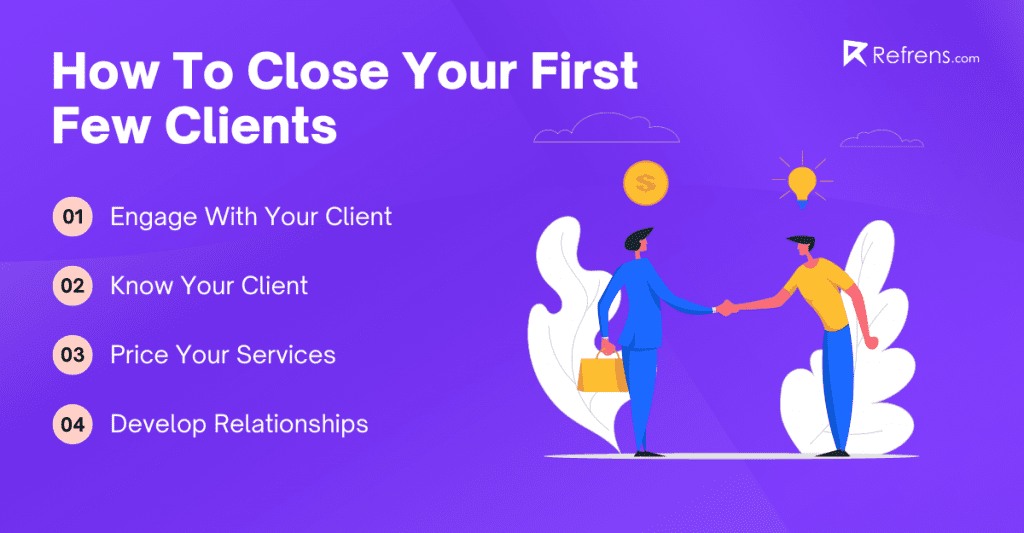 Now that you know how to get your first few leads, let's look at how to close those initial leads and land you your first client.
1. Engage With Your Client
Try to interact with your client as soon as you receive the lead. At the least, drop a message. The ideal approach to achieving this is to let the client know about your work profile, explore the scope, and what they could expect from you. Also let them know that you're committed to execute their work and complete it within the timeframe discussed.
2. Know Your Client
The second step to closing your first client is knowing your client. You need to know what they want, what they need, and what they don't want. Having a clear brief from them will help you draw the plan more mindfully.
If there's anything else in particular that they need, make sure to take a note it. Also emphasis on this point while having those discussions.
The first few clients are always a little challenging; you may need to put in more time; but, don't be discouraged. This first one will serve as a foundation for your future work.
3. Price Your Services
When the time comes to charge for your product, make sure to present a fair price. Don't try to optimise for cost initially, try to optimise for experience. And don't over-quote. Look at what other freelancers are charging in the market. Create pricing strategies in advance to avoid confusion later. To be safe, inform your clients that you may discuss the price after the work done. But don't forget to give them a range.
4. Develop Relationships
To close your freelancing clients, you don't have to be an expert in marketing or shell out a fortune on advertisements and promotional products. Reaching out to as many people as you can and then developing relationships with those who might be interested in working with you are the best ways to increase your chance.
After having closed the deal, try to seal the freelance contract because doing so will help you at multiple levels. Setting the expectations right is always beneficial to both the parties.
How To Sustain Your Growth As A Freelancer?
Congratulation on closing that first client or your first few clients, but this is just the beginning, friend. You need to sustain the growth. Make sure that the quality and your pricing justifies your effort with time. Here are some tips on how to sustain your growth.
1. Create A Website For Your Freelance Portfolio
Physical portfolios were once used to present one's skills to potential employers or clients. That is obsolete now. When working as an online freelancer, you normally seek to give your clients examples of your work digitally. The most effective approach to do this is to build a stunning portfolio website where you can display all of your best work.
2. Update Your Freelance Portfolio Website Frequently
Maintaining an updated website is the best way to position oneself as an authority in your subject. Your portfolio expands as you produce more work. By including more complex work examples in your portfolio, you can establish yourself as an authority and demand higher payment from clients.
The best method to establish yourself as an "expert" is to consistently add new stuff to your website portfolio. Set aside a day every month or so to update your website with examples of your targeted work so you may advance toward being an authority in your field.
3. Request Referrals
Referrals are your main source of clients as a freelancer. Never be afraid to ask your present and past clients for recommendations. Just how do you go about doing that?
Asking for recommendations is a low-risk, high-reward strategy. That implies that you ought to act after the contract is fulfilled.
4. Request More Work
Enquire whether previous clients have any new projects for you. Do yourself a favour and actively look for work from people who have previously provided it to you. Utilise your good closure with your client to your advantage.
If you ask a client for additional work and they decline, you may always ask them again later.
Conclusion
We think the most important thing to remember is that closing a client is a process. Don't forget to celebrate these small wins.
If you know how to do each step, it will be easier for you and you can focus more of your time on honing your skill.
It's also important to remember that being successful doesn't mean being perfect; we all make mistakes along our journey towards success!
So keep practicing until you get better at closing sales and ultimately finding clients who are willing to pay you your desired price.