Are you tired of applying for projects, and freelance positions & face a wall of recurrent rejections?
Here's what you might be doing wrong!
Lack of Attachments!
Yes! You read that right. Every freelance posting has mentions of certain attachments. These can be resumes, cover letters, and portfolios. These explain to the employers why and how you can be a desired fit for the job. These attachments also let them comprehend how you can be an asset. How your skills and past work experience can add value to their organization!
But, it's all easier said than done!
Now, think of yourself as a hiring manager. You put up a posting and in a flash of the next 10 minutes, you will get around 50 resumes in your inbox!
"In a Glassdoor study, it was found that after a job posting, corporates often get around 250 resumes! And, out of these, only 4 to 6 candidates are called for an interview and subsequent process of hiring. And, only one will get a job!"
Phisshhhh! How will you make sure you will be that "One"? That's where attachments like portfolios come into play!
I am attaching my Portfolio, still, I am not getting projects!
If this sounds like you, it's time you identify the problem. And, oftentimes the problems lie in a portfolio! Don't worry, we'll discuss it all here. From developer portfolio ideas to front-end developer portfolio templates! But, before that let's comprehend why you need a specific portfolio.
Why Do You Need a Specific Portfolio as a Front-End Developer?
The Front-end developer profession is in high demand. That too is in recent times when the world is going digital. As per the dribble study, it is hypothesized that the front-end developer profile will see around a 23% increase between 2021 to 2031 years!
And, this increasing competition demands something extraordinary that can make you stand out among hundreds and hundreds of applications. Something that can help employers select you and choose you over a million, other applicants! Your specific Portfolio then becomes your "extraordinary"!
And, just because your profile, experience, and projects delivered are different from other applicants applying for the same freelance project, it is paramount you illustrate this difference in your portfolio. This can help you stand out and leave an impact on employers'!
We know you are still perplexed! We've got you covered!
What All To Include In The Front-end Developer Portfolio?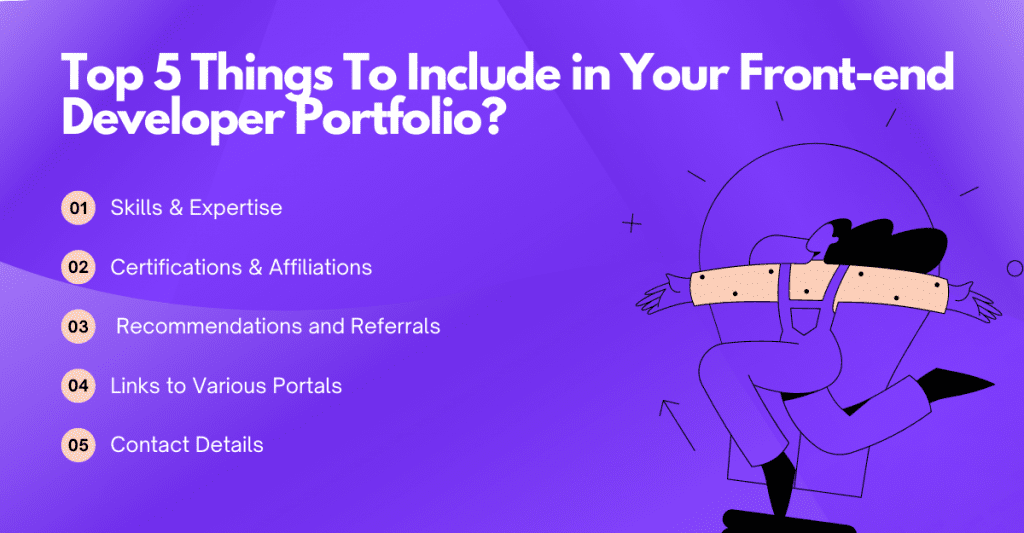 If you are a front-end developer, How to design a front-end developer portfolio remains a continuous concern! In addition, making a portfolio that helps you get massive freelance projects is not easy. There lies a lot of confusion about what to add. What to highlight in your portfolio? What can help you leave an impression?
All this aggravates the uncertainty while designing a portfolio! But, here are a few things you must add to your freelancer developer portfolio to get your next project-
1. Skills & Expertise
Though this goes in the obvious category, some front-end developers still miss this because they shift their focus to adding "projects delivered" sections.
But, the skills section in the portfolio is one of the most important. And, because there are a lot of computer languages, and expertise possible in front-end development, adding a specific skill section can ensure you get the project you will be able to deliver precisely. This also helps employers feel more confident about your profile.
In this section, clearly show your comfort level with different front-end languages, any software products, and freelance web development tool you feel most confident in!
Read more: Why Is Continuous Upskilling Important For A Freelancer
2. Certifications & Affiliations
Being a freelancer, you must have realized by now how important certification and affiliations of your skills can help you get accelerated growth in your freelance career. And this is what employers also want to know about you!
How did you select this particular freelance career field? Do you have any certifications or recognitions? What are your past working connections? All this helps employers get a better understanding of your profile and skill set. This also helps them understand the scope of your potential while being associated with them as a freelancer!
Your Projects!
Ultimately, the aim of discussing the developer portfolio ideas is to showcase the projects you delivered. If you are in the "How to design a front-end developer portfolio?" stage, you cannot and should not miss adding links to your projects on your portfolio!
But, when you add links, make sure they work properly.
Adding the Projects section can help you illustrate your experience and your exposure as a front-end development freelancer. This can also ensure clients you have a sound experience in this field and can help them even in the extension of their projects. This can open several doors for you. This can also be your door to the first international client!
3. Recommendations and Referrals
Recommendations and past client contact details are the best way to demonstrate your credibility and reliability as a front-end developer. This can help your new clients know how professional and responsible you were with your previous clients. And, if your previous clients' contacts are also mentioned, this can pronounce your relations on professional grounds as a freelancer!
And, after all, who doesn't like to check recommendations before hiring a freelancer?
4. Links to Various Portals
Online presence is a great tool for employers to calculate how good a fit you can be for their organization! This can show them how professional you are, and how credible your professional personality is. And how recognizable your skills are!
This can include your profile on a network like Refrens, Linkedin, online design sites, and so forth! All these profiles also show your business network, and your awareness of recent trends, technologies, and professional networks!
5. Contact Details
It is oftentimes noticed that in the effect of adding projects, recommendations, and certifications, Front end developers miss the contact details. This can push all your efforts into making your own front-end developer portfolio template in vain!
Check out the detailed guide on how to become freelance web developer.
The absence of contact details mitigates (even finishes) the chances of recruiters contacting you, discussing further possibilities of project allocation, and so forth even when they found your profile suitable. Also, this illustrates how poor your concern for details is and immediately reduces your credibility as a freelancer. Therefore, always and always mention your contact details on your portfolio!
This makes us to the end of our list of must-to-add sections in a portfolio. But, to make your portfolio impressive and stand out, you can add some personalized sections. Let's now discuss some of the front-end developer portfolio examples to comprehend how popular freelancers are making their impact in this field.
5 Examples of a Front-end Developer Portfolio
Though no front-end developer portfolio template would work for everyone, there are impressive portfolio examples, and many popular front-end developer freelancers you can get inspiration from! Here are our handpicked 5 front end developer portfolio examples for you to take ideas from-
1. Matthew Williams – A Dynamic Freelancer From Poland
A front-end developer from Portland, Matthew is an experienced developer and had sound exposure in his field. His portfolio clearly explains his comfort level with a range of front-end languages. This would help employees know how great a fit they can be for different projects. Further, he also presented his projects lucratively that clearly show his vision and understanding of the field.
With a form submission in the end and social media links, his portfolio can surely leave a mark on employers looking for a front-end developer as a freelancer. If you are a front-end developer, you can surely take away some pointers!
2. Matt Farley – A Digital Product Junky
Next on our list of great front-end developer portfolios is Matt Farley!
His portfolio clearly explained his expert language, and also demonstrated the tools he is pro at. This can surely help employers choose him over other freelancers. As this makes them better informed on tools, technologies, and expertise he can bring to the table!
3. Ian Lunn – A Front-End Developer with 12 Years Of Commercial Experience
If you want your portfolio to look like a website, Ian Lunn's portfolio is where you should get inspiration from!
A clear interface, managed sections, and brief about projects are all neatly illustrated. Further, the testimonial section clearly demonstrated his skills, and reliability as a front-end freelancer.
4. Emily Ridge – Highly Experienced Web Designer and Developer From Galway
Emily's portfolio is a perfect example of everything there; is managed!
With every section arranged in managed and perfectly segregated content, her portfolio is ideal for people with wide exposure and delivering a range of services to a freelancer. You can surely take some pointers from her portfolio if you also have a wide range of experience as a front-end developer.
5. Pierre Nel – Someone With A Knack To Bring Business Ideas To Life
Looking for dramatic answers to "How to design a front-end developer portfolio?" Pierre Nel's portfolio shall be on your list!
With innovative design attributes and an interesting way to showcase past projects, clients, and work experience, this portfolio has everything that too with a touch of innovation!
Check out how to retain freelance clients in this guide.
Ready to Build Your Portfolio?
We know building a portfolio can be overwhelming. But, knowing what to add, and how to add to a portfolio can help mitigate the stress of getting growth as a freelance web developer. Further, by referring to some of the best examples of a portfolio of popular freelancers, you can get an idea of what can work best for you!
This can be your road to being a successful front-end freelancer!
Looking to become a UX designer and start your career off on the right foot? Our blog has got you covered with all the information you need to get started!
Front-end Developer FAQs
What is a front-end developer portfolio anyway?
A front-end developer portfolio is a collection of your work that showcases your skills and expertise in front-end web development services. It typically includes examples of your projects, websites, and web applications that you have designed and developed.
What should I include in my front-end developer portfolio?
Your front-end developer portfolio should include examples of your work that demonstrate your proficiency in HTML, CSS, and JavaScript. You should also showcase your design skills by including examples of your UI/UX designs and any other design work you have done.
How many projects should I include in my portfolio?
It is recommended to include between 5 to 10 projects in your portfolio. However, the number of projects you include will depend on the quality of your work and the variety of skills and technologies you want to showcase.
What kind of projects should I include in my front-end developer portfolio?
Your portfolio should include a variety of projects that demonstrate your skills in different areas of front-end web development, such as responsive design, accessibility, and user experience. You should also include projects that showcase your ability to work with different tools and technologies, such as frameworks like React or Angular.
How should I organize my freelancer developer portfolio?
Your portfolio should be well-organized and easy to navigate. You should consider organizing your projects by skill or technology and providing a brief description of each project along with screenshots or a link to a live demo.
Should I include code samples in my freelancer developer portfolio?
Yes, including code samples is a great way to showcase your coding skills and give potential employers or clients an idea of how you approach coding challenges. You can include code snippets or links to your GitHub repository.
How often should I update my freelancer developer portfolio?
It is recommended to update your portfolio regularly, at least every six months, to reflect any new skills or projects you have worked on. It's also a good idea to review your portfolio periodically and remove any outdated or irrelevant projects.
Also see: Designing Your Narrative: Portfolio Inspiration from Top Professionals