The importance of client feedback cannot be underestimated. It aids freelancers in their personal development, identifying any areas where they may improve, and assisting them in the development of their skills.
Moreover, feedback plays an essential role when it comes to developing proposal templates and scope of work templates for new employment. You can turn to your previous clients for assistance.
You may demonstrate to potential prospects how beneficial your services are by asking for feedback from your existing or previous clients.
Great client feedback is worth a lot on the internet these days, so don't underestimate the value of getting feedback after, and even during, each job.
It's not always easy to acquire the client feedback you need as a freelancer or independent consultant to stay competitive. However, it is an important aspect of owning a business.
Freelancers consistently identify word of mouth and client recommendations as their most essential sources of new business. It's difficult to determine if clients are genuinely delighted and, as a result, are inclined to use your services again or send new business to you without honest appraisals of your work.
Let's look at some of the numerous methods a freelancer might collect client feedback in this article.
Ways To Get Client Feedback For Freelancers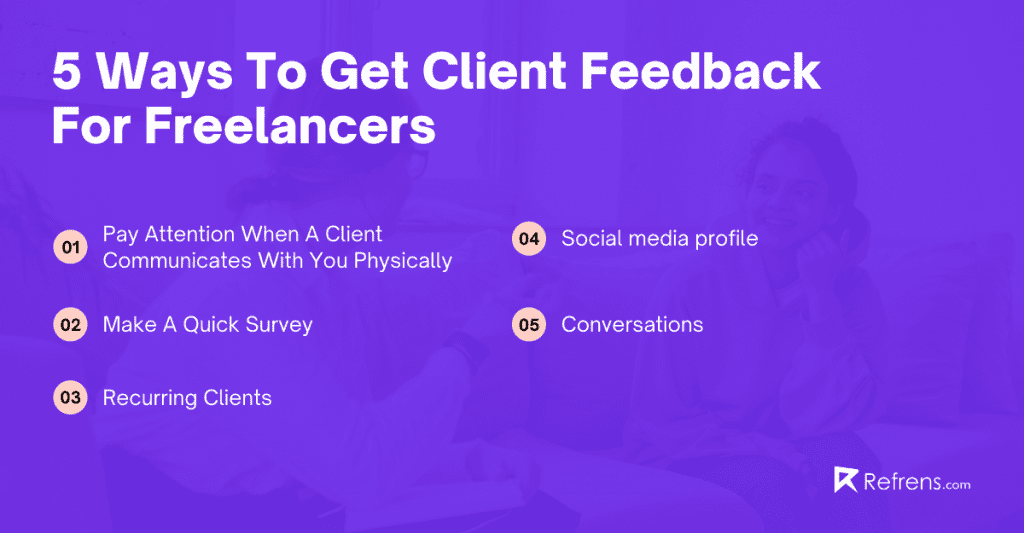 1. Pay Attention When A Client Communicates With You Physically
A client's feedback does not always have to be a written essay.
Sometimes a client likes you a lot but isn't interested in writing wonderful evaluations. Instead, you'll get the odd compliment from the client in between the work.
You'll be surprised at how much great feedback you missed out on by listening to the client and asking for permission to cite a verbal testimony.
Listen actively to what the clients are expressing, and if something they say makes you feel warm on the inside, ask if you can use that client feedback as a testimonial.
Learn the 7 most effective client communication skills in this post.
2. Make A Quick Survey
A survey is a terrific way to get general client feedback, and clients can sometimes surprise you with heartfelt feedback.
A survey should be as easy as possible. Short questions with a 1-10 evaluation system, such as how satisfied they are with your job, what you could have done better, etc.
Include no difficult, interpersonal, or lengthy inquiries, as this could be counterproductive to the cause.
Stick to simple queries like:
How pleased are you with my work on a scale of 1 to 10?
Were there any issues that I was able to assist your company with?
How did working with me go for you?
Is there anything I could do better?
A client is more likely to finish a 30-second survey than a 10-minute one. As a result, the common rule is to make it brief and sweet.
Some clients also want anonymity, so keeping that option in mind is a good idea.
It should be as simple to create a survey as it is to complete one. The majority of freelancers use Google Forms to create their surveys. It's a free and straightforward way to build simple surveys.
You can also use a Google Forms alternative like Zonka Feedback to create a survey. 
Moreover, you can entice clients to participate in your survey by offering them a 10% discount on their next project in exchange for completing it, or you can rely on their desire to share their thoughts because they care about your company or want their voices to be heard.
A survey with open-ended questions may yield more interesting information than a survey based on data points since it is easier to aggregate responses.
Moreover, use a suitable email tool like Moosend to send survey campaigns to your clients. It has different capabilities such as automated sequences, granular analytics, and nice design features which will eventually, help you with the surveys.
Additionally, check out the 7 important client questions to ask before starting work.
3. Recurring Clients
If a client comes back to you for work on a regular basis, it suggests they enjoy what you do and want to hire you as a freelancer for their project again.
That also implies that he would recommend you to others for your specific skill set. As a result, it's also a form of unstructured client feedback on your work.
Moreover, your project data gives you invaluable insight into how your clients react to your services. Either they like them enough to buy them, or they are unable to do so for some reason.
Check out how to get quality leads as a freelancer.
4. Social Media Profile
The quantitative and qualitative informal feedback you can collect it from your social media profile. You may make quantitative assessments by assessing the level of engagement with various postings, and qualitative information can be absorbed by reading comments. It's worth investing the time and effort to establish your company's internet presence because it's inexpensive and can serve as both a marketing platform and a market research tool.
Learn more on how social media can help you boost your freelance business.
5. Conversations
Simply talking to your clients can provide you with useful insight into what works and what doesn't. A conversation does not have to be framed as a means of gathering information. Instead, initiate a conversation and listen to what people have to say.
Client Feedback Is The Basis Of Development
If you want more clients to value your work, show that you already have the support of significant clients, fellow freelancers, and industry thought leaders. The more positive comments you receive about yourself and your work, the better your internet reputation will become.
Not only that, but you'll actually grow because you'll obtain objective feedback on your work and learn how to improve your skill set's weaknesses. Surrounding oneself with a network of skilled freelancers will help you grow as a freelancer over time. Client feedback is an important component of the process.
Learn how to get high-paying clients in this article.
Conclusion
It's critical to collect feedback as a freelancer if you want to keep improving, keeping your clients satisfied, and staying competitive. Formal client feedback can be costly and unnatural, whereas informal client feedback strategies can be low-cost and yield substantial outcomes.
To make the feedback process a more predictable element of your work process, follow the mentioned steps. Begin by sketching up what you want your client's arrangements to look like, and then move on from there. You'll soon have a simplified and dependable system in place to assist you to get the input you need on a regular basis.