Working quickly and efficiently in every area of a company's operation is critical if it wants to scale quickly. You want to do tasks as rapidly as possible. When relying solely on internal resources, achieving that speed becomes tough. Using freelance is also a must because of their fast hiring cycles and quick onboarding durations.
The employment process for potential freelancers, on the other hand, cannot be the same as for full-time staff. The majority of freelancers work on short-term, remote assignments, have no formal training, and are expected to make decisions on their own.
Moreover understanding the differences in the talents that you should look for in a potential freelancer can be the key to choosing the freelancer best suited to your needs.
Examine the most in-demand abilities for 2022 to land a job with big multinational corporations.
Finding The Right & Potential Freelancer
It's time to find the right and potential freelancer after you've listed your task on a freelance site.
There are three methods for contacting potential freelancers.
Consider The Freelancers Recommended By Platforms Like Refrens
This is frequently the most cost-effective alternative. You instantly generate a list of freelancers that appear to be a good fit for you using their advanced matching technologies. They will immediately display these candidates when you have created your job posting. Examine the freelancers and invite the ones you believe have the most potential to submit a job proposal.
Look For Freelancers
Refrens makes it simple to identify freelancers that have the skillset you're searching for on the site. Refine your search with Refrens' search tool by talents, location, price, and other factors.
Examine Proposals From Potential Freelancers
If your job posting is open to the public, freelancers may see it and submit proposals. Examine their bids as well as any other essential factors to see if they're a good fit for your project.
Check this out if you're a freelancer trying to write the best proposal!
As a result, these are the three measures that will assist you in locating the best freelancer. The next step is to assess freelancer profiles and proposals.
Reviewing Proposals And Evaluating Potential Freelancer Profiles
Look For One-of-a-kind Value And Advantages
Look for freelancers who have worked in the position you're seeking for. Look for persons who have thought about how they will use their expertise in your project and have created a meaningful strategy.
Consider Job Badges When Calculating Their Success
Look for a candidate's Success when reviewing their freelancing profile. This would summarise the potential freelancer's work history and reputation.
View The Ratings And Comments Left By Others
Clients rate and comment on the quality and value of the work they receive when assignments are completed.
They also grade each potential freelancer's work on a scale of one to five stars, based on factors including quality, cost, responsiveness, and professionalism.
You might wish to take a look at these ratings and written comments to see if the freelancer is consistently recommended.
Also, pay attention to how the potential freelancer responds to feedback since this might give you an idea of the level of professionalism you'll face on the task.
Portfolios Can Be Found
There's no better way to gain a sense of someone's talent than to look at their previous work.
Simply click on the person's website portfolio or a normal one to view related projects if appropriate.
Tip: When most clients receive a proposal, the first thing they do is look over it to see if the potential freelancer has a decent approach. You might wish to look for the following:
• Display unique qualifications
• A relevant sample or two
• A follow-up and interview
4 Potential Freelancer Skills To Look at Before Hiring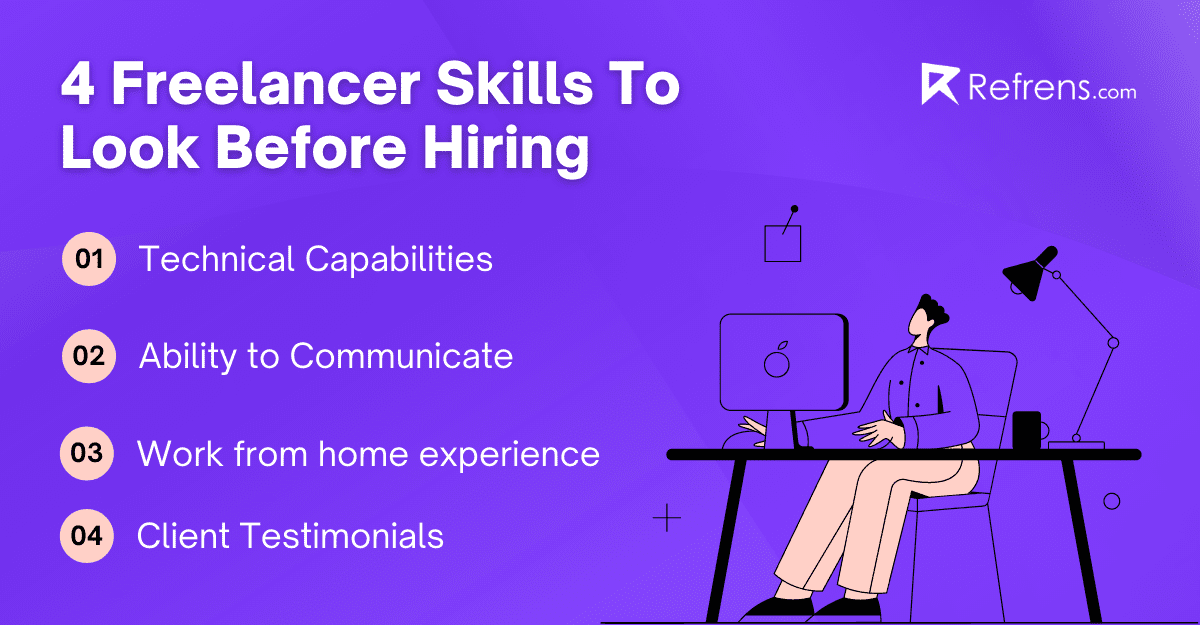 Take a look at these four crucial abilities to look for when hiring a freelancer.
Technical Capabilities
Freelance developers must get up and running quickly because, unlike full-time workers, they will not be given any training or onboarding.
As a result, every potential freelancer you evaluate should have the essential technical capabilities for the project, and rating these potential freelancers solely on their coding aptitude or learning ability is an ineffective method of recruiting them.
Ability to Communicate
Given that they are generally located remotely, potential freelancers must have the abilities required to make the engagement a success. They must be able to interact well both vocally and via chat/email in order to establish a level of trust between you and them.
As a result, someone with exceptional technical abilities but poor communication skills might not be a good fit.
Work-from-Home Experience
Working remotely comes with its own set of problems, as potential freelancers must stay focused, be proactive, maintain adequate documentation, and efficiently manage their time on their own. And only the most well-organized developers are capable of accomplishing everything.
As a result, brownie points should be given to someone who has previously worked on and managed remote projects.
Client Testimonials
Having a real-world example of how well the freelancer can do will help you feel more confident in your decision made during the interview.
As a result, you should always inquire about a potential freelancer's technical and soft abilities, as well as their ability to manage work remotely, with one of their prior clients. References like this can be seen on a freelancer's resume or in their portfolio.
Factors On Which You Should Not Base Your Decision
While you should keep the talents listed above in mind, you should not let the skills listed below influence your selection in any way:
Aptitude Assessments
The results of coding aptitude tests are a better indicator of a developer's interview readiness than their actual intelligence. And, clearly, freelancers should be judged on their work and portfolio rather than their interview preparation.
As a result, avoid creating a false negative for yourself by taking unnecessary aptitude exams.
Academic Qualifications
A freelancer's college name, or, in other words, their carried-forward history, will not help them do the work they have been hired for, as simple as a college's name makes the hiring decision.
As a result, consider potential freelancers' skill sets rather than their names when making a hiring decision.
If you've decided to join the freelance bandwagon, do so properly and use the guidelines outlined above to make the best hiring decision possible. And then savor the benefits of successful freelancing engagements.
Also learn, when to hire a full-time Employee Vs freelancer.
Working for a corporation, on the other hand, does not cease with the hiring process. Furthermore, a freelancer should ask precise questions to ensure that the work is completed efficiently. The implementation of the engagement must be carefully considered. However, the road always starts with finding the ideal freelance developer to work with who can help you take your business to new heights.
The Top 5 Qualities Clients Look For In A Potential Freelancer
Professionalism
As freelancers, we are frequently required to project a laid-back attitude to potential clients. Being excessively formal particularly online can come across as arrogant or rigid. But don't get the wrong idea: being "open" and nice isn't the same as being unprofessional.
Clients don't want to see photos of you getting drunk at your brother's recent BBQ. They also don't care about the color or consistency of your baby's most recent bowel movement. Keep your private life private.
You've turned into a business. A professional who provides a service or a product. Even when you say everything correctly, initial impressions can be difficult. This is why testimonials – or "social proof" – are so crucial. You can say you're a professional and act like one, but nothing beats having someone else say you're a professional to really establish it.
Affordability
If you consistently provide value that meets your pricing, you will become "affordable" to those ready to pay your rates. You should never though accept less money than you deserve.
That said, stealing from your clients, whether knowingly or unintentionally, is never a good idea. Integrity is an important part of professionalism, and your clients rely on you to determine your prices accurately.
Are you unsure about how much to charge your customers? This freelance pricing guide will help you figure out how to charge your first-time clients.
Ease
When you buy a dishwasher, you're hoping to make a time-consuming after-dinner duty easier, faster, and more efficient.
Moreover, when a customer hires you as a potential freelancer, they expect identical outcomes: they want their life to be made simpler. They want you to complete the task you were engaged to complete – to take it off their hands and thoughts.
Just enough questions to get the work done well, but not too many. Freelancers who are self-sufficient are in high demand. When feasible, make suggestions and take the lead. Provide the best customer service you can.
Reliability
There are two categories of freelancers: trustworthy and untrustworthy. The latter receive less work.
Many clients prefer to work with their potential freelancers on a long-term basis. It's far easier to recruit one solid, reliable freelancer and keep with them than it is to go through the hiring process every few months, which is related to trait ease. You'll need a thicker wallet to store your earnings if you can demonstrate to a client that you'll make their lives easier by being not only capable but also dependable.
Moreover, how does one demonstrate their trustworthiness? Try to do the following, among other things:
Respect all agreed-upon deadlines.
Respond to e-mails as soon as possible.
Accept criticism with grace
Never make up fake reasons; always be honest and open.
Consider how you conduct yourself and how it will affect your client.
If something comes up that prevents you from completing work, notify your client right away.
Accept responsibility for your errors and never dodge conflict.
Pay attention to the client's directions.
Don't go missing for days at a time; speak frequently and openly.
When you accept a project and promise to "be there" for your client, follow through. Never, ever, ever make a client chase you down after you've been employed.
Results
It's the only thing that matters in the end.
You won't receive as much work if you don't have the other four components; however, if you can consistently offer outstanding outcomes on every job you take on, you'll still be ahead of the game.
When a client has just helped them earn $100,000, they are significantly more forgiving of excessively nice freelancers who ask "a few too many" inquiries.
Simply put, excel at what you do. Or, even better, be the best in your field. And you'll be able to demonstrate it every time you go to work.
Client comments and referrals would be extremely beneficial in this area as well.
You can bet that if one of your previous clients goes up in front of your future clients and testifies that you gave them a 200 percent return on their initial investment, you'll have a line of people waiting to try your services.
Just make sure that the clientele you select to entrust your services also meets your requirements.
Conclusion: Evaluating Potential Freelancer
When you're just getting started in today's competitive market, speed and efficiency are essential. However, if you're a newcomer looking to scale quickly, relying solely on internal resources can make it tough to reach your objectives at the desired pace. That's when you'll need to hire freelancers to help you expand your firm.
As a result, if you believe you require assistance in any other area, At Refrens we will assist you in finding a freelancer who is a good fit for your firm.
On the Refrens platform, there are a variety of freelancer profiles that you can check through and eventually employ the one that best fits your job requirements.
Or, if you're a freelancer looking for employment in this market, sign up with Refrens right now and start your career.