One of the most common reasons for an unsuccessful project is the lack of a clear and inadequate brief. Well-written creative brief works as a benchmark to evaluate the work. A creative good brief should result in two things, nailing the client's expectations, and helping in creating the work that you are proud of.
A good brief is a blueprint for the project that helps form the overall strategy and achieve the mentioned goals of the project. While initially, you will find that creating a good brief is a time-consuming process, once you have outlined the details that align with your expectations and business needs, it will prove to be worthwhile.
We are often left with confusion about what to include in the creative brief. In this article, we take you through the elements that you must include in your good brief to make it look perfect.
Before we start with how to make a good brief, know the don'ts of it. Do not make the brief too long. Do not take the name brief too seriously and make it too short. While the size may differ for each client or project, know to only include the right amount of information.
What Does A Creative & Good Brief Mean And Why Does It Matter?
For freelancers, having a clear brief can make all the difference. Writing a solid enough brief will ultimately save you a lot of time and money. Make sure you write a fresh, thorough brief for every project and have considered all the pertinent factors.
A creative and good brief is a brief explanation of your project's history, target audience, and marketing objectives. It will serve as a model for all project and campaign standards and expectations.
A creative and good brief serves as a guide to ensure that the brand and vision are expressed consistently both internally and externally, as it is a blueprint. A creative and good brief usually consists of the following elements:
A declaration about a company or project.
The most important goals/challenges
The intended audience
Principal rivals
Values and commercial positioning of the company
Delivery of the campaign
Your in-house team, as well as external agencies, will lack a comprehensive idea of who they're targeting and what your project hopes to achieve without a creative and good brief. As a result, it's no surprise that a creative and good brief is one of the most important components of any marketing or advertising campaign, including:
Campaigns on social media
Video commercials
Advertisements in newspapers and magazines
Advertisements on banners
Just a few examples.
Elements Of A Creative Brief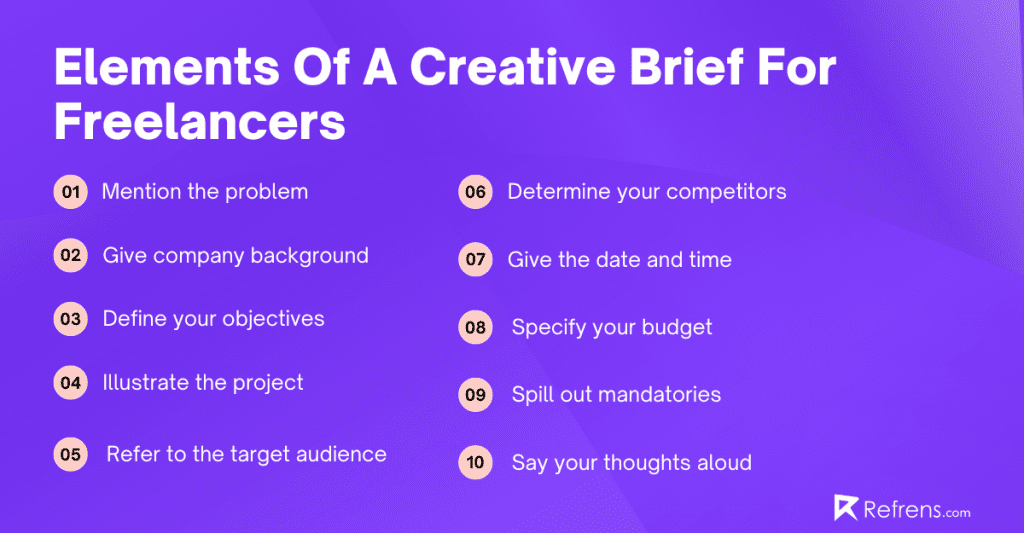 1. Mention the problem
Talk about the problem that you want to solve within the business. It can be that you are lacking in sales, facing difficulties with your sales channel, not getting repeated customers, having difficulty in expressing yourself, etc. Leave it to the company to offer you the optimum solution, your duty is to honestly let them know the issues you are facing. This will give the agency a headstart on what to focus on.
This article will teach you how to excel at sales as a freelancer.
2. Give company background
To help the creator get a better understanding of your company, provide them with the context or the background information of your firm. For them to solve your problem or work with you on a project, it is a prerequisite to know about your products/services. Let them know why you are doing this. Who are you and what are your goals? Outline the business background. This should be simple and clear.
Not sure how to match a freelancer's goals to your company's? Check read this article to learn about the 27 proven methods.
3. Define your objectives
What do you want to achieve from this particular project? If it is a campaign, what do you want to communicate through this? Focus on the outcomes of this project. Make sure that the goals of this activity are aligned with your overall strategy. Otherwise, during the process, the main mission might get lost. This is the key to telling them how will you measure your success.
4. Illustrate the project
Describe what this project is. Include all the basic project details. What changes will it bring to your company, and how much value does it hold for the firm? Write it in bullet points to not make it too informative. Write all the needs to be delivered through this project. If there is a regular channel that this project will be live on, or if you prefer multiple channels, specify this to them in advance.
If possible, give the timeline for each stage of the process. Make a schedule if you are tight on dates. Do not forget to mention the final submission date. Let them know who they should contact or report the work to.
Check out this post to learn more about an ideal day in the life of a freelancer.
5. Refer to the target audience
Let them know about your clients. Who are they directing this project towards? This will help them gain characteristics including demographic information of your clients and work on the project details accordingly.
The project can be tweaked and be more specified if you have the behavioral insights of the niche clients and know what they believe in. If there are any specific profiles that interact with your business regularly and you want them to know. The more data gained through research on customers, the better it is.
6. Include information on the tone, message, and style of the piece
The style and quality should be aligned with your brand and should also be determined by the project, the goal, and the action you want your customers to do. Integrate your strategic positioning and the important messages that need to be addressed in the messaging to assist inform it and ensure it corresponds with your aims.
If you're developing a landing page for a contest, for example, you'll likely want the messaging and design to be dynamic and exciting in order to encourage people to enter. Also, include any other elements or requirements that may influence the creative path.
7. Determine your competitors
Who are your main rivals? You might wish to provide a summary of the competitive landscape as well as any market trends or situations that are affecting your industry.
What are your competitors doing in this project as a point of comparison and differentiation? What types of logos and colors do your competitors employ, for example, if you're updating your logo? These details can considerably influence the designer's decision (they'll also conduct extra research). You can also submit a few design examples that you like or dislike.
8. Give the date and time
Include a deadline for your project in the brief if you have one. Make sure to establish the timeline and agree on a completion date during your kickoff meeting or initial interactions with your designer. It's also a good idea to address the broader creative process, including whether or not changes are feasible, how many rounds there are, and whether or not they're included in a fixed-price contract.
9. Specify your budget
Mentioning your proposed budget is a really crucial part. Ensure that the amount you state is in alignment with your overall brief. Read more on the importance of matching your brief and budget in this blog. When designing the project and seeking resources, your affordability needs to be considered by them. This way they scope out the whole project in a cost-efficient way. You might not have an exact figure in your mind, but provide them with a range or limit of your spending.
Not sure how to price your first-time customers? Check out this article and become a pro at pricing!
10. Spill out mandatories
You do not want to miss out on the minute critical elements. Mandatories include the things that must be there in your project and can not be avoided at any cost. It could be anything from the logo design, to the website link, to your tagline, preferred font, layout, etc. Give them directions of your preferences. Specify these in the beginning only. You do not want to create a fuss about it later and waste time or build multiple revisions.
11. Say your thoughts aloud
If you already have any ideas or a basic starter in mind. Do not hesitate to share it with them. Be confident in your own ability. They might find it good and build on this further or this might help them sparkle another idea.
In precise form a good brief should:
Be concise and to the point
Focus on the important areas
Encourages the firm to build on ideas
Results in effective and accurate content
Saves time and resources
Not too wordy
Includes all the crucial elements
Conclusion
You'll be able to create a creative and good brief that is not just complete but also effective if you think through and elaborate on these 11 essential components of your business and project. You'll help the designer generate amazing outcomes and ensure your project provides the results your organization requires if you have a sound creative and good brief in hand.
Writing a sufficiently good brief saves a lot of time and money in the long run. It also makes the whole process look polished and efficient. You do not want to include an overwhelming amount of information. Make sure you create a new good brief for each project and have thought through all the essential details. Clarity, trust, honesty, and reliability are some of the basic features needed to excel at making a good brief.
Along with good briefs, another piece of document which is important is Contracts. Read here on how to make a good contract.