Are you a freelancer and want to get projects frequently?
You need to do two things; sharpen your skill set and regularly update your freelance resume. It can do wonders for you, and you won't be out of work. However, if you don't work on your skill set and resume, you won't be able to draw the attention of potential clients.
What is more important to grab a new project, skill, or resume?
Usually, people believe that the skill set is more crucial than a resume. But, beg to differ. It doesn't matter whether you are an experienced professional or a newbie; if you don't have an attractive or project-grabbing resume or profile, clients won't text or call you to discuss their projects. Instead, they will prefer to hire a freelancer with a better resume. It is your resume that markets your expertise and experience. That's why you must work on your resume and sell your skills with your resume.
However, designing a freelancer's resume is tricky compared to full-time job-hunters. If you have trouble developing a resume, read this article until the end. Hopefully, it will guide you on how to create an eye-catching resume that clients won't ignore.
Let's start with the tips to create a project-winning resume!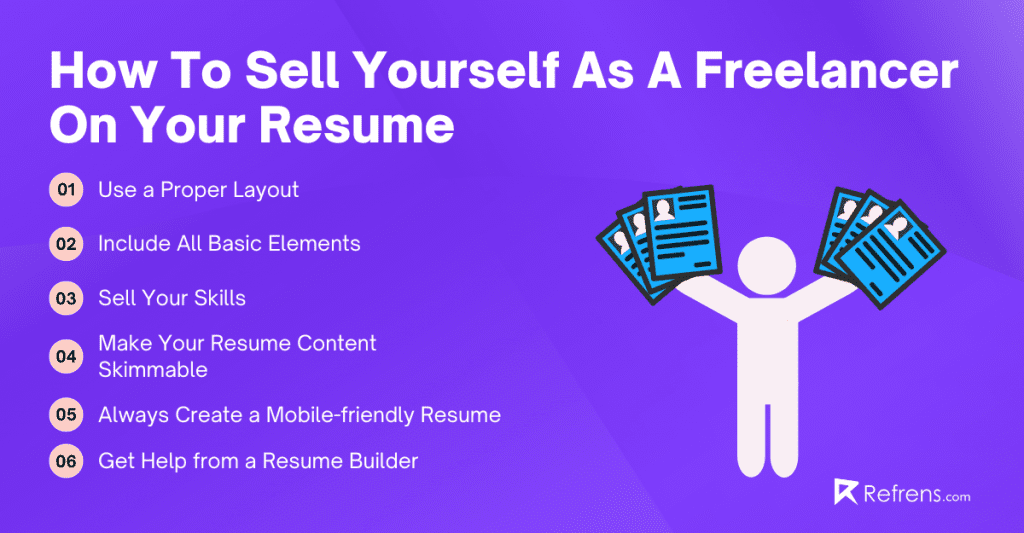 1. Use a Proper Layout
Whether you are looking for a freelance task or a job, the layout is the first thing you need to consider before developing your freelance resume. There are multiple kinds of structures that you can use for your resume. Every structure has strengths and weaknesses; you should learn everything about them. Then, it will help you decide which layout is the best for you.
Here is the basic information about every resume layout.
1.1 Reverse Chronological Resume
It is one of the most commonly used resume layouts that experienced job applicants prefer. In this kind of resume, they mention their field experience in reverse chronological order, starting from their recent job experience to the start of their career. In addition, they say every company where they work and every position they possess. This kind of resume helps people tell potential employers how they have grown with time and which specific experience they have.
Although it is the most preferred resume, it is not very beneficial for many freelancers. However, if you work in an industry where experience matters the most, you can try it to stand out from the competition.
1.2 Functional Resume
It is another commonly used resume layout that helps people get their desired jobs. In a functional resume, the job finders cite the professional skills they have acquired while working in a specific industry instead of the years of experience they have in their bag. Furthermore, they specifically design a portion highlighting their skills. These resumes benefit freelancers and people who have provided their services in multiple industries.
To sell your skills in a freelancing world, you should develop a "Skills" section. Under that section, you should mention how those skills helped you efficiently complete the projects you have done in the past. That's how you can sell your strongest skills.
If you are developing this resume, you should visit a resume builder, search for the functional resumes, and you will get an idea about how to build your resume. Those tools will also allow you to edit the templates, making your work easier.
1.3 Combination Resume
This kind of resume is also beneficial for freelance project hunters. This resume is designed in a way to attract employers. A combination resume not only focuses on one thing but the factors that matter the most; work experience and skills. Using this kind of resume, you can realize to an employer that you can be an asset to the company.
To perfectly design a combination resume, you must emphasize your work experience, the noticeable projects you have completed, and the skills you acquire and utilize to finish the tasks perfectly. This kind of resume is beneficial for both full-time job seekers and freelancers.
Check out how to start freelancing while working full-time.
2. Include All Basic Elements
Here comes the second most significant thing you must learn while creating a resume for seeking freelance work. There are some key elements that every resume should have. However, many people neglect them, and they regret it later. That's why every job seeker needs to learn the essential elements of a resume. If you also don't know about them, here they are!
2.1 Personal Information
It is the primary thing that you cannot miss while designing your resume. It helps recruiters know how they can contact you. Adding your information can also help you directly get the projects, saving a lot of the money you have to pay third-party platforms like Fiverr and Upwork.
2.2 Education
Mentioning your education is also vital when it comes to designing a resume. It leaves a good impression on potential clients as they always try to hire well-educated people because they believe that educated and literate people easily understand the guidelines. So, if you want to get more tasks regularly, you should not forget to add your education. On the other hand, when you don't mention your education in your resume, it leaves a wrong impression on clients.
Check out how can inbound marketing helps you find freelance clients.
2.3 Achievements
Although it is not the essential element of every resume, you must include every achievement you have accomplished while working in the field or during your education. The achievements may include appreciation from your clients, former bosses, and organizations. The achievement portion enhances your chances of getting more tasks than you can imagine.
2.4 Skills
If you are a freelancer, you are a skillful person. However, no one will know about your skills until you tell them about what you possess. That's why it is considered one of the essential elements of every resume. To ideally sell your skills, you should elaborate on how your skills can complete an assignment. As a freelancer, you should emphasise your skills more than anything else. When you do it, more and more people will contact you and discuss their requirements.
Check out the soft skills required by a freelancer.
2.5 References
Want to get hired for a task in the least time possible? Include multiple references of managers and work providers from reputable organizations. Those references enhance the worth of your resume. You will see a dedicated portion for references if you analyse multiple resumes on a resume builder. So, it can help if you also mention that in your resume.
3. Sell Your Skills
When anyone says to sell your skills in the context of a resume, they mean that you should perfectly mention every skill you have. Don't miss any skills a potential client is looking for in a freelancer. To get hired by multiple clients, you should showcase what you can do. By designing a well-written and persuasive resume, you can get more calls for discussion.
Below are some tips for selling your skills via resume;
List special skills in a separate section
Don't forget to mention work-related skills in your experience section
Focus on the skills that your client is looking for
Make sure to add highly in-demand skills that you possess
Check multiple resumes of the same industry where you work
If you still don't understand how to compile a special skills section. Must visit a free resume maker. It will not only enhance your knowledge about resumes but also help you build the outstanding resume that you are looking for.
4. Make Your Resume Content Skimmable
One of the most common mistakes that many job hunters make is that they include many unnecessary graphic elements that destroy the simplicity of a resume. Although it is preferred to design an attractive resume, it should also be simple so that every person can quickly skim the content of it. When your resume isn't skimmable, it will only see the way to the recycle bin. Therefore, it is better to design your resume in a way that hiring managers prefer.
5. Always Create a Mobile-friendly Resume
Although most professionals use desktops, you need to create a resume that can be easily viewed on mobile devices. If your potential clients are using mobile devices to review resumes, they won't ever hire you if your resume isn't mobile-friendly. That's why you must create a resume that can be viewed on every device. To make this happen, you should save and send your resume in PDF format.
6. Get Help from a Resume Builder
Here is the solution to most of the problems you could face regarding your resume. If you have developed a resume that didn't help you win projects, you need to rebuild it using a professional resume maker. The resume creator will help you understand the most common types of resumes in your industry but also assist you in building a job-grabbing resume.
The Internet is full of resume designing tools, but you should choose a free resume builder that can save money and help design an attractive resume. In the tool, you can choose among different resume templates according to your field and experience. Then, you can select any template you like the most or believe is more attractive. After that, you have the option to edit according to your requirements.
These free resume creators provide a lot of benefits. Some of them are mentioned below;
These tools make the resume designing process easier and less complicated
Save the time of freelancers that they value the most
Assist them in creating a job-winning resume
Conclusion
Creating an attractive resume to win freelance projects isn't a difficult task. However, it is a bit tricky. You just need to know how it is different from ordinary job-seeking resumes. Once you get that information, you can easily create a resume that can assist you in getting projects whenever you want.