Freelancing has become a popular job option for many people in recent years. Instead of working for one company on a regular basis, freelancers provide their services to many clients at once.
Writing, designing, marketing, and social media are some of the popular professions to start freelancing.
Introduction To Freelance Work
A freelancer is a person who identifies his/her skills to work for themselves and provides services to others. These services are available to enterprises through platforms like Refrens.
Individuals sell their services directly to clients through a proposal and collect payment for their offerings.
A freelancer can supply almost any type of service that a company requires.
Read more: High paying in-demand freelance skills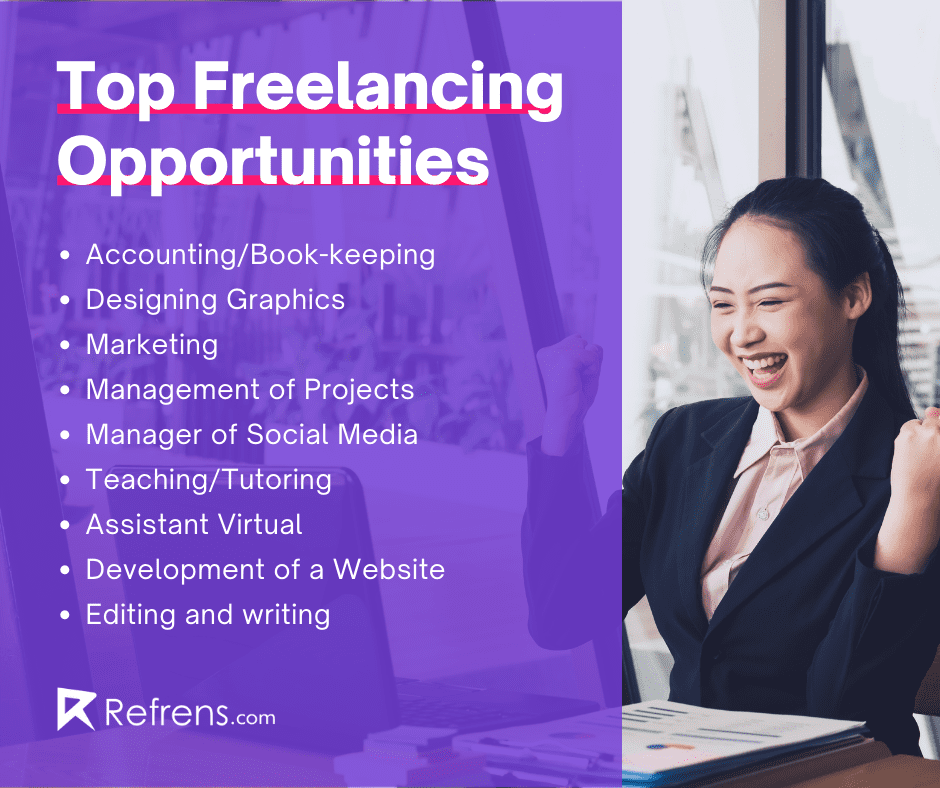 Introduction To Freelance Economy
The Freelance Economy is Independent Contracting. It's a common way of working in creative fields like marketing, design, copywriting, and web development.
For years, the entertainment and journalism industry has operated in a freelancing manner.
In the next 5 years, Over half of the talent will choose self-employment. Additionally, 29% of employees say they will resign if called back to work. Moreover, during the Covid epidemic, freelancers contributed $1.2 trillion.
There are three technological disruptions that are driving this freelance economy.
The internet enabled people to communicate with people all over the world.
Collaboration with people all across the world became possible thanks to remote tools.
Workflow tools like contracting, payment, and project management enabled freelancers to operate successfully.
However, it was at the height of the global recession in 2008 when the number of people working independently rose.
Many people became redundant as a result of company layoffs.
For many employees, it was a difficult period. People needed to supplement their income between jobs.
Since the typical life career and pension were becoming a distant memory.
Thus, it was because of necessity rather than a preference for a particular lifestyle or profession.
Check out how you can start freelancing while working full time.
How Will You Benefit From The Freelance Economy?
According to the facts, the freelance economy is here to stay:
In 2027, 86.5 million people in the United States will freelance, accounting for 50.9 percent of the overall employment.
According to a BCG report, 40% of executives around the world expect to hire freelancers in the next three years.
In the same study, half of the participants felt that corporate use of gig platforms will be a major trend.
The freelance economy and the expansion of online talent marketplaces have grown as a result of the current market's need for flexibility.
As technology and the world evolves, so will the freelance economy. Some of the benefits of the freelance economy are:
To stay up with the changing workforce, freelancers regularly upgrade their skill sets. They have greater experience working with a range of different businesses, hence are more responsive to new technology.
This is helpful to organizations looking to hire candidates with specialized talents.
For example: For advanced talents such as AI, robots, or blockchain.
We're all aware that office space costs a lot of money. Most of freelancers work from home, decreasing the need for office space and utilities.
Freelancers require little supervision and training, which reduces the cost of coaching.
Choosing a gig business plan helps to save money on benefits like health care, pensions, transportation, and paid sick leave.
When you hire a full-time or even part-time employee, you must provide them with a specific amount of hours.
Hiring a freelancer gives you the flexibility of labor. 
For example, if your firm closes on weekends, you may engage a freelancer to work on your social media profiles. As remote workers are willing to work flexible hours, it benefits both company and them.
Check out the impact of AI on freelancing
Reasons To Become A Freelancer
You Can Be Your Own Boss
The freedom to be your own boss is the most prevalent reason for starting freelancing.
Office Politics Comes to an End
Politics in the workplace has a nasty knack for making people miserable. Hence, an end to office drama.
You are in command
Freelancers make their own choices. It's up to you to decide which version of a website to use or what the office dress code should be.
You have complete control over your time
Unless you want it to be, there is no 9 to 5. You can work between the hours of 2 a.m. and 6 a.m. If that is when you feel most productive.
You have the freedom to work wherever you want
You're the boss, thus you get to choose where you work as long as the task gets done.
Check out a complete guide on the best place to work for freelancers.
You Pick Your Own Projects
Freelancers select tasks based on their experience and interest. You don't have to work on anything that you don't wish to.
You can pick clients
Freelancers aren't required to work with people who annoy them. They have complete control over who they collaborate.
No more unpaid overtime
You are making money if you work. Clients pay you for your services, and you don't work unless you're paid.
Your Efforts are recognized
Freelancers get paid more if they work more. They compensate based on the quality of the results they produce.
100% job security
When you're the boss, no one can fire you. Freelancing has its ups and downs.
In the long run, though, you'll have complete control over your career and earnings if you stick with it.
You'll learn more than you ever imagined
Freelancing has new obstacles every day, and you'll learn from each one.
Thus you will be a businessperson who will learn to solve business challenges on a daily basis.
Do the work that you enjoy
When you start work as a freelancer, you can take pride in a job done well.
Potential for Development
In freelancing, you start your business, recruit employees, and leave a lasting impact.
There are dozens of reasons to work as a freelancer or entrepreneur, and the list above is only a small part of them.
Take your time to think about which one appeals to you the most!
Advantages Of Freelancing
Freelancing is a convenient and cost-effective method to start working for yourself, from the comfort of your own home. There are various advantages of working as a freelancer.
Choose your own working hours: Freelancing allows you to be creative. You can often work full- or part-time on projects of your own choice.
Can work wherever you want: Freelancing is a portable option for those who wish to work from anywhere they desire and be location independent in their job.
Independence: A freelancer is an independent contractor and has complete control over projects.
Receive the Compensation You Deserve: As a freelancer, you can choose your own pricing for your services.
There is a huge demand: Despite the competitive nature of the freelance industry, the demand for high-quality freelancers is expanding. Many firms these days don't have staff and instead rely on a team of freelancers. This approach is currently gaining popularity because freelancers are less expensive to firms than workers, even if they charge a higher rate, as they don't have to pay payroll or benefits.
You can manage work/life: You feel more balanced and happy in your life when you have control over what you do and when you do it.
The start-up cost is low: You have the appropriate equipment or software to perform a service if you have the ability to do so.
Choose your own clients: You may avoid problematic clients and tell them that you no longer would like to work with them.
How Will You Earn By Freelancing?
According to industry research, 60% of freelancers who left a full-time job earned more money while freelancing.
According to data, the average hourly rate for freelancers in the United States is $20.
The average hourly income for freelancers working in web/mobile development, marketing, legal, accountancy, and other skilled services is $28. These freelancers earn more than 70% of all workers in the United States, at $28 per hour.
There are many elements that determine how much freelancers can charge and earn. The following are the some most common:
Experience – In every industry, it is crucial to have a lot of it. As you get more experience, your pay normally rises.
Training and Education – Certified training and education theoretically have more pay ranges.
When a client requires a certain skill set, it is customary to charge more – For example, if you want writers who are versed in the law and produce high-quality legal pieces, you'll have to pay a premium for that expertise.
Reviews and reputation – Proven deliveries are important. Before hiring a freelancer, companies can and often do wish to verify the freelancer's performance.
According to CNBC and additional data, these are the most popular average hourly wage and annual salary: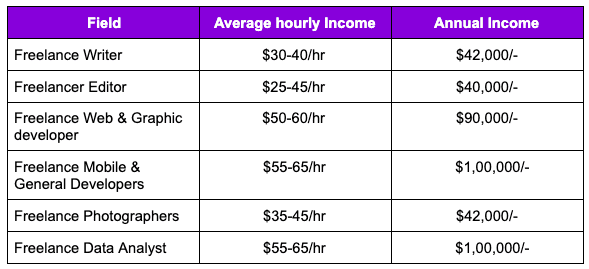 How To Get Started With Freelancing?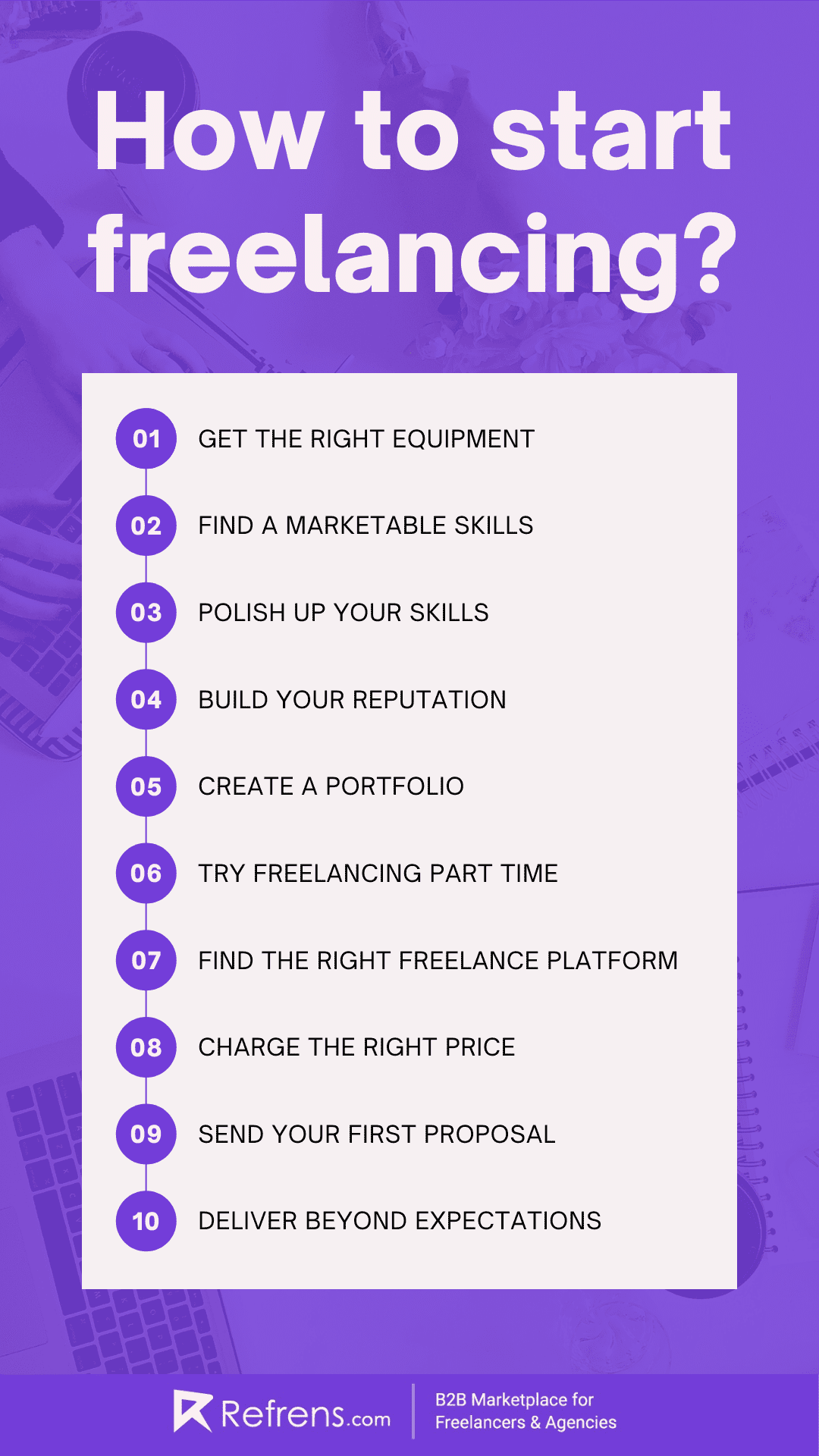 Where You Can Find Freelance Work?
Getting clients is one of the most difficult aspects of freelancing. Whether you're just starting out as a freelancer or looking to expand your current customer base.
On certain days, it can feel like you're spending more time looking for clients than really working as a freelancer. You owe it to yourself to make the best use of your time.
You don't have to spend money on advertising efforts. There are simpler ways to attract customers, and instead of looking for them, they will come to you.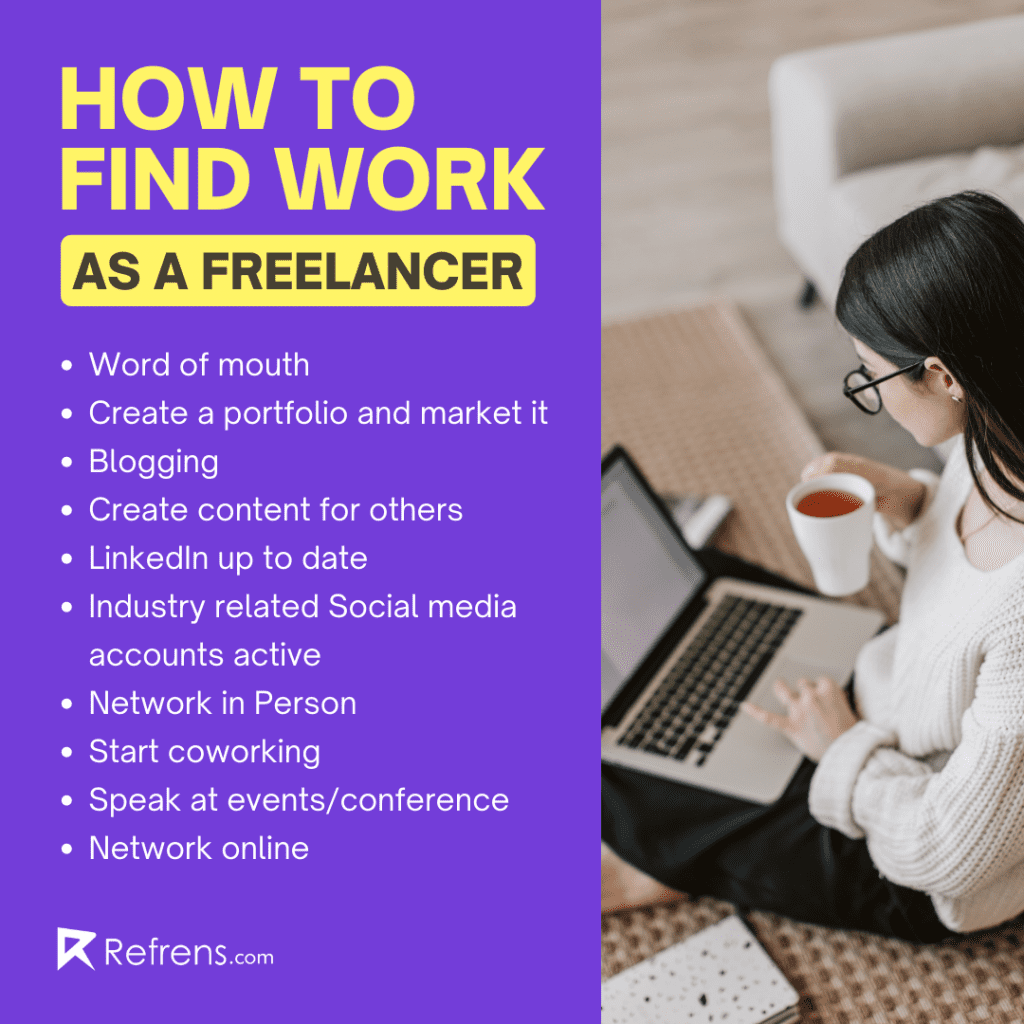 Some of the strategies are:
Word of Mouth: If you do a good job for others, you will almost certainly be recommended.
Create a Portfolio and market it: Make a good portfolio to show off your work and promote it.
Blog: Blogging is another way to sell yourself and your business without actively doing so.
Create content for others: It allows you to reach a larger audience, which means more possible clients.
Linkedin upto date: Keep your profile updated and polished to make a lasting first impression.
Keep your industry-relevant social media accounts up to date: Spend time on social media sites where potential companies are looking for employees. Like Github for developers, Dribbble Behance for designers, Flickr for photographers, and Vimeo for videographers
Network in person: Nothing beats face-to-face networking, even with all technology developments.
Start coworking: Coworking helps you with the opportunity to network with people who may use your services.
Speak at events/ conferences: Speaking helps you establish yourself as an expert in your profession. They also give you the chance to meet new people who could be interested in your services.
Network online: Network with other professionals on platforms like Quora, LinkedIn groups, freelancers union hives, growthHackers, and relevant Facebook groups.
Get Started With Freelancing: Books, Podcasts, YouTube Channels, Courses
Books for Freelancers
There are possibly hundreds of motivational, leadership books available. However, these are some of the best books to read when you decide to start freelancing.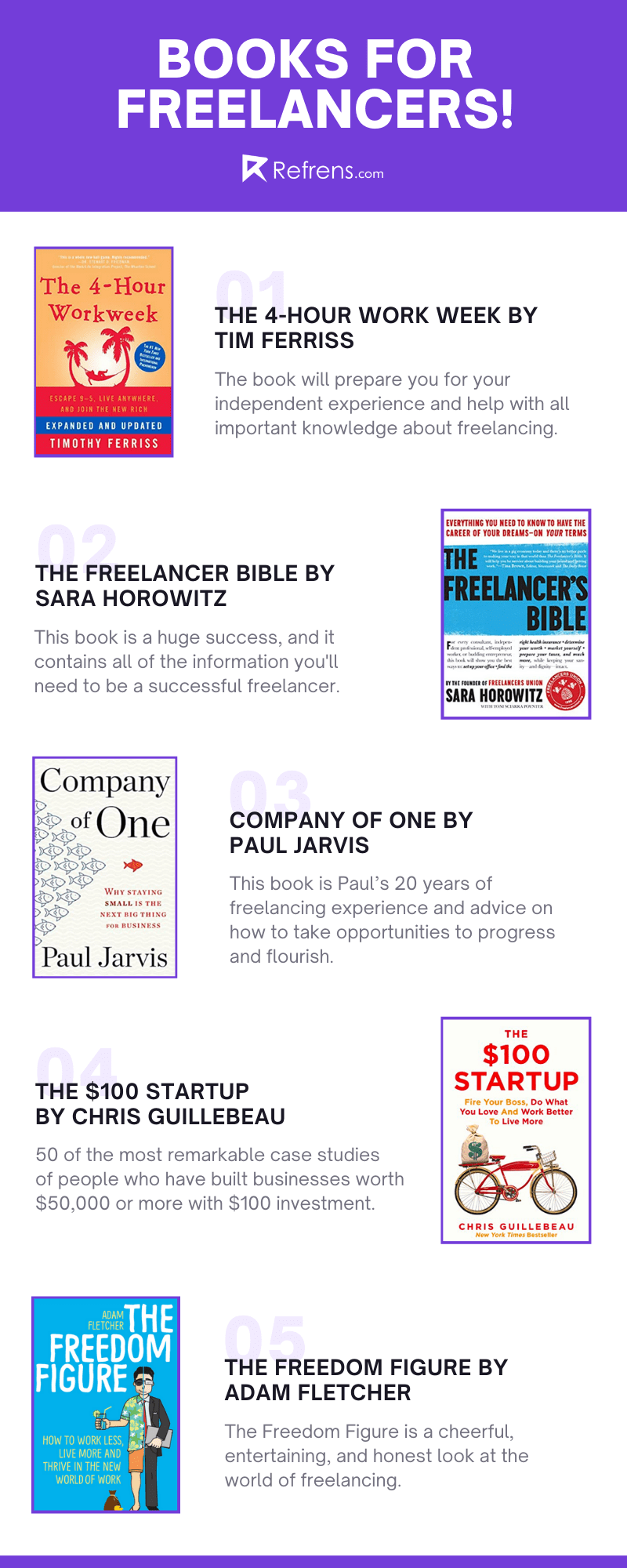 Podcasts For Beginners
The six-figure freelance audio course – Will teach you the exact success strategies you'll need to expand your freelance career. You can listen to them on Apple Podcasts and Spotify
Freelance to Founder- It provides on-air coaching to help you develop all of the skills and strategies you'll need to advance in your career. You can access them on Apple Podcasts and Spotify
Being Freelance – It will help you how to develop a business and budget for success. You can listen to them on Apple Podcasts and Spotify.
Apart from the above-mentioned things, there are many freelancing videos like this 'The secret to being a successful freelancer', to help you get started.
These will assist you in starting freelancing and keep you up to date on current economic developments.
Also, there are many online courses available on how to become a freelancer or how to upskill yourself. Depending on your field, select the best courses to enhance yourself. There are numerous platforms, like Udemy, Skillshare, Careers360, and others, that can help in developing your freelance career.
Conclusion
Freelancing has long been popular, but the COVID-19 pandemic has put it to the forefront.
It has become the answer for many as the workforce becomes more remote across industries. In 2020, the independent workforce generated trillions in revenue.
India is still in the early stages of the gig economy. However, thanks to the growing acceptance of technology, rising internet access, and mobile consumption, the gig economy is here to stay.
Strengthened by the rise of startups and government schemes, such as Skill India and Digital India.
Additionally, In five years, we may stop referring to freelancers as "freelancers" and instead refer to them as "employees." As the gap between traditional employees and freelancers is rapidly closing.
Similarly, the opportunity to recruit freelancers is rapidly expanding. Employees are not replaced by freelancers. They magnify the impact that each individual employee can have.
The future is bright for the gig economy and it is here to change the way you work. So, what are you waiting for? Start your freelancing journey with Refrens now!
Struggling with converting your leads? Read our article on how to improve the client's experience from exploration to delivery.