Are you seeking to enter the fiercely competitive industry of freelance web developing? You're at the right spot.
One legit way to make money with coding is through freelancing, but for most beginners, knowing where to begin can be intimidating and daunting.
So, how do you start a freelance web development business?
We'll take you step-by-step through the entire process of turning into a freelance web developer.
Prepare yourself because you are about to position yourself for a lucrative freelancing career.
Who Is A Freelance Web Developer?
A freelance web developer is an independent contractor who works from any place with an internet connection, including their home, coffee shops, and libraries. After discussing their ideas with the client, they are in charge of delivering the finished product.
Freelance developers frequently provide services including developing websites, handling complex data and ensuring a website is functional with various browsers and devices. They also create software using programming languages.
Steps To Become A Freelance Web Developer?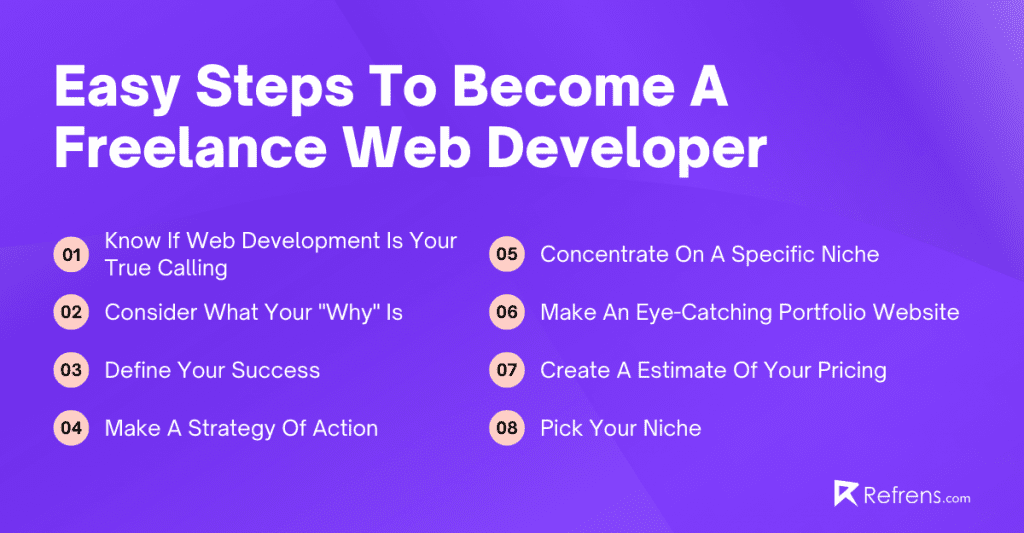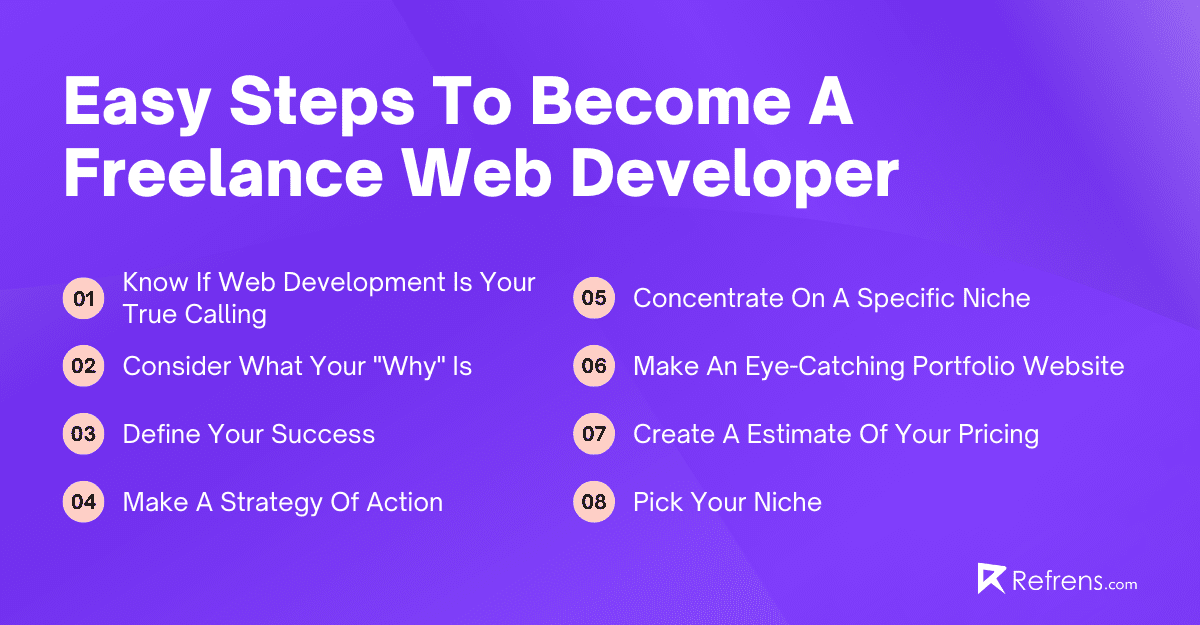 Although every developer's journey is unique, there are some fundamental skills to gain in order to work as a freelance web developer. Some of these issues may be familiar to you already, or they may give rise to a special area of expertise you have. While our guide is a great place to start, it's vital to remember that learning is a lifelong process while working as a freelancer.
So, the following are eight requirements for beginning as a self-employed web developer:
Steps to becoming a freelance web developer.
How Much Does a Freelance Web Developer Make?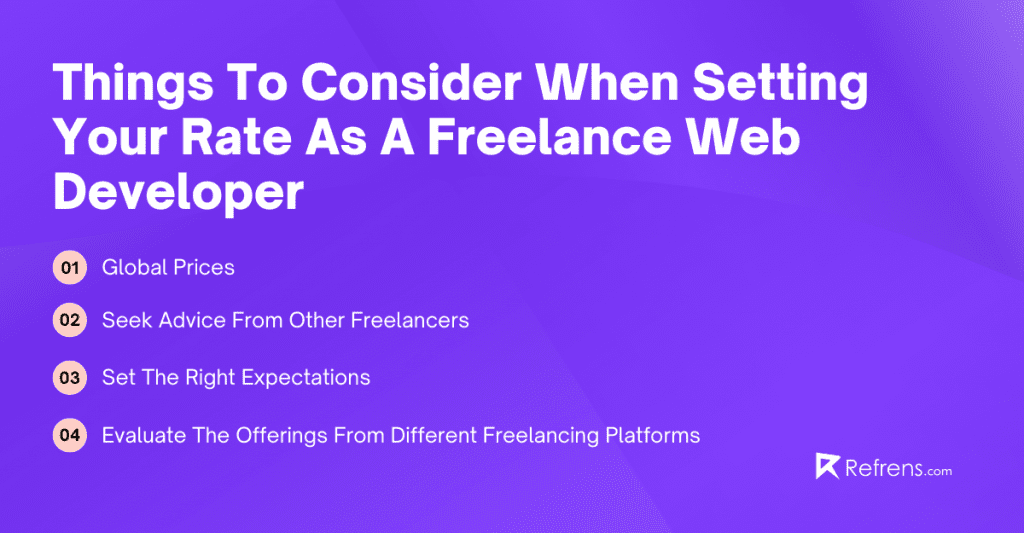 Rates for web developers vary widely depending on experience, the job at hand, and your location of residence and employment. Your customers will have an effect on how much you may properly charge.
Hourly wages often vary from $12 to $30 when you first begin. You will have to put in more effort to identify and get this employment because they are frequently smaller. However, if you perform them properly, your reputation will grow and you'll be able to start charging more.
The average developer charges $60 per hour, more than double the rate for beginning coders. Developers with professional experience may charge between $85 and $125 per hour.
The ultimate guide to pricing as a freelance web developer.
What Are The Benefits Of Being A Freelance Web Developer?
1. A range of clients
You can choose from a variety of clientele to work with when you start your own freelance business.
2. Numerous possibilities
A website is required for almost all businesses, which calls for a web developer. It's a fad that's here to stay, and many believe it will take off. Online services and e-commerce will continue to grow, driving demand. Companies will require your skills and can be more open to considering contractors than in-house teams.
3. Increasing project diversity
Being your own boss has its advantages, including the freedom to select the jobs you submit bids for and complete. You get to decide which form of development you like best (or which one you don't). Despite the fact that you must work sufficiently to cover your expenses, the abundance of projects means you can probably concentrate on your interests.
4. Develop your career at your own pace
Want to broaden your knowledge? Find small projects in that field and earn money while you develop your talents. To further focus your attention and specialize the way you want, you can also specialize in particular industries or clientele. Specialization can help you do tasks more quickly and earn more money for more difficult work.
5. Deduct expenditures
The option to deduct expenses is one more advantage for some freelancers. For instance, there are potential for tax advantages and reductions related to your workspace, equipment, and software in the United States. Always with an accountant about your alternatives for tax minimization.
Tools Needed By A Freelance Web Developer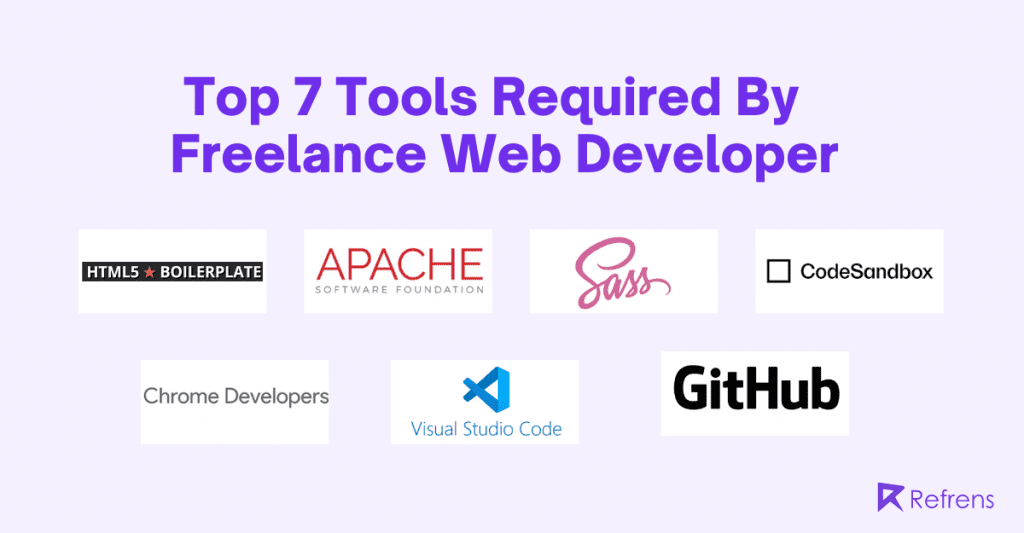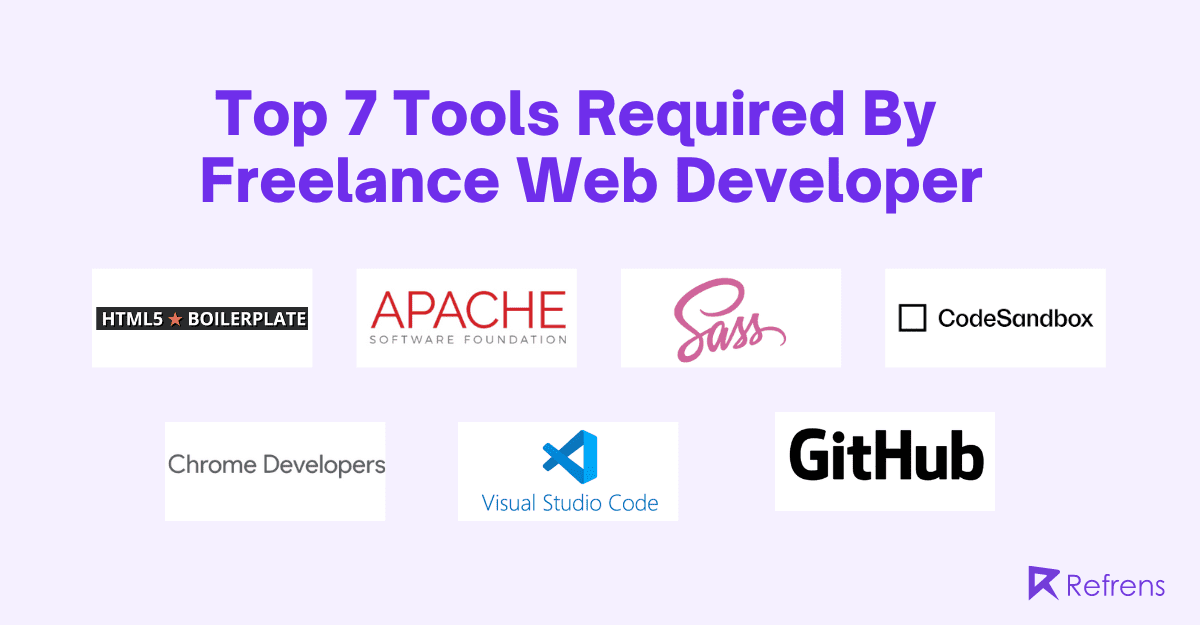 The role of a web developer has changed as technology has advanced. With proficiency in UI and UX design, prototyping, wire-framing, SEO, and many other fields, modern web developers are expected to be masters of all trades.
Looking to become a UX designer and start your career off on the right foot? Our blog has got you covered with all the information you need to get started!
This suggests that it takes a lot of work and that you need the right tools in your digital toolbox. In this post, we've produced a list of the top web development tools to help you build the ideal tech stack for the upcoming years.
Tools needed by a freelance web developer.
How to hire a freelance Shopify developer?
Launch Your Freelance Career Today
The best part of our guide is that there are no barriers in your way to working as a freelance web developer. Nearly all of the items on our list have free or inexpensive alternatives, and there are also lots of tools and ideas to get you started right away. You'll find your first project and receive your first payment more quickly the sooner you get started.
Nothing else compares to it.