It's understandable why you might be considering leaving your 9-5 corporate job for a full-time freelancing career, with so many working professionals desiring more freedom and control over their work.
You start daydreaming about spending your days doing what you love and not having to answer to anyone. After all, who doesn't like taking a nap in the middle of the day or working from the beach seems more appealing than back-to-back Zoom sessions?
Still, giving up the security of a regular salary to start freelancing while working full-time might be a scary prospect. What if we told you you didn't have to do it? Starting Freelancing while working full-time is a popular option to test the waters without fully committing.
Freelancing while working full-time on the side is no easy task. It's a delicate balancing act that isn't for everyone. It is, however, not only possible but also incredibly profitable if you have perseverance and effective time management.
Steps To Help You Get Started Freelancing While Working Full-Time
7 easy steps to start freelancing while working full time: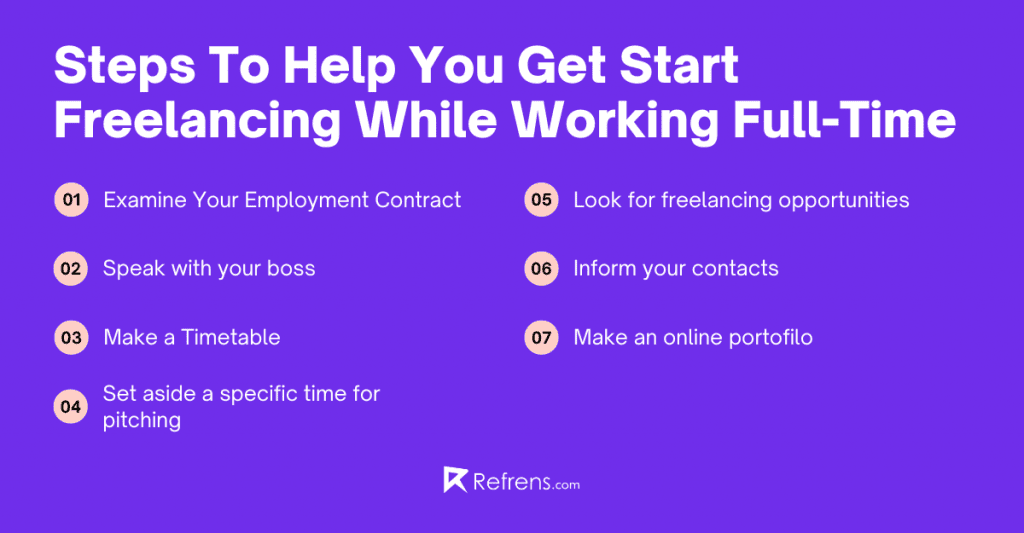 1. Examine Your Employment Contract
If you work in a writing capacity, it's likely that your boss has forbidden you from publishing similar content. You don't want to break a non-compete clause since your professional reputation would surely suffer, even if your employer doesn't dismiss you or take legal action.
Double-check your freelance contract and read all of the fine languages to be sure you've covered all of your bases.
2. Speak with your boss
Although informing your boss about your freelancing ambitions isn't required, there are various things that could occur. First and foremost, she will be able to inform you whether or not your work is legal. There may be certain restrictions; for example, if your day job requires you to write about the medical device business, your boss may tell you that you can freelance on any topic except this one.
Second, telling your boss you're starting freelancing while working full time is far preferable to her discovering your job on the internet.
Make sure you let her know that this role is still your top priority when you give her the heads up.
3. Make a Timetable
After a long day at the office, the prospect of settling down to work much more may seem unattractive. However, you can't start the freelancing profession unless you consistently produce. It is critical to create a schedule and organize all your tasks in one place on freelancerplanner.
Check out the ideal day schedule of a freelancer in this blog.
Start with a low-demand quota — perhaps 25 to 30 minutes throughout the week and two hours on weekends. Consider increasing your workout time to 45 minutes to an hour on weekdays and four hours on Saturday and Sunday as time goes on.
4. Set aside a specific time for pitching
Many freelancers are startled to learn that pitching is equally as crucial as doing when it comes to starting a freelancing career. While working on a regular basis can help you improve your talents, you won't be able to get any bylines or clients unless you pitch.
You'll get inquiries from repeat customers, recommendations, and clients who have seen your work elsewhere once you've established yourself. For the time being, you'll have to reach out to clients proactively. Devote at least four hours every week to locating, researching, and contacting your objectives.
Check out these networking tips to get better projects.
5. Look for freelancing opportunities
You should also look for freelancing jobs on the employment board in addition to pitching publishers. You can find relevant jobs by searching for "freelance writer," "contract writer," "writer for hire," "freelance blogger," "short-term writer," "remote blogger," and other variants on those terms. Simply type in "designer," "producer," "photographer," and so on to uncover the chances that are perfect for you.
When determining which gigs to apply for, there are a few things to consider:
First and foremost, does it necessitate a high level of subject matter expertise or considerable experience? Someone seeking an expert is unlikely to hire a new writer.
Second, will you be given a byline or credit for your work? There's nothing wrong with ghostwriting, but individuals who are just starting freelancing while working full time should focus on credited work. You need content with your name on it when pitching new editors or clients, applying for other projects, or adding clips to your portfolio.
Third, how long will the job take? It's easy to get carried away and over-commit. Smaller freelancing assignments are ideal because you're still working a full-time job. If you take on a project and don't complete it on time, you'll harm your reputation in the freelancing community.
6. Inform Your Contacts
Friends, family, and professional contacts can all be excellent sources of clients. Use social media to spread the word that you're now starting freelancing on a large scale.
7. Make an online portfolio
Editors and clients would most likely want to view examples of your work, if not your freelancing portfolio. Create a portfolio website and submit samples for imaginary journals or companies to speed the process rather than waiting until you've built a big body of published work.
Check out the important elements that you should not miss in your website portfolio.
For example, if you want to cover music, you could create a long-form piece for an imagined magazine on a local band. If you wish to pursue a career in recipe writing, you could write four or five recipes for a food magazine.
Conclusion
Starting freelancing while working full-time can be a terrific way to keep practicing in-demand professional skills that you might not be able to use at your full-time job, and it can also offer you more joy and reward than full-time work.Outside of your full-time employment, it's a wonderful method to bring in extra cash each month and work toward savings goals, as well as a great way to maintain contacts you've built when starting freelancing previously.
Read more related topics to kickstart freelancing while working full time :