Ask any freelancer about one of their biggest challenges, and most of them (if not all) will say it's about taking up a new client. As a freelance business owner, your goal is to expand your business and increase your monthly earnings, which is impossible without taking on new clients and projects. But at the same time, it comes with its share of anxiety.
Take a peek into any forums of freelancers, and you will hear all the client horror stories of not paying on time, ghosting the freelancer after the initial discussion, or even worse -, after the freelancer submits their first assignment, the client ignores to pay. That's not all—delayed communication, and micromanaging ever-changing scope are also some of the common issues freelancers face.
However, the purpose of this blog is not to scare you off but to make you aware of the situations many freelancers face while taking up new clients and how you can navigate these risks and grow your freelance business. According to Hindu business news, India witnessed a rise in 46% of new freelancers from Q1 to Q2 of 2020. While it is a good sign that India is becoming the second largest country in the gig economy, new freelancers need to know the risks of working with new clients and how to minimize them and protect themselves.
8 Ways To Minimize The Risks With New Clients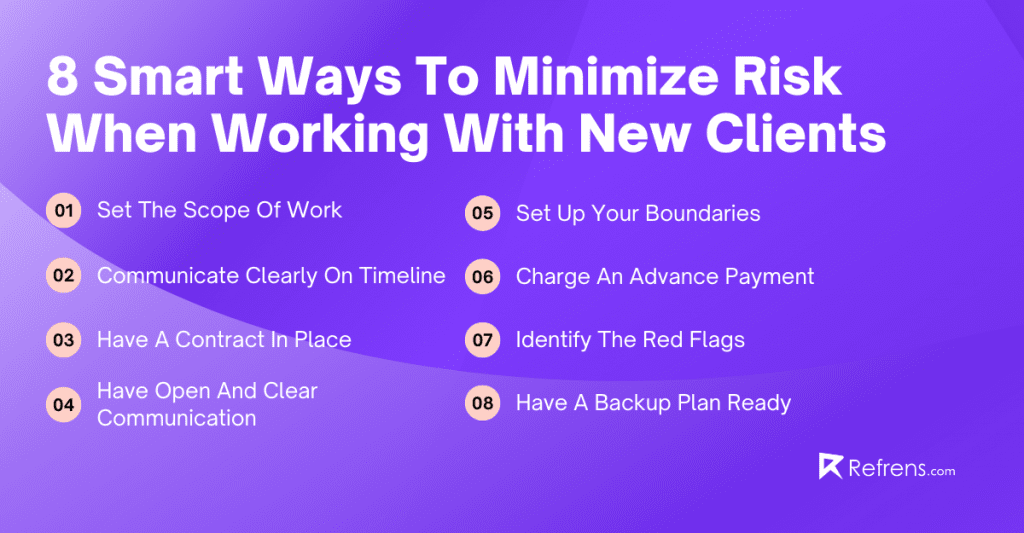 1. Set The Scope Of Work
When onboarding a new client, every freelancer must make it a point to set the scope of work, this will help you avoid any possibilities of scope creep in the future. Here are a few industry best practices while setting the scope of work.
Be clear in your communication: Do you know that communicating clearly can increase your productivity by 25%? Don't leave room for any guesswork that can lead to miscommunication.
Keep it detailed: Ensure your scope of work is as detailed as possible regarding your deliverables, responsibilities, schedules, terms, and expected outcomes.
Be clear on the schedule: Suppose you're creating a company website. Make a detailed schedule so that you and the client know when the pages will be ready. For example, the home page will be ready for review by 10th October, the about us page will be ready for review by 15th October, and so on.
Mention the project deliverables: What are your deliverables? Break it down into task lists, so there is no dreaded scope creep later. For example, you create an outline, draft, and edit as needed. Also, mention what doesn't include in the project deliverable. For example, deliverable doesn't include uploading the content on CMS or creating social media posts, and so on.
Consider the scope of work as a map that can guide you from one step to the other during the entire project lifecycle.
2. Communicate Clearly On A Timeline
You don't want to do a rush job and put your reputation at stake. Neither do you want to burn yourself out while working on your freelance project? So, it's important to estimate a timeline for every project that you take up and communicate it clearly to your new client. Remember, you shouldn't promise anything unrealistic. If you think certain projects need more time, be upfront about it. Always estimate a buffer time while communicating a timeline to ensure you have covered up for any delay due to unforeseen circumstances like medical emergencies.
Check out the ways on how to deal with freelance burnout.
While it's your responsibility to communicate the timeline of your deliverable, the client is also responsible for paying you on time. If the new client has not mentioned the payment timeline, be proactive and ask about it. Each organization has a different billing cycle ( like NET 30 or NE15). So knowing the payment timeline will also help you to plan and manage your finances better.
3. Have A Contract In Place
Being in charge of your career is great, but that also means you're exposed to a lot of vulnerability and not getting paid or getting ghosted by a client is nothing new. Ask any freelancer, and they will have at least one such incident to share with you. A freelance contract is a legal document that protects you against nonpayment and outlines everything that you and your client need to know. A legitimate contract establishes you as a professional, not just a side hustler. A contract should include:
Payment details
Payment dates
Deliverables
Revision limits
Delivery dates
Ownership
Termination clauses
4. Have Open And Clear Communication
At all points of time, maintain open and clear communication. This will help you mitigate scope creep, guesswork, and miscommunication. Be proactive and set up a communication plan with your client. This will not only portray you as a professional, but it will also help you identify any potential red flags, keep up the momentum of the project workflow, pitch new ideas, upsell, and receive feedback more promptly.
5. Set Up Your Boundaries
Imagine getting bombarded with phone calls and messages from a toxic client in the wee hours of the night. It's a nightmare for every freelancer, right? You can avoid such micromanagement by setting clear boundaries with your new client. For example, set a workflow process, so the client doesn't need to bother you with status updates. You can instead have a project management tool where you can share regular project updates. If you and your clients are in different time zones, communicate your working hours and how you want the communication to happen. Asynchronous communication is a great way to stay up-to-date, especially in different time zones. 
Check out the 10 client boundaries every freelancer should know.
6. Charge An Advance Payment
Imagine you worked hard on a project and got it delivered on time. But in return, you get radio silence from the client. No, it's not a horror story prelude. This can happen when you onboard a new client without charging an advance payment.
A good way to safeguard yourself from such incidents is to charge in advance. How much you can charge in advance depends on your credibility and how you can negotiate with your client. Some freelancers charge 100% advance, while others ask for a 30-50% advance.
Check out when to offer early payment discounts as a freelancer.
7. Take The Cue And Identify The Red Flags Early On
While not all clients are dream clients, not all are toxic clients either. Take the cue early in your communication with the client to identify the red flags. Avoid working with such clients, as that can lead to trouble in the future. Some of the typical signs of a 'bad client' are:
Micromanaging
Not respecting boundaries
Unsure of the company goals
Always come with last minute request
Not offering constructive feedback
Bad-mouthing previous freelancers
Check out the 5 ways to collect client feedback.
8. Have A Backup Plan Ready
Despite taking all the measures to safeguard yourself, there are still possibilities of encountering bad clients and ending up in a messy situation. Know that every business has ups and downs, and freelancing, too, is filled with bumpy rides. So be prepared with a backup plan to deal with any situation. For example, when onboarding a new client, ensure you have the contact details of more than one person in the organization. This way, you can reach out to someone in the company if your point of contact ghosts you or delays your payment.
Key takeaway: While freelancing is fun, it's challenging to be your boss and manage all the nuances. Knowing the risk early on and how to mitigate them will help you stay prepared and tackle whatever may come your way well!