The need for companies to invest in digital marketing services is rising fast as technology becomes an integral part of running a successful business. When it comes to online advertising, SEO is crucial since it helps make websites more visible and more easily indexed by search engines.
Search engine optimization (SEO) is a vital aspect of digital marketing since it aids businesses in gaining better positions on the first page of Google and other search engines, which in turn increases the volume of organic visitors and, ultimately, the company's income. Let's get a grasp on how crucial these factors are for SEO consulting.
SEO Many people supplement their income with freelancing so that they are not solely reliant on any one employer. Freelancers have more freedom and autonomy than employees at most companies, but before you take the plunge into freelance employment, there are a few things to keep in mind.
If you're a freelance SEO and want to up your game, this article will show you some insider methods. These methods have been tried and tested over time by a professional with a track record of success.
SEO Tips For Freelancers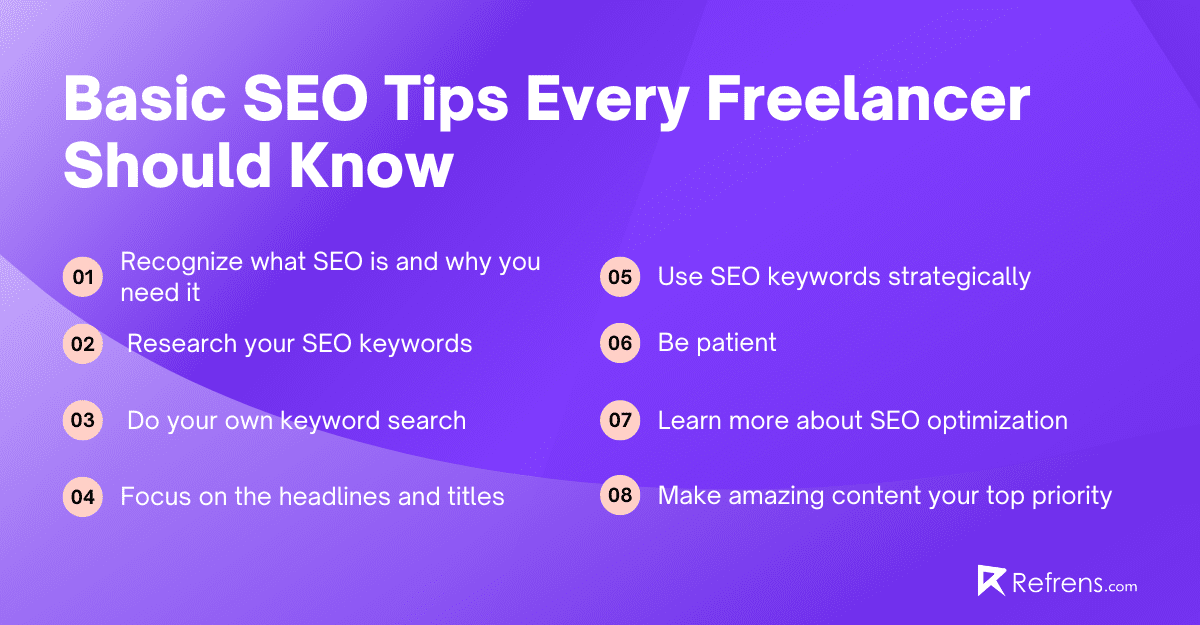 1. Recognize what SEO is and why you need it
Optimizing a website for search engines is referred to as SEO. The goal of search engine optimization is to raise your site's position in the results returned by a search engine when a user enters a query or seeks information online.
In general, the higher a website appears in search results, the more people will visit it. The more people who visit your site, the greater the likelihood that some of them will become leads, and eventually, customers.
SEO can be done in any industry; it is not industry-specific. A medical malpractice lawyer, for example, can promote their website to fight against the medical professional who fails to competently perform their duties and injures a patient.
Being on Google's first page is the holy grail. If you want your material to be seen and found, you need to be on page 1 of Google's search results for your target keywords.
Search engine optimization (SEO) is the process of enhancing a website's visibility in search results.
2. Before you start writing, research and choose your SEO keywords
One of the first steps in SEO writing is learning which terms are most closely associated with the services or goods your client provides. These keywords may be identified with a Google Trends API tool, contemplating the types of queries that will bring targeted traffic to the business's website and individual product pages.
Check out the top SEO tools for freelance writers.
Think about what you would type into a search engine if you were a consumer seeking the products or services your client provides; those are the inquiries that will yield the most relevant keywords. What issues does this business help people with? When would you know that you could require these services in the future? Suppose you're a search engine, what would you type?
3. Do your own keyword search to investigate the level of rivalry
Start by conducting your own search for the keyword term to check what top-performing content already exists before you start producing.
Check out the best way to perform keyword research.
The best way to make your post stand out from the rest is to analyze the material that is already ranking well and figure out what changes you need to make. Make an effort to provide material that is more in-depth, authoritative, user-friendly, or recent.
The more questions you can answer with your material, the more value it will provide, and the higher it will appear in search results.
4. Focus on the headlines and titles
Spend some work on the article's formatting to make it search engine-friendly. Because of this, Google will be able to index it faster. Use Heading 1 (H1) for the article's title, and Heading 2 (H2) and Heading 3 (H3) for sentences that introduce new parts.
Put your keywords under these headings. Put a keyword phrase into the introduction. Make sure the headers and introduction are well-optimized since Google will prioritize these parts.
5. Use SEO keywords strategically
After you've included your keywords in the article's headers and introduction, it's important to sprinkle them naturally and appropriately throughout the body of the text. However, restrain yourself.
The temptation to overuse SEO keywords strategy by sprinkling them into every sentence in the hopes of a higher page rank is real.
This strategy may help you get more clicks at first, but it won't go you very far if your post is difficult to read. The days of spammy, keyword-stuffed content dominating Google's search results are over. In its place, focus on producing content that is both helpful and comprehensible to your target audience.
Also, if you stuff an article with apparent keywords, readers will see right through it. Using your SEO keywords in high-quality content will earn your readers' confidence.
6. Know that higher page rankings don't happen overnight
It's easy to feel discouraged if your page doesn't immediately appear towards the top of page 1 of a search engine's results after you've put in a lot of work writing an engaging and detailed post with relevant keywords.
Page rankings aren't known to shift substantially from day to day because of the technological complexity involved behind the scenes. The ideal course of action after publishing material is to keep producing excellent content for the site you're working on, to promote that content widely, and to actively pursue connections to that content from other related sites. Track and monitor the real-time performance of keyword ranking in Google using the right Google Keyword Rank Tracker.
Don't give up if it takes some time for your content to start generating results.
Check out how SEO can help you to drive traffic to your website.
7. Take use of available resources to learn where SEO optimization is possible.
Performing such a task for a customer may be out of the ordinary for you. Your primary responsibility as a freelance writer should be writing, not SEO analysis. More complex SEO research requires more specialized tools, but they exist if you want to make a career out of SEO writing and research.
You may do this kind of study using any number of available web resources, both free and paid.
Common search keywords can be reviewed without a subscription on Answer the Public.
There is a free tool available on Moz that will allow you to investigate trending search phrases.
While Ahrefs isn't cheap, it's worth every penny. Proper use has the potential to significantly boost earnings, making the investment worthwhile.
If you're just starting out with SEO keyword research, these resources can help you learn the ropes and make the most of the data accessible from search engines. You may also find excellent SEO training resources on these sites.
8. Make amazing content your top priority, rather than becoming an SEO specialist
Remember that you don't need to be an SEO guru to be a successful freelance writer.
Keep in mind the importance of incorporating pertinent SEO keywords, and working them naturally into both your headlines and your articles. Then, return your attention to crafting interesting and genuine content.
If you want people to return to your company's website when they have a similar query or require the services you provide, you need to provide answers to the inquiries that bring them there in the first place. Writing for search engines doesn't have to seem terrifying. Having even a little empathy may help immensely.
Conclusion
Although search engine optimization (SEO) freelancing has the potential to pay well, it also has its share of difficulties. Communicating effectively with customers and other independent contractors is a crucial skill for every successful freelancer. They also need to know what to expect from the many tasks placed on their laps. If you want to work as a freelancer, you need to study Search Engine Optimization at a reputable school and put what you learn into practice.
To make your mark in this industry, you need the expertise of a seasoned SEO specialist.