"Content is the king – Bill Gates."
While content is king, all authors, even the finest, require an editor. The demand for good freelance editors has increased in parallel with the demand for content.
Editing has gone to the top of the most in-demand skills in this era of the digital economy. According to HubSpot, at least 70% of marketers actively engage and invest in content marketing, demonstrating that content has become an essential aspect of branding.
Organizations are now collaborating with big teams of freelancers to create content such as blog posts, case studies, and other types of content to reach more target audiences.
As a result, freelance editors have a lot of opportunities right now, especially in the digital information economy of 2022.
However, you'll require a thorough understanding of the function and its features in today's financial world.
Breaking into a freelance editor isn't tricky, but it isn't without hurdles. The question then becomes: where do you begin?
This tutorial will walk you through becoming a freelance editor from start to finish.
Steps To become Freelance Editor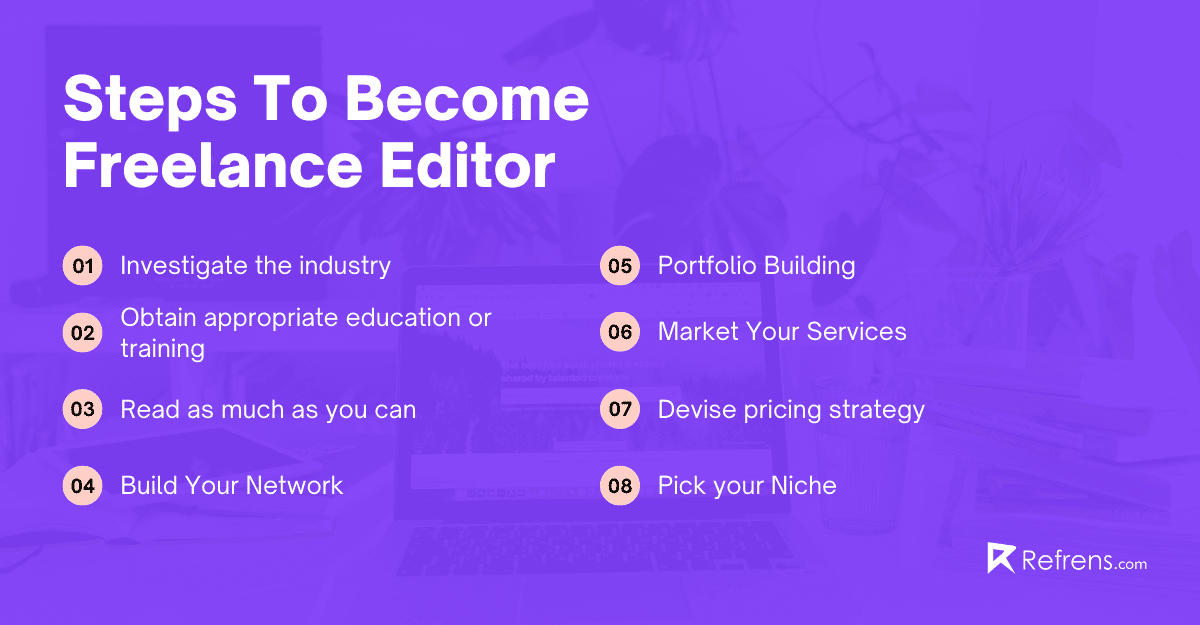 Investigate The Industry & Type Of Content With Which You Want To Collaborate
Wherever written words are published, editors are required. You might wish to start with a specific media platform, medium, or publication if you enjoy it. For example, if you adore romance books, you can consider learning how to become a romantic novel editor.
Different levels of experience and knowledge are required for different editing roles. Furthermore, some companies and specialties may be simpler to break into than others. Editing scientific articles and medical material, for example, frequently necessitates a higher education and years of expertise.
Obtain Appropriate Education Or Training
You undoubtedly already know that becoming an editor requires more than a passion for books, and editors should have a basic understanding of text editing and publishing settings. You should also be familiar with social media platforms, search engine optimization (SEO), and content management systems, depending on the type of content you wish to work with.
You might also need to learn about style guides like The Chicago Manual of Style or The Associated Press Stylebook.
Moreover, look into the following organizations that offer editing courses, training, and seminars :
Read, Read, Read
The only mantra: READ, READ, and READ!
A skilled editor knows what's going on in the literary world, and you must understand what types of stories are popular and what readers desire. Read as much as you can, so that it helps you create a story that readers will want to buy, enjoy, and share.
Build Your Network
It would be best to start networking while getting your training and establishing your portfolio. Utilize social media tools to develop an online presence. Make sure your profile is professional.
LinkedIn and Twitter are excellent places to meet other freelance editors and writers. Consider other freelancers as coworkers rather than competitors, as they may have valuable experience to share. They might even introduce you to your first customer.
Check out how you can get better projects via networking in this post.
Portfolio Building
If you're getting started as an editor and don't have much experience with your portfolio, offer your services to people who might need an extra pair of eyes to check over their documents. You can look for internships or volunteer opportunities to gain editing experience on the internet, and remember to ask for recommendations.
You can start part-time and earn money while building your website portfolio. Create a compelling freelance profile and start promoting your editing abilities. With such a vast market, you'll almost certainly discover someone that needs your editing skills.
Time To Market Your Services
Start selling yourself as a professional editor to make it official. Create a website to begin. To increase traffic, use keywords for search engine optimization (SEO). To boost the likelihood of people finding your site, you can try launching an editing blog.
Contact literary agents and publishing houses to see if they can refer you clients or hire you on a contract basis. Remember to print business cards and keep them on you at all times, ready to hand out.
What Will You Charge?
Track how many words you can edit in an hour to determine your price point. Determine how much you'll need to earn per hour to cover your costs. You may not be able to find much freelance work that pays the amount you want or needs at first, so set a goal for yourself and start there.
Most freelancers use the strategy of increasing their rates with each new client. You'll soon be able to figure out which editing assignments take more or less time and effort, and you'll be able to charge accordingly.
There are three ways that you can charge your work :
The industry practice for editing is to charge per word. When you inform an editor that you need a nonfiction book chapter proofread with a word count of 7,500 words (about 30 pages), the editor can estimate how long it will take. Charging per word is similar to charging per project because there is a shared risk involved.
Recommendation: As a general rule, proofreading costs $5 per 1,000 words, copy editing costs $10 per 1,000 words, and content editing costs $12 per 1,000 words. Although this is simply a guide, it is helpful to know what pricing you might expect to charge.
Editing would take more than an hour, and charging per hour can be a loss for you. An editor will take long enough to perform a decent job, regardless of the word count.
Recommendation: Usually, Copy editors' hourly rates range from $30 to $100 per hour, depending on their level of competence.
Per project/piece pricing
As the freelancer, you assess the project's scope, estimate how long it will take you, and set a price that you believe is reasonable.
Always estimate the time a project would take, and then charge accordingly.
Additionally, you won't be able to take much work if a project takes longer. You're on the losing end of the equation if one task takes the same time as two other projects. You can safely charge by project if you know how long a typical project takes.
Here is the catch: Do at least some good amount of projects to get that degree of certainty of how much to charge.
Check out how to price your first-time customers.
Pick your Niche
Because different magazines and platforms have different standards and guidelines, you might benefit from building a niche. Your niche could be a type of content, such as books or blogs, or an industry, such as technical editing for medical journals.
Having a specialty, such as being a copy editor for science fiction novels or autobiographies, will help you build authority as an expert in that sort of editing and publication, which will help you attract potential clients and, in turn, command a better rate.
Share Your Success
To sum up, you have two options for improving as a freelancer: enhancing your craft or strengthening your entrepreneurial skills. Both are necessary for the success of a freelance editor. Begin by creating a profile on Refrens and interacting with authors, publishers, bloggers, and company owners looking for your skills and knowledge.