"Yes, I will do this for you. Of course, I can do that as well. Why not? I will add this one to the agenda…"
and the list goes on.
Do you find yourself in similar situations saying such phrases and often wondering, "This wasn't included in the scope and should I be doing this extra bit; what if the client gets in the habit of getting additional things done?
Maybe you're just starting your freelancing journey and need this project to help you survive. Maybe saying 'No' is not in your nature. Or maybe all your projects suddenly come to a halt, once you finally start saying no to the extra work or charge for it.
We get it, and somewhere or the other, we've all been there. To make the client happy, many freelancers end up overcommitting—while the contract is being made or later when everyone has forgotten about the contract!
Not overcommitting is easier said than done, so here is our list of 9 must-dos to avoid it at all stages of your client's journey.
What You Can Do To Avoid Overcommitting?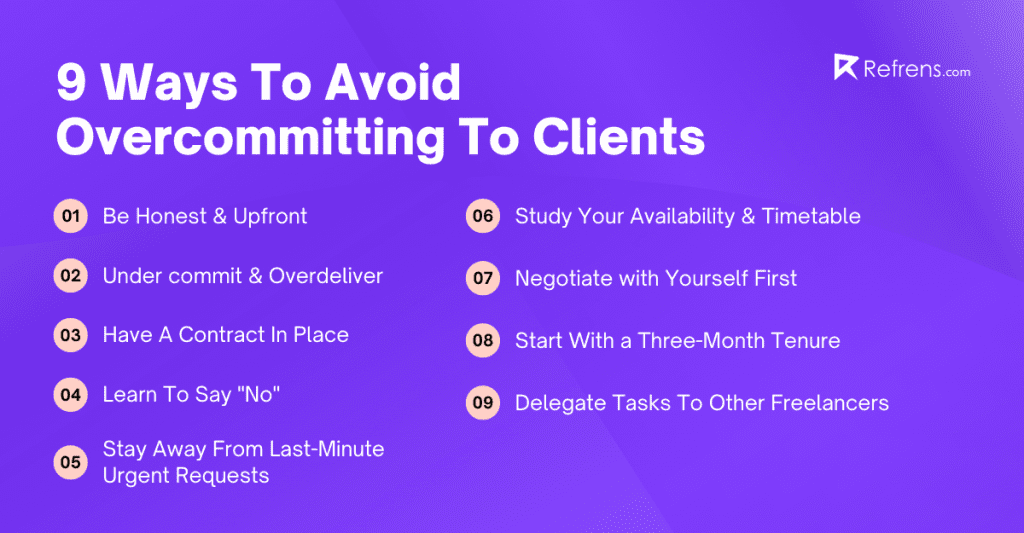 1. Be Honest & Upfront
For any business to succeed, honesty is the first virtue you must practice in every step of your business. It helps you build your reputation and trust.
The story of Amazon is a great example of how honesty can be a game-changer for a business.
When Amazon entered the business, people were skeptical about ordering and making payments online. Amazon took several steps to make its site safe, convenient, and user-friendly. They kept upgrading their site with different safety issues and kept highlighting these upgrades, so their potential customers started trusting them. Today, Amazon has millions of shoppers globally who trust and make daily transactions on the site.
Be upfront in discussing "what's included" and "what's not included" in the scope. You don't have to address every question right then. You can honestly tell them that you will get back with a specified timeline.
2. Undercommit & Overdeliver
Always commit to working to your limits so that you know you can deliver comfortably. A good strategy is, instead of overcommitting, try to overdeliver.
For example, if you think a project will take three days, add two more days, and ask for a five-day timeline. This way, the timeline won't be hampered even if something comes up. Plus, if you finish before the deadline, you'll earn some brownie points there.
3. Have A Contract In Place
Having a freelance contract in place is an excellent way to keep yourself from overcommitting. Go back and forth collaboratively with the client. Get them to pay attention to the details. Before signing the contract, go over it three times. Make sure it includes the following details.
Things that your contract must have
Scope of work: Clearly define what you are expected to do so that you don't overcommit later.
Project deliverables: clearly define your deliverables.
Revision limits: You shouldn't go down the rabbit hole with your revision. Put the number of edits you are going to do. Check out the different ways to deal with client revisions.
Timeline for delivery: Put in your timeline for delivery clearly so that you don't end up burning yourself overworking and overcommitting.
Price for the project: Include the agreed-upon price for the project that the client will pay you, along with the payment terms. (advance payment, monthly payment, etc.) It should also include the payment cycle.
Rights of usage: Will you have the right to put the work in your portfolio, or are you selling off the rights of usage to the client? Has it been clearly stated in the contract document to avoid any legal complications later?
Termination clause: Your contract should also clearly state the termination clauses by you and the client.
Download this free contract template here.
4. Learn To Say "No"
Overpromising, overextending, underestimating, and doing more than required are not too good for a healthy work-life balance. We all know that, but occasionally we all engage in it.
Saying "no" and politely dismissing additional demands can serve you much better than accepting every request and then not being able to do justice to it. Work on the duties for which both parties have agreed upon, and let the client know about the additional charges wherever applicable.
Just like Steve Jobs, who was the king of saying no, once said: "You have to pick carefully." I'm actually as proud of the things we haven't done as of the things I have. "Innovation is saying no to 1,000 things."
Bottom line: Learn to say "NO."
5. Stay Away From Last-Minute Urgent Requests
While a calendar can be a helpful visual reminder of current and impending events, having too many empty slots may entice you to add new activities right away. Before accepting those urgent client demands, make sure you have a clear understanding of what is required of you and the time commitment.
Check out the time management tips for freelancers.
These urgent requests usually come with a price of sleepless nights, frustrating last-minute changes, and might even hamper the already planned important and urgent tasks in your week.
Examine whether the new activity is in accordance with your goals and how it will help in optimizing your service set. Make sure to block some time in your schedule for relaxation and rest. The importance of "just for you" or "just for family" days cannot be underestimated.
Check out to manage time efficiently as a freelancer.
6. Study Your Availability & Timetable
Sit down with your calendar and make a list of all of your duties, as well as your usual and obligatory activities. Make a whole calendar so you can estimate proper timelines for projects. There are various timeline software solutions that you can use for that without starting from scratch. Always keep a buffer time between your commitments. Account for unproductive time, lag, circumstantial time, etc. 
7. Negotiate With Yourself First
Before presenting your proposal to your client, negotiate with yourself. Be a devil's advocate and purposely counter your commercials and timelines.
For instance, if you're a content writer and you can wrap up five articles in a week currently, you can't promise double that just for the sake of it. You need to counter why you need that much time and make sure to not compromise your quality.
8. Start With a Three-Month Tenure
Create a contract for any new opportunity or job you acquire using the light-on-feet format. Practice a three-month trial period before agreeing to a one-year contract. It's always better to get the lay of the land.
Once you're certain of the scope, the client, and the commercials, revisit after the first 3 months and renew the contract. Working for three months will give you a realistic idea of whether you can work with that client and commit to the project for a longer duration.
9. Delegate Tasks To Other Freelancers
If you are in a situation where you have overcommitted, make sure to break the project into the smallest tasks possible and see if any parts can be delegated. If someone can complete the task with 70% accuracy, assign it to them unless it is essential to your position. Even though they might not perform the task as well as you can, you still need assistance to complete the remaining tasks while not hammering your reputation.
If you are starting off and you have a small team, everything is dynamic. You are evolving; it's okay to engage with client demands. But as you grow, becoming more particular about a few things will be a key to your success.
Chayanika is a freelance writer for B2B Tech and SaaS companies. When she's not writing, you can find her practicing dance lessons, engrossed in a book, or traveling.