For some people, the opportunity to work freelance seems to be a dream job. There are no early rises in the morning, no annoying bosses constantly monitoring your work progress, and no need to take the subway during rush hour or stand in traffic for hours – you work from home.
At first glance, freelancing has only advantages. However, freelancing isn't easy or right for everyone. First, you should consider whether freelancing is just a buoy or whether you want to make a life of it.
To understand this, you must carefully weigh the pros and cons of a freelance lifestyle and work. Is freelancing as attractive as it seems? What qualities and traits do you need to become a freelancer?
What Are The Realities Of Freelancing?
The freelance services market is growing but has not yet reached its peak: it is actively developing in Europe and the USA. Since 2014, the number of freelancers in the US has grown by more than 6 million.
As with any other business, freelancing has disadvantages and advantages. So what are the benefits of being a freelancer?
Benefits Of Freelancing
More flexibility in the timetable
According to research, over 40% of freelancers choose freelance work due to flexibility, and only 7% due to financial considerations. 
Less stress on the road
Overall, 80% of freelancers felt that moving to self-employment had at least a somewhat positive impact on their mental health.
More Motivation
Intrinsically, freelancers themselves are more motivated because they are doing exactly what they want to do. A Manpower study found one-fifth of the world's employees are in the wrong jobs.
Flexibility in location
Surveys have shown that 36.9% of freelancers prefer to work without being tied to a specific place or city.
Financial independence
Indeed, 35.6% of respondents switched to freelancing because of the desire to work without bosses and manage their own income.
More time with loved ones and socializing
84% of freelance workers of various trades believe freelancing allows them to live the life they want.
Opportunity to learn new skills and develop
A free schedule allows devoting more time and attention to self-development and education. 70% of freelancers regularly receive skills training.
On the other hand, there are some obstacles more or less every freelancer faces at some point in a freelance career.
Drawbacks Of Freelancing
Unstable income
It's good when you have a pool of regular customers who provide you with work and earnings. But there is no guarantee that tomorrow these customers will not find another contractor or simply stop needing your services. 77% of freelancers admitted that they have not become more financially stable since becoming independent.
The daily routine is broken
Freelancers do not have to get up early. Hence, the great temptation to sleep until noon breaks the regime. Besides, being your own boss and working from home also makes it difficult to distinguish between your work time and your personal life.
Lack of live communication
All your work will take place online, and communication will take place on the Internet or by phone. Thus, working from home can be somewhat isolating. 
Unmistakable Signs You Need To Go Freelancing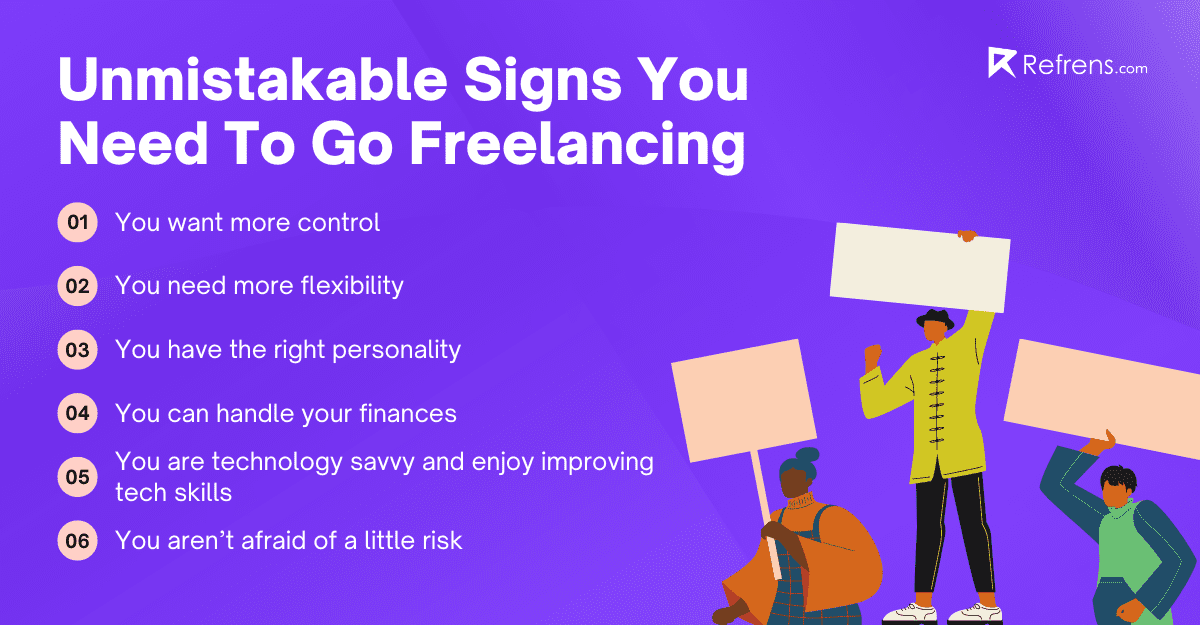 The most challenging part of freelancing is deciding whether to give it a shot. Why can't everyone become a freelancer? Who is freelancing for, and what should be considered when deciding to switch to remote work?
Some qualities and skills will help you successfully adapt to freelancing and become a sought-after specialist. The future remote worker must already have these qualities or be ready to acquire and develop them.
You want more control
Freelancers find their own customers and can choose and control projects. They have the opportunity to work not only for money but also for pleasure. Office workers seldom can afford to give up the task assigned to them by management.
However, being a freelancer does not mean doing only what you like. Do not forget about some organizational and routine tasks. If you feel the power to do both, freelancing is your best possible career.
You need more flexibility
Apparently, every employee dreams of a free work schedule. Freelancers receive tasks and deadlines (and sometimes they set deadlines themselves). Some people are more comfortable sleeping until noon and working until the middle of the night. Working as a freelancer, you can afford it.
You have the right personality
Being successful as a freelancer requires having certain personality traits. Freelancing is great for serious and responsible people, but it is absolutely unsuitable for those who need a boss in every sense. In hired work, an employee from any industry is given clients and projects to work with and voiced salary levels.
You can handle your finances
As for income, it is highly uneven compared to the system of office advances and payroll at work. Thus, it is necessary to plan your own budget because the income varies from month to month. And if you know how to manage your finances properly, freelancing will suit you perfectly.
You are technology savvy and enjoy improving tech skills
Remote work is related to Internet technologies, software products, design, marketing, or advertising. These areas are developing rapidly. Therefore, a specialist must be aware of current events and constantly master new information.
According to research, highly qualified services such as computer programming, IT, and business consulting are provided by 50% of freelancers. Without self-education, success in freelancing is impossible.
You aren't afraid of a little risk
Freelancing, as a type of activity, implies certain risks. There is a high risk of fraud or dishonest actions on the part of the customer, which can occur regardless of which contract was concluded.
Everything is possible: both fraudulent clients who simply do not want to pay and serious customers from large businesses, but with such a clumsy document approval system that it is normal to receive a reward from them in six months.
Conclusion
Thus, freelancing is freedom and mobility. You don't need to take time off from work or wait for permission to take a vacation, and you can work at any convenient time and place, adjust your schedule to the weekends of loved ones and friends, take part-time jobs, and solve everyday issues.
Motivation, independence, and self-organization are the basis of successful freelancing. And, of course, professionalism is essential in any job. As for income, for some people freelancing is a way to earn extra money, while for others, it is the primary and quite good income. But on the other hand, freelancing is a complete responsibility with many risks and temptations.