Tally Forms has emerged as a reliable platform in the dynamic world of form-building solutions. It effortlessly equips individuals and businesses to craft an impressive array of forms for various purposes.
However, the market has captivating options for those seeking alternatives with a fresh perspective. Imagine sleek user interfaces, advanced customization, seamless integrations, and specialized form templates catering to unique needs.
So, if you're eager to explore beyond Tally Forms, this blog guides you to exhilarating alternatives. From unleashing creativity to mastering data management, these alternatives promise renewed vitality for your form-building efforts.
Exploring 10 Top Tally Forms Alternatives –
Creating forms becomes a breeze using Refrens. It's a quick task. But what sets Refrens apart is how it integrates seamlessly with a robust lead management system, going beyond basic form capabilities. This blend brings advanced features that elevate your business.
As data flows into Refrens through its intuitive forms, it easily fits into your setup. The impressive part is Refrens' ability to track lead progress in your sales pipeline, giving you crucial insights. Moreover, Refrens simplifies form integration into your website, social media, and ads. Its efficient Lead Management System (LMS) handles leads adeptly.
With a simple click, you can communicate by sending quotes and invoices, streamlining client engagement. Refrens don't stop there. It offers more – an efficient accounting system, meticulous expense tracking, precise inventory management, and effective client relationship management. All in one place, enhancing your business operations.
Free: Free plan for small businesses to create up to 50 documents/year
Premium Plan: Pricing starts from as low as ₹100/month or $2.5/month depending on the number of users & features
Lead Generation is an important and long process, and an extensive list of form-creating tools is just a small portion of the same. Check out our even more comprehensive and ultimate list of 39 Best Lead Generation Tools to supercharge your business!
2. Jotform
JotForm caters to a variety of businesses posing as a streamlined alternative of Tally Forms. With an intuitive drag-and-drop approach, JotForm simplifies form creation, enabling effortless customization from logos to e-signatures.
JotForm's adaptability extends across sectors, serving businesses, non-profits, education, and healthcare alike. This makes it a versatile solution for a range of needs. What sets JotForm apart is its dynamic forms, intelligently adjusting to user inputs, and showcasing capabilities beyond Tally Forms.
Enhancing teamwork, JotForm shines with automated approval processes and notification workflows. It offers limitless form submissions, making it ideal for data-hungry growing enterprises. Its Single Sign-On feature ensures easy access, streamlining the user experience.
Balancing customization, functionality, and affordability, JotForm becomes a compelling choice. In essence, JotForm offers dynamic form creation, streamlined team collaboration, and seamless customization, serving as an ideal Tally Forms alternative.
Pricing
Starter: Free, 5 Forms, 100 Submissions/month, 100 MB Space, Jotform Branding.
Bronze: $34/month, 25 Forms, 1,000 Submissions/month, 1 GB Space, No Branding.
Silver: $39/month, 50 Forms, 2,500 Submissions/month, 10 GB Space, No Branding.
Gold: $99/month, 100 Forms, 10,000 Submissions/month, 100 GB Space, HIPAA Compliance Available, No Branding.
Ratings
Capterra – 4.6⭐/5
G2 – 4.7⭐/5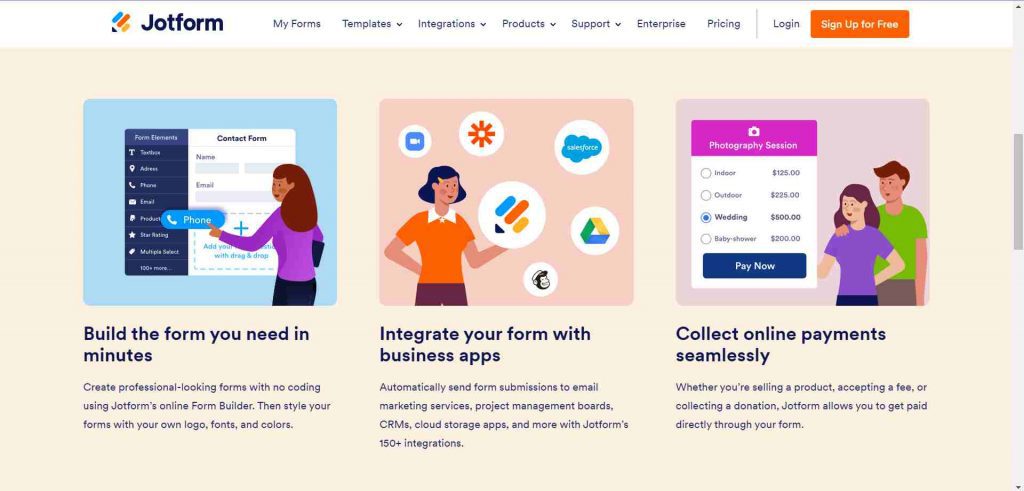 What more and beyond JotForm? Check out our comprehensive list of best JotForm Alternatives!
3. Google Forms
Enter Google Forms, a pragmatic substitute for Tally Forms. Versatile and user-friendly, it swiftly crafts forms for surveys, quizzes, and job applications. Like Tally Forms, it offers real-time analysis, conditional logic, and image/video integration, though with fewer customization options.
Google Forms accommodates images, multi-step forms, and conditional logic, mirroring Tally Forms' features. While not as feature-rich, its integration with Google's suite ensures easy data storage in Google Sheets.
Collaboration is seamless, reminiscent of Google Docs' real-time teamwork. Although design control is limited, sharing via email, links, or embedding is effortless.
In short, Google Forms is a cost-free, practical Tally Forms solution. It equips you with essential tools, real-time insights, and seamless Google integration. While not as advanced, it suits basic form needs perfectly.
Pricing
Free for individuals (15GB storage), or part of Google Workspace starting from $6/user/mo.
Ratings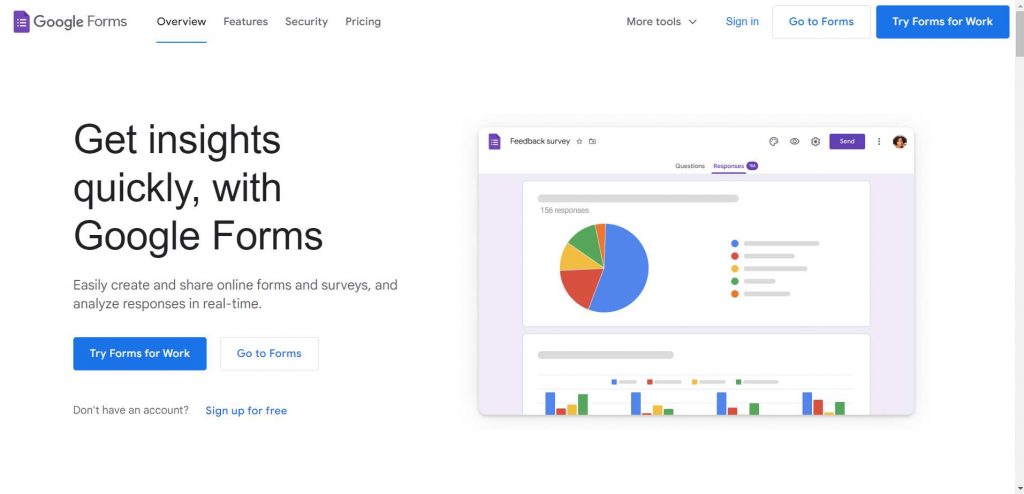 4. Formstack Forms
In the world of form-building solutions, Formstack emerges as a robust alternative to Tally Forms. With its user-friendly design and intuitive drag-and-drop form builder, Formstack ensures a smooth transition for Tally Forms users. However, Formstack's distinct strength lies in its ability to streamline various workflows, catering to a wide range of business functions.
Beyond its form creation capabilities, Formstack excels in simplifying and enhancing business processes. Whether you're managing customer interactions, internal operations, or documentation tasks, Formstack's versatility can adapt to your needs. This comprehensive approach makes Formstack an ideal solution for businesses seeking operational efficiency beyond basic form collection. Additionally, its features like document generation and e-signature integration further amplify digital efficiency, providing a comprehensive platform to enhance overall business operations.
Formstack's seamless integration with popular web applications further enhances its value, offering solutions to data management challenges, task automation, and improved digital interactions. As an exceptional Tally Forms alternative, Formstack seamlessly combines user-friendly form creation, advanced workflow optimization, and effortless integration. It's a compelling option for businesses aiming to refine operations and elevate their digital capabilities.
Pricing
Forms: Digitally collect data with a no-code, drag-and-drop form builder, starting at $50/month
Documents: Utilize document automation for seamless workflows, starting at $92/month
Sign: Access eSignature for legally binding digital signatures, starting at $18/month
Recommended Suite: Bundle Formstack's tools and features into a single plan, starting at $66/month
Enterprise: Customized enterprise-ready process automation solution.
Ratings
Capterra – 4.1⭐/5
G2 – 4.4⭐/5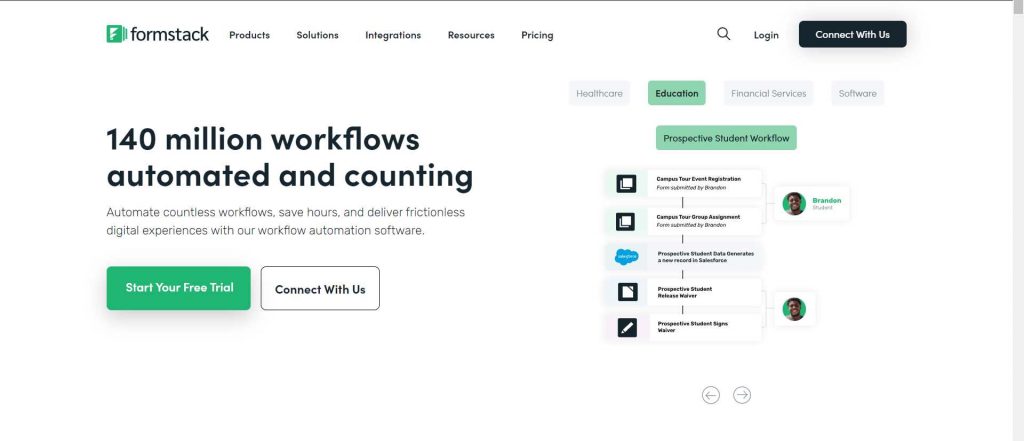 Check out our extensive Lead Generation Guide to make your lead generation process more effective and rewarding!
5. Microsoft Forms
Microsoft Forms is an efficient alternative to Tally Forms that seamlessly aligns with your form creation needs. Much like Tally Forms, it offers a user-friendly interface, allowing you to create professional forms without coding. However, what truly sets Microsoft Forms apart is its integration into Microsoft's suite, including Excel, Word, and Outlook, enhancing user familiarity within the Office ecosystem.
Like Tally Forms, Microsoft Forms employs a simple drag-and-drop approach, making form building a breeze. It supports various question types for engaging surveys. While Tally Forms focuses on customization, Microsoft Forms strategically prioritizes integration with Office 365 apps, boosting productivity in established workflows.
Notably, Microsoft Forms provides unlimited form creation, catering to businesses of all sizes. Beyond form building, it utilizes AI-driven smart suggestions for streamlined feedback gathering, a feature akin to Tally Forms.
Furthermore, it integrates with popular apps and offers multilingual support, expanding your reach. Its real-time charts and customizable reports swiftly translate insights.
In essence, Microsoft Forms serves as a practical Tally Forms alternative, emphasizing Microsoft product integration, unlimited form creation, and AI-driven enhancements for efficient data collection and analysis. It's an ideal choice for productivity, seamless integration, and optimized data insights.
Pricing
It is free for personal use with a Microsoft account. Paid Microsoft 365 plans (Personal, Education, Business) offer more, like higher respondent limits.
Ratings
Capterra – 4.5⭐/5
G2 – 4.4⭐/5

6. Wufoo
Meet Wufoo, a potent Tally Forms alternative, tailored for seamless form creation. Like Tally Forms, it offers easy form building minus coding. Trusted by giants like Amazon and Disney, Wufoo's interface flaunts 400+ templates for streamlined data collection and reporting. With a drag-and-drop builder akin to Tally Forms, it simplifies form creation for all.
Wufoo stands out in secure payment collection via PayPal and Stripe, along with data connectivity to tools like Salesforce and MailChimp. Unlike Tally Forms' single-question style, it offers diverse features that make it stand out. Ideal for e-commerce, it empowers secure payment collection through interactive forms.
Moreover, Wufoo ensures brand consistency through its theme designer and boosts analysis via data export. Enhanced data security with 256-bit SSL Encryption, a WordPress plugin, automation support, and dynamic logic for user-specific questions are part of Wufoo's offerings. While some advanced functions might need coding, Wufoo remains a versatile form creation choice, focusing on user-friendly interfaces and effective data collection.
Pricing
Starter: $14.08/mo- Customize branding, confirmation emails, and automate workflows.
Professional: $29.08/mo Collect payments, unlimited forms, additional users, and form security.
Advanced: $74.08/mo – Increased entries, users, file storage, and API requests.
Ultimate: $183.25/mo – Advanced features with higher limits for data collection & automation.
Free: $0/mo – Basic forms and limited responses.
Ratings
Capterra – 4.4⭐/5
G2 – 4.2⭐/5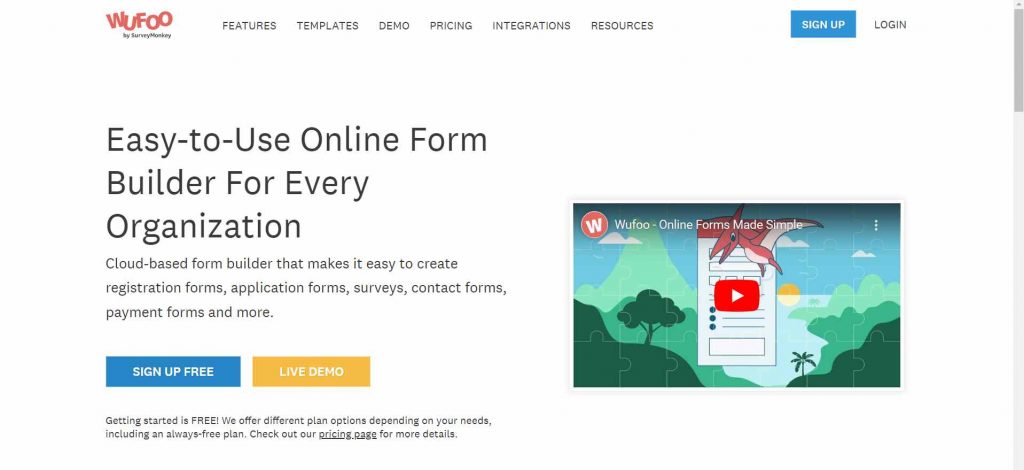 Creating Lead Capture or Contact Us forms? Then you must check our Comprehensive Guide To Creating Effective Lead Capture and Contact Us Form to get that data flowing!
7. Typeform
Typeform is a powerful alternative to Tally forms, offering a unique approach to data collection. Its standout feature is the creation of conversational forms, which present one question at a time, making form-filling feel effortless. This approach has led to 95% of users reporting an increase in data collection after switching to Typeform.
Typeform's powerful forms encourage respondents to provide deeper insights, improving your business with valuable feedback. The platform also offers beautifully designed forms that help grow your audience by standing out from the crowd.
One of the key features that make Typeform a great alternative to Tally forms is its compatibility with existing workflows. It integrates seamlessly with popular platforms like Zapier, Google Sheets, Slack, Google Analytics, Hubspot, and Salesforce.
Typeform also puts a strong emphasis on user experience. It uses logic jumps to avoid asking the same question twice, ensuring that respondents only see relevant questions. This leads to better engagement and ultimately, better data.
This software offers a refreshing and effective approach to form creation and data collection. Its focus on user experience and seamless integration with existing workflows make it a compelling alternative to Tally forms.
Pricing
Basic: Forms with workflow connection, $25/mo (billed yearly), 100 responses/mo, 1 user.
Plus: Branded forms, $50/mo (billed yearly), 1,000 responses/mo, 3 users, No branding.
Business: Performance analysis, $83/mo (billed yearly), 10,000 responses/mo, 5 users, Priority support.
Enterprise: Contact for advanced features, tailored limits/seats, VIP support, and Compliance.
Ratings
Capterra – 4.7⭐/5
G2 – 4.7⭐/5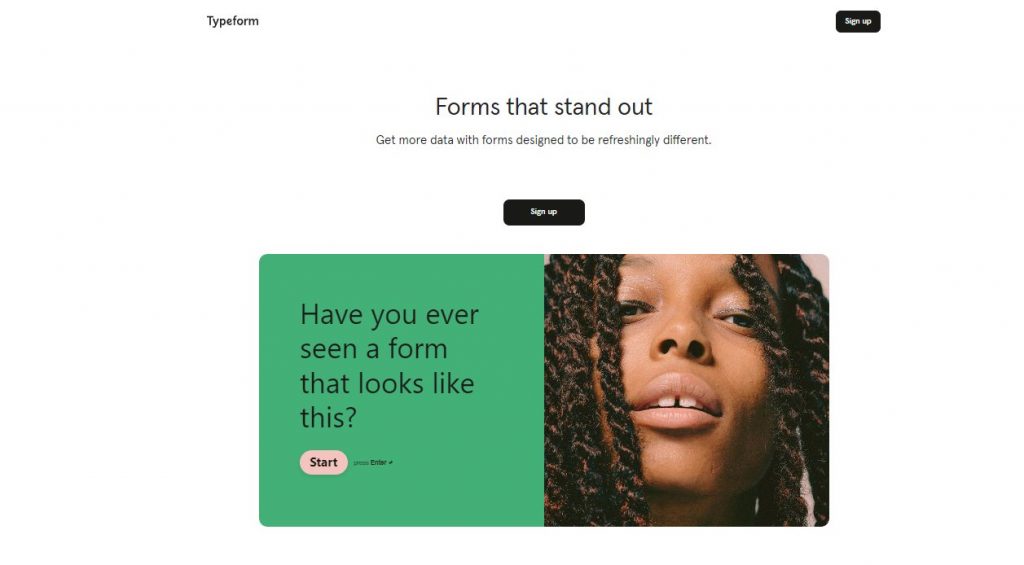 Already a Typeform user and looking for more? Check out these Top Typeform Alternatives, specifically researched to include features, pricing, and even reviews to help you make a smart decision!
8. Monday.com
Monday.com is a versatile platform that offers a robust alternative to Tally forms. It provides a variety of customizable forms, including creative request forms, registration forms, order forms, and more, catering to various business needs.
The platform stands out with its conditional logic feature, which allows you to set conditions to gather the right information, reducing unnecessary back-and-forth communication. This ensures you get the information you need to work faster and more efficiently.
monday.com also offers automation that transform requests into automated workflows. These automations can route requests to the appropriate team members, notify individuals for final approval, or inform clients when their projects are completed.
Another key feature is the dashboard, which provides data-driven insights. This allows you to spot bottlenecks and trends so you can optimize your work process.
In summary, monday.com offers a comprehensive and efficient approach to form creation and data management. Its focus on customization, automation, and data-driven insights make it a compelling alternative to Tally forms.
Pricing
Free: 3 Seats, Up to 2 Seats Forever, Basic Features
Basic: $8/seat/month ($24 billed annually), Up to 2 Team Members, Enhanced Features
Standard: $10/seat/month ($30 billed annually), Most Popular, Collaboration Tools, Automations
Pro: $16/seat/month ($48 billed annually), Advanced Workflow, Private Boards
Enterprise: Contact for pricing, Premium Features, Advanced Security, Tailored Support
Ratings
Capterra – 4.6⭐/5
G2 – 4.7⭐/5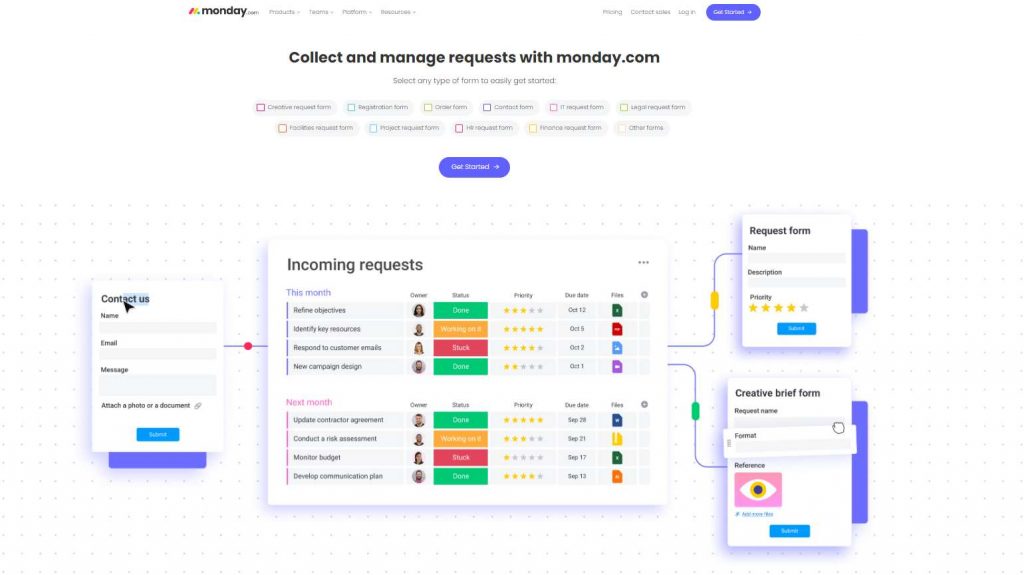 Looking to enhance your business with a Lead Generation Form? Don't miss these 11 Tips for Crafting High-Performing Lead Generation Forms, complete with simple examples and real-world case studies to exponentially improve your lead acquisition potential!
9. Zoho Forms
Zoho Forms is a reliable alternative to Tally Forms that offers streamlined form creation for surveys, feedback, registrations, and more. Known for its user-friendly interface and versatile features, Zoho Forms stands as a go-to choice for businesses seeking an efficient solution.
Zoho Forms is cost-effective and user-friendly, catering to basic form needs with ease. It embraces image integration, multi-step forms, and conditional logic, aligning well with Tally Forms' offerings. While advanced features might be fewer, Zoho Forms ensures seamless data integration with Zoho's suite, simplifying data management. It also enables convenient sharing via email, links, or embedding.
In summary, Zoho Forms emerges as a practical Tally Forms alternative. It equips users with essential form-creation tools, delivers real-time insights, and integrates smoothly with Zoho's suite of applications. While it might not match Tally Forms' advanced features, Zoho Forms presents a viable solution for essential form requirements.
Pricing
Basic: $12/month or ₹580/mo – 1 User, 3 Forms, 500 Submissions/month, 200MB Storage
Standard: $30/month or ₹1450/mo – 1 User, Unlimited Forms, 10,000 Submissions/month, 500MB Storage
Professional: $60/month or ₹2900/mo- 10 Users, Unlimited Forms, 25,000 Submissions/month, 2GB Storage
Premium: $110/month or ₹5800/mo – 25 Users, Unlimited Forms, 75,000 Submissions/month, 5GB Storage
Ratings
Capterra – 4.5⭐/5
G2 – 4.4⭐/5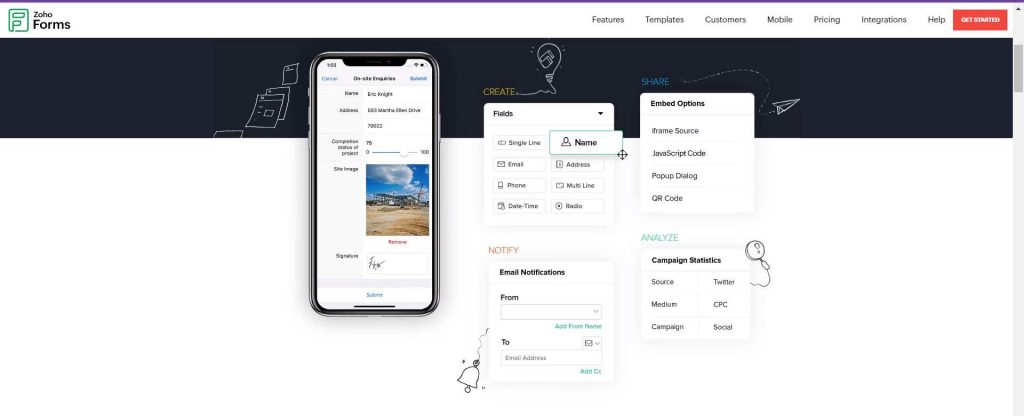 You might know that with good form-creating tools, one needs an even better Lead Management tool to help them handle the data. Check out our Industry-wise Top Lead Management Software in 2023, where we have conducted extensive research to get you the best software for your needs.
But wait, do you know everything you need to know about Lead Management to choose the software catering to your needs? Find out in our guide – Everything you need to know about Lead Management
10. SurveyMonkey
In the world of form-building solutions, SurveyMonkey shines as an adept Tally Forms alternative. With a robust suite for survey and feedback management, SurveyMonkey empowers users to create, deploy, and analyze surveys effortlessly.
With a legacy spanning two decades, SurveyMonkey offers customizable survey templates, echoing Tally Forms' user-friendly approach. Versatile data collection is ensured through diverse question types, paralleling Tally Forms' offerings.
SurveyMonkey's real-time analytics, akin to Tally Forms, aids data-driven decisions by tracking trends and sentiments. Integration with apps like Salesforce and Slack enriches data, aligning with Tally Forms' integration focus.
Though less focused on workflow automation, SurveyMonkey thrives with a user-friendly interface, varied question options, and integration finesse. It's a compelling choice for those seeking actionable insights, in sync with Tally Forms' mission.
To sum up, SurveyMonkey doesn't replicate Tally Forms entirely, but it offers a strong suite tailored for survey management and insightful decision-making. As a viable Tally Forms alternative, SurveyMonkey encapsulates essential attributes for effective survey and feedback solutions.
Pricing
Individual plans
Standard Monthly: $99 per month or ₹899/mo – 1,000 responses/mo, 24/7 email support, unlimited surveys
Advantage Annual: $39 per month or ₹1,999/mo – 15,000 responses/yr, expedited email support, advanced features.
Premier Annual: $119 per month or ₹4,999/mo – Unlimited surveys, 40,000 responses/yr, phone & email support.
Team Plan
Team Advantage: $25/user/mo or ₹1,550/user/mo – Survey sharing, collaboration, 50K responses/yr.
Team Premier: $75/user/mo or ₹3,800/user/mo – Advanced features, phone support, unlimited responses.
Enterprise: Contact sales – Customization, integrations, SSO, HIPAA compliance, dedicated manager.
Ratings
Capterra – 4.4⭐/5
G2 – 4.4⭐/5

Conclusion
The world of form-building is vast and dynamic, as evidenced by the array of alternatives available. Each alternative, with its unique features and approaches, opens doors to enhanced efficiency and creativity. As you consider these alternatives beyond Tally Forms, you embark on a journey toward innovative solutions that align with your evolving needs. Embrace the possibilities and let these alternatives invigorate your form-building endeavors with newfound vigor.
Also learn: Data Capture Forms: Your One-Stop Guide