Attention all business owners and entrepreneurs!
It's time to get those lead-generation juices flowing.
If you're not generating leads, you might as well be trying to climb a greased pole – it's not going to get you anywhere fast.
In fact, failing to generate leads can be a slippery slope to a high customer acquisition cost, and potentially even going out of business.
So, let's grab our thinking caps and get ready to learn all about the magical world of lead generation.
In this comprehensive guide, we'll leave no lead unturned.
From the basics to the nitty-gritty, we'll cover everything you need to know to become a lead-gen wizard.
Whether you're a seasoned marketer or just starting out, this guide has got you covered with all the knowledge and tools you need to generate those leads like a boss.
So, get ready to unlock the secrets of lead generation and take your business to new heights!
What is lead generation?
Lead generation is the process of finding people who are interested in your product or service and getting them to share their contact information with you.
The key is to create a system to attract people toward your product or service. This requires a deep understanding of your target audience along with proper tools & techniques to implement a lead generation strategy.
Demand generation vs Lead generation
The key difference between demand generation and lead generation is that, while demand generation is focused on building awareness about your product or service, lead generation is focused on collecting the contact information of the people who have shown interest in your offerings.
Demand generation is done through activities like content marketing, PR, events, etc., while lead generation uses tools like contact forms, gated content, lead magnets, etc.
Not all leads are the same. Leads are divided into different types based on how qualified they are to become your potential customers. To understand how it's done, let's first see what lead qualification is.
What is lead qualification?
Lead qualification is nothing but the process to determine whether a lead is ready to buy your product or not. It uses various factors such as a lead's interest level, budget, demographics, authority, timeline, etc. to define whether a lead is qualified enough to make a purchase or not.
Leads are then segmented into four categories depending on their qualification level. Let's see how.
Different stages of lead qualification
There are typically four types of leads depending on their intention to make a purchase.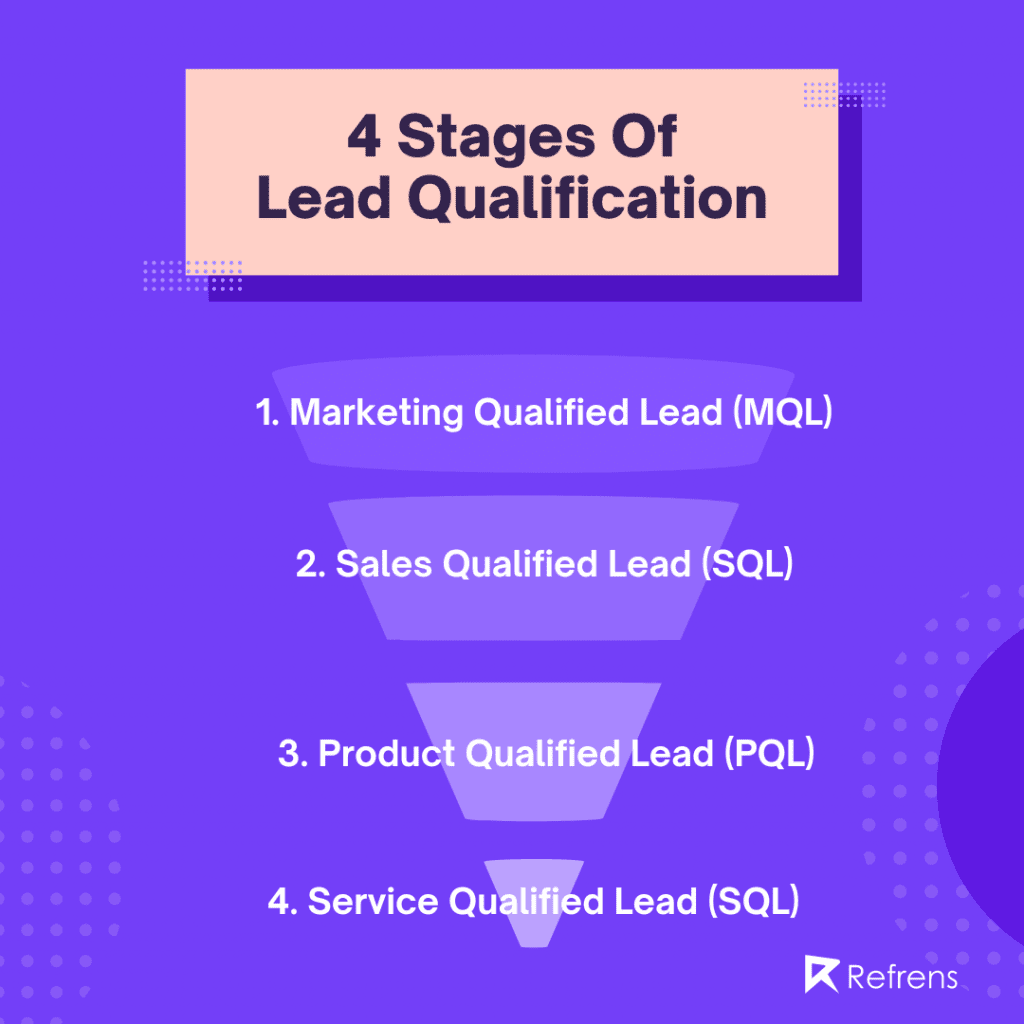 1. Marketing Qualified Lead (MQL)
These are leads who have shown interest in your product or service by engaging with them but are not yet ready to make a purchase. They might have subscribed to your newsletter or downloaded a free resource from your website, but they are not ready to receive a sales call from you.
2. Sales Qualified Lead (SQL)
The major difference between SQL and MQL is that sales-qualified leads are more likely to make a purchase. They have shown a higher level of interest in your offerings by filling out a contact form or requesting a demo.
3. Product Qualified Lead (PQL)
These are the leads who have already tried your product. They might have tried your free version or a free trial. As they have already experienced your product, they are more likely to convert into paying customers.
4. Service Qualified Lead (SQL)
These are your most qualified leads. They have interacted with your service team and have told them that they would like to make a purchase. These leads should be quickly passed to the concerned person for immediate attention.
Segmenting leads into different types can help you identify where you need to spend your sales to automate sales process. Leads are also classified based on whether they are inbound or outbound. Let's understand what that means.
Inbound vs Outbound leads – What are the differences?
Leads can be generated either via marketing efforts or sales efforts. Depending on how a lead got generated, it is called an inbound or outbound lead.
1. Inbound leads
Leads generated through marketing efforts are called Inbound leads i.e. when a lead comes to you. Techniques like content marketing, digital marketing, social media marketing, email marketing, and SEO are used to attract leads toward your product or service.
2. Outbound leads
Leads generated through sales efforts are called outbound leads i.e. when you reach out to a potential lead. Techniques like cold calling, direct email campaigns, targeted advertising, etc. are used to generate interest in your product or service.
As we understand the types of leads, it is also important to understand the difference between leads, prospects, and opportunities as they are often confused with each other.
Also Read: Ways to acquire clients via cold outreach
Leads vs Prospects vs Opportunities
Leads, prospects, and opportunities refer to the different stages of your sales process. A lead turns into a prospect which turns into an opportunity, and then finally becomes your customer.
1. Leads
Leads are any person or organization that has shown some level of interest in your product or service. The main goal of generating leads is to attract as many leads as possible irrespective of the level of interest. They are not ready to buy your product yet.
2. Prospects
Prospects are leads that are classified as potential customers based on some qualification factors like level of interest, demographics, budget, etc. These are the leads that are more likely to buy your product or service. Normally, sales representatives will contact a prospect before they contact a lead. By leveraging effective prospecting tools, sales teams can identify and prioritize the most promising prospects, streamlining the sales process and increasing the chances of converting them into loyal customers.
3. Opportunities
These are prospects who have shown a clear interest in purchasing your product or service. Prospects are qualified as opportunities when they show a strong interest by requesting a demo, quotations, etc.
This is the last stage of the lead qualification before it becomes a paying customer.
Now that we are familiar with basic terminologies, let's understand the lead generation process.
Lead generation process
The lead generation process involves 8 steps to attract, capture, and qualify potential customers. Let's understand the process in detail.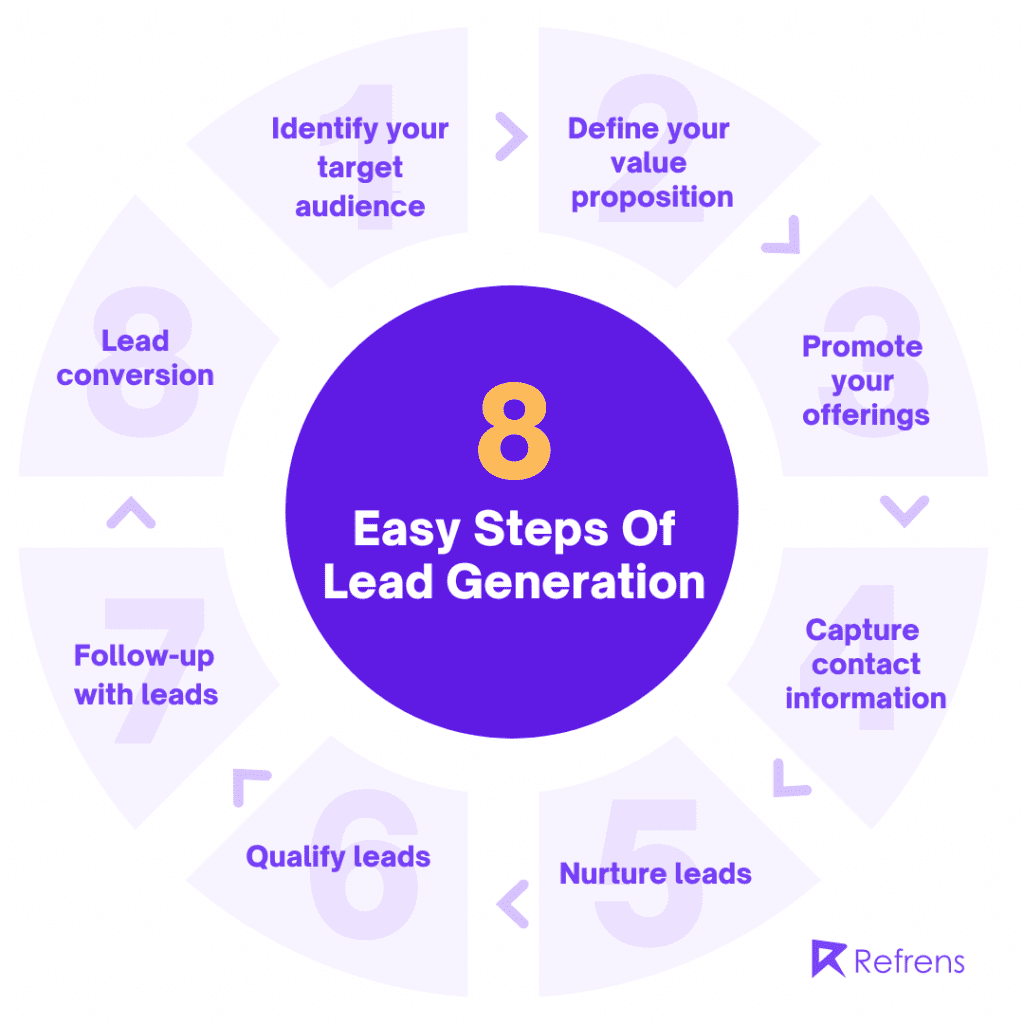 1. Identify your target audience
Before you do any lead generation activity, you need to define your target audience. Having a buyer persona helps you create more targeted campaigns that resonate with your target audience.
Consider factors like age, gender, location, profession, budget, and pain points to create a buyer persona that is most likely to buy your products.
2. Define your value proposition
Once you have identified whom to target, create a value proposition that is more compelling to them. Understand how you can solve their pain points and develop a communication strategy to address them in your messaging.
3. Promote your offerings
How would your potential customers know that your product can solve their pain points?
Identify where your customers spend most of their time, see where your competition gets customers from, and have your presence there.
Use various strategies like content marketing, digital marketing, social media marketing, SEO, etc. to get the attention of your target audience.
4. Capture contact information
Once you have got the attention of your leads, you need to get their contact information using landing pages, lead magnets, and lead capture forms.
5. Nurture
Getting the attention of your leads might not always be enough to turn them into paying customers. Using target social media ads, drip campaigns, personalized messaging, etc. can help you keep your leads engaged and move them down your sales funnel. If you are a SaaS startup, it is better to partner with an experienced SaaS lead gen agency, as it can provide you with powerful lead nurturing strategies that will convert more leads for your business
6. Qualify
Not all leads are going to be your customers, and also not all of them require some attention and effort from your sales team.
Having a lead qualification mechanism in place can help you segment and prioritize leads based on their intention to make a purchase.
Lead scoring techniques can help identify which leads are more likely to make a purchase and require more attention.
7. Follow up
This will be the last step between a lead either becoming your paying customer or getting lost. This stage will typically involve your sales team personally reaching out to the lead via sales calls, follow-up emails, messages, meetings, etc. to convert a lead into a customer.
8. Conversion
At this stage, a lead either becomes your paying customer or gets lost. Do keep track of your lead conversion rate to measure the efficiency of your lead generation process.
KPIs for the lead generation process
The key to a successful lead generation process is to keep iterating and experimenting. Measuring the right KPIs can help you track the efficiency of your lead generation process and improve it.
Let's see the most common KPIs you need to keep track of,
Cost Per Lead: What is your average cost per lead received?
Total ROI: How much revenue did you generate with expenses you incurred to generate leads?
Lead Quality: What is the quality of leads received? Measure this with lead scoring mechanisms.
Lead Conversion Rate: How many leads convert into customers?
Time to Conversion: How much does it take to convert a lead?
If you are running online campaigns, you also need to track reach, impressions, engagement, CTR, CPC, and other metrics to measure the effectiveness of your lead generation campaigns.
Top B2B lead generation tools
The primary function of lead generation tools is to capture the information of the people who are interested in your product or service.
The key benefit these tools offer is that you can collect leads with the least manual effort from your end.
Let's take a look at the top tools that can help you automate your lead generation process.
1. Prospecting tools
If you are in B2B sales, you might have probably used LinkedIn Sales Navigator for prospecting and researching. However, if you want to get more out of Sales Navigator, you can do so with Salesflow. With its tagline, "LinkedIn lead generation made easy," Salesflow can put a concrete workflow in place that amplifies your account.
D&B Hoovers is another useful tool to dig deeper into the company information of your prospects. Tools like IFTTT can help you build custom automation mechanisms for lead prospecting.
2. Email & Contact finder tools
Finding the emails and other contact information of your potential leads is a pretty daunting task. Tools like Hunter, Skrapp, AeroLeads, Datanyze, Leadfeeder, Discover.ly, and Voila Norbert can automate this process for you.
Also Read: How to write a perfect cold email?
3. Emailing tools
Creating targeted email campaigns can also be a cost-effective way to generate leads for your business. MailChimp, HubSpot, ActiveCampaign, Boomerang, and Mail Merge are a few of the great emailing tools you can choose from.
4. Form-building tools
Contact form is the most common way to capture lead data. There are 3 ways you can create contact forms: By coding, by using form-building tools, or by using widgets & plugins.
The most efficient way to create forms is to use form-building tools as they require no technical knowledge, are easy to use, and offer advanced functionalities.
Refrens, Google forms, Jotforms, Typeforms, etc. offer great tools to create effective contact & lead capture forms that you can easily embed in your website and also share via a link.
Tools like Refrens even have an in-built lead management system that also helps you capture, nurture, track, and convert leads in an all-in-one system.
Recommended Read: List of Top Lead Management Software
5. Scheduling tools
These tools help you schedule meetings with your potential leads without a lot of back-and-forths. Making it easier for people to schedule meetings & demo requests can get you more leads and also increase efficiency. Calendly is a great tool for this.
6. Live chat tools
Having a live chat software on your site can help your site visitors quickly get in touch with you for any queries. Intercom, Crisp, and Acquire are a few of the tools that provide you with this functionality.
Tools like Callpage even allow you to add a click-to-call widget so that your leads can quickly get in touch with your sales team.
7. Landing page creation tools
Having an effective landing page is necessary for capturing the interest of your potential customers.Instapage, Leadpages, and SeedProd are some of the top landing page tools that help you build great ones that convert.
That's it, then! We hope this guide helps you generate more leads for your business and bring efficiency into your lead-generation process. We also recommend you check out our lead management guide for more tips and strategies to convert these leads into revenue!