In today's digital age, data is the lifeblood of businesses and organizations worldwide. The seamless capture of valuable information has become more crucial than ever. Data capture forms, often underestimated, serve as the frontline for gathering insights, feedback, and critical data.
This guide is your gateway to understanding the world of data capture forms. We will explore the types, dissect their essential components, and delve into design best practices. Moreover, we will introduce you to a selection of top software solutions designed to streamline the form creation process.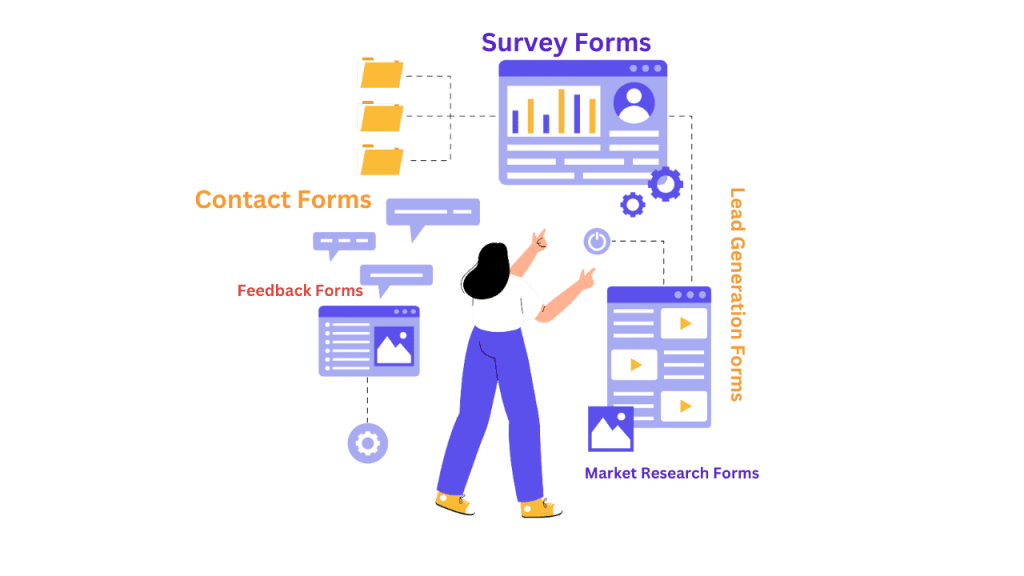 Types of Data Capture Forms
Contact Forms: Contact forms facilitate direct communication between website visitors and businesses, making it easy for users to ask questions, request information, or provide feedback, enhancing customer engagement.
Subscription Forms: Subscription forms empower websites to build mailing lists, ensuring subscribers receive updates, newsletters, and exclusive content, fostering long-term audience engagement.
Registration Forms: Registration forms enable users to create personalized accounts, offering access to member-only features, and enhancing user experiences on websites and applications.
Feedback Forms: Feedback forms gather valuable insights from users, allowing businesses to improve products, services, and customer satisfaction based on user suggestions and opinions.
Order Forms: In e-commerce, order forms streamline the purchasing process, collecting essential information like shipping and payment details, and facilitating secure online transactions.
Survey Forms: Survey forms gather data for market research and decision-making, providing businesses with actionable insights into customer preferences and trends.
Lead Generation Forms: Lead generation forms capture potential customer data, nurture prospects, and build relationships through targeted marketing efforts.
Event Registration Forms: Event registration forms simplify the process of signing up for conferences, webinars, and other events, ensuring efficient management and seamless attendee experiences.
Market Research Forms: These gather data on consumer preferences, behavior, and demographics, aiding businesses in making informed decisions and refining products or services through feedback and insights.
Feedback/Testimonial Data Forms: These collect user feedback and testimonials, enhancing customer satisfaction, building trust, and showcasing positive experiences to potential customers.
In addition, there are several others that serve distinct purposes. These include job applications, quizzes, donation forms, booking and reservation forms, volunteer sign-up sheets, membership applications, contest entry forms, user profile update requests, and forms for seeking assistance. These forms collectively cater to a wide range of online interactions and industries, each contributing uniquely to data collection and management.
Components of Data Capture Forms
To create an effective data capture form, it's crucial to understand its key components. The following are the essential elements of a data capture form along with an example depicting all the necessary components your data capture form needs.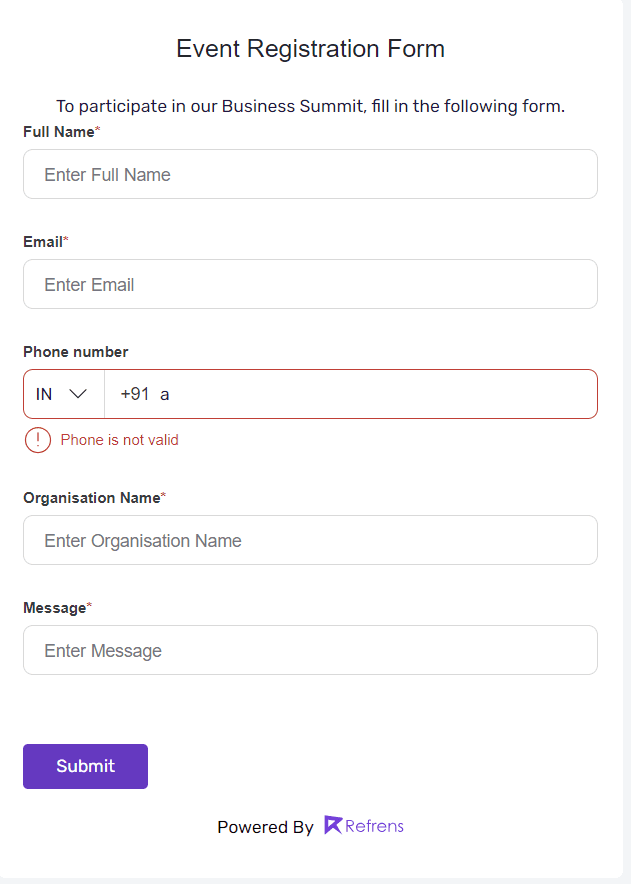 Title and Description: A clear and concise title and description set the context for the form. They inform users about the purpose of the form and what information is expected.
Form Fields: Form fields are where users input their data. Common form fields include text boxes for names, email addresses, phone numbers, and text areas for longer responses, such as comments or messages. Depending on the form's purpose, you can include various field types like checkboxes, radio buttons, and dropdown menus.
Labels and Placeholders: Labels provide users with instructions or descriptions for each form field. Placeholders can be used inside the form fields to give users examples or hints about the expected format.
Input Validation: To ensure the accuracy of the data collected, input validation is essential. It involves setting rules for each field, such as requiring a valid email format or a minimum character count for passwords. Users receive error messages if their input doesn't meet the specified criteria.
Submit Button: The submit button is the action users take to send their data. It's typically labeled as "Submit," "Send," or a similar term. Clicking this button triggers data processing or storage.
Privacy and Consent Statements: Depending on the nature of the data being collected, it's important to include privacy and consent statements. These inform users about how their data will be used and ask for their consent if necessary, aligning with privacy regulations like GDPR.
Error Handling and Validation Messages: When users make errors or miss required fields, clear and user-friendly error messages should inform them of what went wrong and how to correct it.
CAPTCHA and Spam Prevention: To prevent automated bots from submitting forms, you can include CAPTCHA challenges or other spam prevention techniques.
Progress Indicators (Optional): In longer or multi-step forms, progress indicators show users where they are in the process and how many steps remain.
Confirmation Page or Message: After successfully submitting the form, users should receive a confirmation message or be redirected to a confirmation page to acknowledge that their data was received.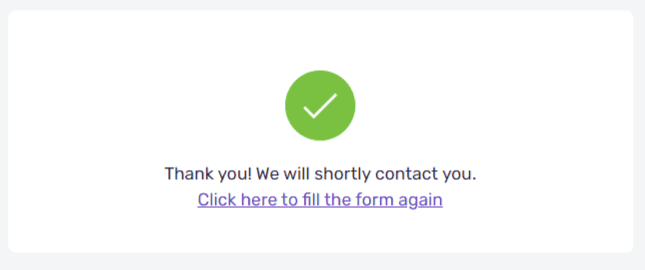 These components work together to create a user-friendly and functional data capture form. Properly designing and implementing these elements can enhance user experience, increase data accuracy, and ensure compliance with data protection regulations.
Analytics and Insights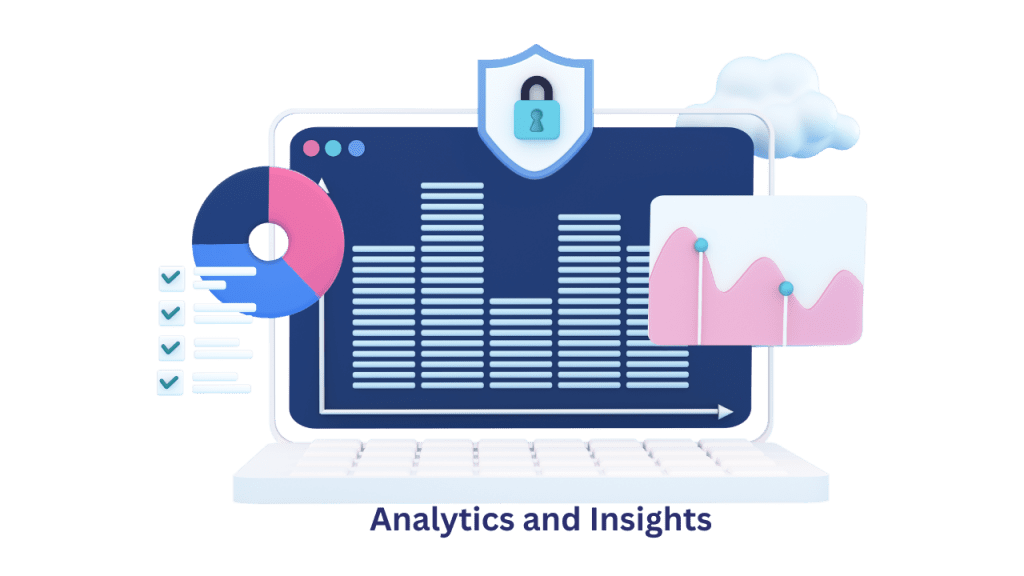 Beyond their primary function of gathering data, these forms also offer a treasure trove of insights that can help you refine your online strategy, enhance user experiences, and boost conversion rates.
1. Measure Success: Keep an eye on crucial metrics like conversion rate, submission rate, and abandonment rate to understand how well your form is performing.
2. Test and Refine: Use A/B testing to experiment with different form designs and elements, helping you discover what resonates best with your audience.
3. Analyze User Behavior: Dive into user interactions within your form to identify preferences and pain points, ensuring a smoother experience.
4. Track the Funnel: Visualize the user journey from viewing the form to submission, highlighting areas where users drop off and need improvements.
5. Segment and Personalize: Leverage user data to create personalized experiences and targeted marketing campaigns, increasing engagement and conversions.
6. Integration with Analytics Tools: Integrate popular analytics tools like Google Analytics to gain deeper insights into user behavior and traffic sources.
To fully leverage data capture forms, remember that insights should drive ongoing improvements in form design and user experience. It's crucial to prioritize data privacy compliance, to safeguard user information. Additionally, use the data you gather to create effective strategies that enhance product offerings, improve marketing campaigns, and enhance user satisfaction. Regular monitoring is key to staying informed and addressing any form-related issues promptly.
Top Software For Creating Effective Data Capture Forms
When it comes to simplifying the creation of data capture forms, Refrens stands as an unparalleled tool, making the entire process effortlessly efficient. What truly sets Refrens apart, however, is its seamless integration with a robust lead management system.
As data flows into Refrens forms, it seamlessly becomes a part of your existing sales pipelines. Additionally, you can effortlessly embed these forms across your website, social media channels, and advertisements with just a few clicks. The integrated Lead Management System (LMS) takes charge of your leads, ensuring a smooth and efficient process of tracking and engagement.
But Refrens offers much more than just form creation and lead management.
Going beyond these essential functions, Refrens empowers you to establish direct communication by sending quotes and invoices with remarkable ease. Furthermore, it boasts a comprehensive accounting system, meticulous expense tracking, precise inventory management, and effective client relationship management – all within a single, user-friendly platform. With Refrens, your business operations aren't just optimized; they're elevated to a whole new level of efficiency and effectiveness.
Free: Free plan for small businesses to create up to 50 documents/year
Premium Plan: Pricing starts from as low as ₹100/month or $2.5/month depending on the number of users & features
2. Paperform
Paperform stands out as an excellent online form builder, offering robust flexibility. It empowers users to craft a diverse range of forms, including surveys, quizzes, registrations, and payment collection tools, enabling versatile data collection. Notably, its user-friendly free-text interface simplifies form creation.
Paperform's feature set is impressive, providing an intuitive form design experience with extensive customization options for colors, logos, typography, and themes. Beyond aesthetics, it offers intelligent forms capable of automating workflows, accepting payments, implementing question logic for personalized experiences, and performing calculations.
Whether you require surveys, registration forms, or payment collection tools, Paperform's versatility and user-friendly design position it as a top choice for streamlining your form-building process.
Pricing
Essentials: $20/mo, 10k form views/mo, 1k submissions/mo, 1 user, payment collection, 1 payment account, 2k+ integrations, 6 mo storage, 10MB max file size.
Pro: $40/mo, full functionality, 3 payment accounts, priority support, 18 mo storage, 1GB max file size.
Agency: $135/mo, 5 users (+$5/user/mo), custom HTML, priority support, 18 mo storage, 5GB max file size.
Enterprise: Contact for advanced features like SSO, HIPAA compliance, dedicated support, and more.
Ratings
Capterra – 4.5⭐/5
G2 – 4.8⭐/5
3. Typeform
Typeform offers a rich array of features to meet the diverse data collection needs of its users. Its standout strength lies in its visually engaging one-question-per-page format, fostering a conversational and user-friendly experience. This approach can boost completion rates, especially for those emphasizing aesthetics.
Typeform's customization options, including themes, fonts, and color schemes, simplify the creation of visually polished forms. It also distinguishes itself with unique features like logical branching and quiz capabilities, making it an excellent choice for interactive and engaging surveys.
Pricing
Basic: Forms with workflow connection, $25/mo (billed yearly), 100 responses/mo, 1 user.
Plus: Branded forms, $50/mo (billed yearly), 1,000 responses/mo, 3 users, No branding.
Business: Performance analysis, $83/mo (billed yearly), 10,000 responses/mo, 5 users, Priority support.
Enterprise: Contact for advanced features, tailored limits/seats, VIP support, and Compliance.
Ratings
Capterra – 4.7⭐/5
G2 – 4.7⭐/5
4. SurveyMonkey
When it comes to selecting online forms and survey tools, SurveyMonkey stands out as a formidable contender. It distinguishes itself by offering a unique array of features tailored to diverse data capture requirements.
Its sophisticated capabilities make it the ideal solution for businesses aiming to conduct in-depth market research or gauge customer and employee satisfaction levels. It excels in providing highly specific market insights by gathering responses from a global consumer panel and delivering personalized dashboards.
When it comes to flexibility and design prowess, SurveyMonkey truly shines. It empowers users to effortlessly craft complex and highly customized forms, replete with a wide range of features and seamless payment integrations. However, for those seeking a quicker path to survey creation, SurveyMonkey simplifies the process with its "Build it for me" feature, enhancing efficiency and saving valuable time.
Pricing
Individual plans
Standard Monthly: $99 per month or ₹899/mo – 1,000 responses/mo, 24/7 email support, unlimited surveys
Advantage Annual: $39 per month or ₹1,999/mo – 15,000 responses/yr, expedited email support, advanced features.
Premier Annual: $119 per month or ₹4,999/mo – Unlimited surveys, 40,000 responses/yr, phone & email support.
Team Plan
Team Advantage: $25/user/mo or ₹1,550/user/mo – Survey sharing, collaboration, 50K responses/yr.
Team Premier: $75/user/mo or ₹3,800/user/mo – Advanced features, phone support, unlimited responses.
Enterprise: Contact sales – Customization, integrations, SSO, HIPAA compliance, dedicated manager.
Ratings
Capterra – 4.4⭐/5
G2 – 4.4⭐/5
5. Google Forms
Google Forms shines as a robust alternative offering powerful features for form creation, data collection, and analysis. Users can design forms, customize them, and add logic for a seamless user experience.
Real-time response analytics and Google Sheets integration simplify data management. It is accessible across devices and is entirely free, making it appealing for budget-conscious users. It seamlessly integrates with Google Workspace, benefiting those already versed in the Google ecosystem.
Pricing
Free for individuals (15GB storage), or part of Google Workspace starting from $6/user/mo.
Ratings
6. Wufoo
Wufoo is an easy-to-use online form builder designed for simplicity and efficiency. It stands out with its user-friendly drag-and-drop form builder, ensuring accessibility for users of all skill levels.
Customization is a notable strength of Wufoo, allowing users to effortlessly personalize their forms. You can customize colors, typography, buttons, and logos to align with your brand or website aesthetics. It further simplifies form design by offering ready-made themes and intuitive customization tools.
Wufoo enables seamless connections with popular payment providers, making it a suitable choice for online stores and payment collection. Additionally, it supports real-time notifications and various integrations for smooth data transfer.
Pricing
Starter: $14.08/mo- Customize branding, confirmation emails, and automate workflows.
Professional: $29.08/mo Collect payments, unlimited forms, additional users, and form security.
Advanced: $74.08/mo – Increased entries, users, file storage, and API requests.
Ultimate: $183.25/mo – Advanced features with higher limits for data collection & automation.
Free: $0/mo – Basic forms and limited responses.
Ratings
Capterra – 4.4⭐/5
G2 – 4.2⭐/5
7. Formstack Forms
Formstack offers a feature-rich solution for form creation and data collection. Its user-friendly drag-and-drop builder assists in the rapid customization of forms. Unique features like "One Question at a Time" and "Save and Resume" enhance the mobile survey experience.
In terms of payment capabilities, Formstack excels, providing secure payment collection, support for multiple processors, discount codes, and PCI compliance. It has robust security measures, including data encryption, GDPR, and HIPAA compliance, prioritizing data protection.
Formstack's strengths lie in advanced form-building, security features, and robust data analytics tools. A 14-day trial allows businesses to explore its offerings, making it an attractive choice for comprehensive form management and data analysis.
Pricing
Forms: Digitally collect data with a no-code, drag-and-drop form builder, starting at $50/month
Documents: Utilize document automation for seamless workflows, starting at $92/month
Sign: Access eSignature for legally binding digital signatures, starting at $18/month
Recommended Suite: Bundle Formstack's tools and features into a single plan, starting at $66/month
Enterprise: Customized enterprise-ready process automation solution.
Ratings
Capterra – 4.1⭐/5
G2 – 4.4⭐/5
8. JotForm
JotForm caters to a broad spectrum of businesses seeking highly effective data capture forms. Employing an intuitive drag-and-drop approach, JotForm simplifies form creation, allowing effortless customization, from logo integration to e-signature inclusion.
JotForm's versatility extends across multiple sectors, serving businesses, non-profits, educational institutions, and healthcare providers. This adaptability makes it an ideal solution for a wide range of data capture needs. What truly distinguishes JotForm is its dynamic forms that intelligently adapt to user inputs.
This software also excels with automated approval processes and notification workflows. It offers unlimited form submissions, making it an excellent choice for growing enterprises with a significant demand for data. Furthermore, its Single Sign-On feature ensures easy access, streamlining the user experience.
Pricing
Starter: Free, 5 Forms, 100 Submissions/month, 100 MB Space, Jotform Branding.
Bronze: $34/month, 25 Forms, 1,000 Submissions/month, 1 GB Space, No Branding.
Silver: $39/month, 50 Forms, 2,500 Submissions/month, 10 GB Space, No Branding.
Gold: $99/month, 100 Forms, 10,000 Submissions/month, 100 GB Space, HIPAA Compliance Available, No Branding.
Ratings
Capterra – 4.6⭐/5
G2 – 4.7⭐/5
9. Monday.com
This is a versatile platform that offers a range of customizable forms for capturing data, including creative requests, registrations, and orders, tailored to diverse business requirements.
What sets this platform apart is its conditional logic feature, allowing you to establish conditions that gather precise information, minimizing unnecessary back-and-forth communication. This ensures you receive the right data promptly, enabling faster and more efficient work.
monday.com also offers automation capabilities that transform requests into streamlined workflows. These automations can route requests to the appropriate team members, trigger notifications for final approvals, or update clients when their projects are completed.
An additional standout feature is the dashboard, providing data-driven insights. This functionality allows you to identify bottlenecks and trends, facilitating process optimization.
Pricing
Free: 3 Seats, Up to 2 Seats Forever, Basic Features
Basic: $8/seat/month ($24 billed annually), Up to 2 Team Members, Enhanced Features
Standard: $10/seat/month ($30 billed annually), Most Popular, Collaboration Tools, Automations
Pro: $16/seat/month ($48 billed annually), Advanced Workflow, Private Boards
Enterprise: Contact for pricing, Premium Features, Advanced Security, Tailored Support
Ratings
Capterra – 4.6⭐/5
G2 – 4.7⭐/5
10. QuestionScout
QuestionScout provides versatile data collection options and streamlined decision-making for modern teams. Its intuitive interface simplifies form creation, enabling the design of interactive surveys, data consolidation, and seamless embedding into web pages.
Its Custom Fields ensure precise data collection, while support for multiple languages fosters engagement with diverse audiences. Real-time collaboration, custom themes for on-brand experiences, and customizable notifications for workflow optimization further enhance its capabilities.
Whether your focus is on data collection or broader process optimization, QuestionScout aligns seamlessly with your objectives, offering advanced features while maintaining a user-friendly design. This makes it an ideal choice for teams seeking efficiency and effectiveness.
Pricing
Personal: $5/mo – 10 forms, 500 responses, 250MB uploads, payment, integrations, no collaborators.
Starter: $10/mo/collaborator – Unlimited forms, 2,500 responses, 500MB uploads, teamwork features, custom settings.
Pro: $20/mo/collaborator – Unlimited forms, 200K responses, 5GB uploads, advanced features, priority support.
Ratings
Capterra – 4.6⭐/5
G2 – 4.8⭐/5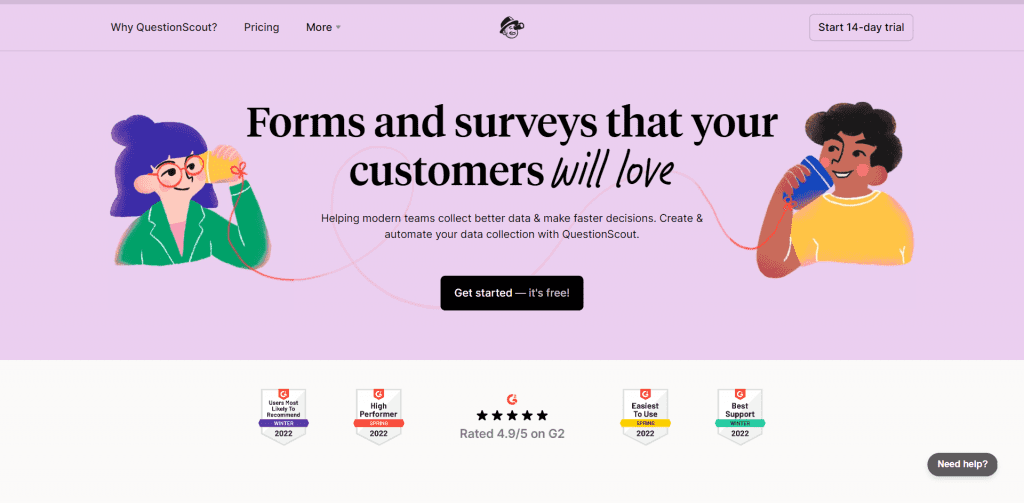 Best Practices for Designing Data Capture Forms
Creating data capture forms isn't just about placing fields on a page; it's about crafting a user-centric experience that ensures data accuracy and security. Whether you're collecting contact information or conducting surveys, these principles will help you streamline the process, enhance user satisfaction, and maximize the value of the data you collect.
Keep It Simple: Minimize the number of fields to only what's necessary. Lengthy forms can deter users. Prioritize essential information to streamline the process.
Clear and Concise Language: Use straightforward language for labels, instructions, and error messages. Avoid technical jargon or confusing terminology.
Mobile Responsiveness: Ensure your form works seamlessly on mobile devices. Mobile users should have an equally smooth experience as desktop users.
Logical Flow: Organize fields logically, placing related questions together. Grouping fields improves user comprehension.
Label Alignment: Position labels above or to the left of input fields for readability. Avoid placing labels inside fields.
Visual Cues: Use visual cues to highlight required fields or successful form submissions, such as asterisks or color changes.
Input Validation: Implement real-time validation for fields like email addresses, phone numbers, and dates to catch errors as users type.
Error Handling: Provide clear and specific error messages when users make mistakes. Explain how to correct errors.
Privacy and Consent: Include transparent privacy statements and consent options, especially when collecting sensitive data. Comply with data protection regulations.
Accessibility: Ensure your forms are accessible to all users, including those with disabilities. Use proper HTML semantics and provide alternatives for visual elements.
By focusing on these top best practices, you can create user-friendly data capture forms that maximize user engagement and data accuracy while minimizing friction and errors.
Common Mistakes to Avoid
To maximize their effectiveness and user satisfaction, it's crucial to steer clear of common pitfalls in their design and implementation.
1. Overloading with Fields: One of the most significant errors in form design is including too many fields. Lengthy forms can overwhelm users, leading to high abandonment rates. To mitigate this, prioritize the information you genuinely need and consider using progressive profiling to gather more details over time.
2. Poor Labeling and Instructions: Unclear labels and instructions can confuse users, resulting in errors and frustration. To enhance user understanding, use clear and concise labels, and provide helpful instructions when necessary. Consider implementing inline hints or tooltips for complex fields.
3. Lack of Mobile Optimization: Neglecting to optimize forms for mobile devices can be a significant drawback, considering the increasing use of smartphones for online activities. Ensure your forms are responsive and mobile-friendly, testing them on various devices and screen sizes to guarantee a smooth user experience.
4. Ignoring Validation and Error Messages: Neglecting to implement validation rules and informative error messages can lead to submission errors and user confusion. To prevent this, implement real-time validation for fields like email addresses and phone numbers and provide clear and friendly error messages that guide users on how to correct their mistakes.
5. Neglecting Security and Privacy: Inadequate security measures can put users' sensitive information at risk while ignoring privacy concerns can lead to legal issues. To maintain trust, use HTTPS for data transmission, encrypt data storage, and be transparent about data usage, adhering to privacy regulations like GDPR or CCPA.
6. Complex Captcha Challenges: While CAPTCHA challenges are essential for preventing spam, overly complex ones can frustrate users and deter them from completing the form. To strike a balance, implement user-friendly CAPTCHA options, such as image recognition or checkbox-style challenges, maintaining security without sacrificing user experience.
It's vital to avoid a host of other common mistakes when creating data capture forms, including long and unclear forms, neglecting accessibility, failing to conduct A/B testing, and not providing a confirmation page. These oversights can lead to poor user experiences, high abandonment rates, and missed opportunities for data collection and engagement. Continuously reviewing and improving your forms based on user feedback and best practices is essential to ensure they serve their intended purpose effectively.
Future Trends in Data Capture Forms
In a rapidly evolving digital landscape, staying informed about the latest trends in data capture forms is essential for businesses and individuals alike. These trends promise to transform the way data is collected, making the process more efficient, user-friendly, and secure.
AI-Powered Data Capture: By leveraging AI for data capture, readers can significantly reduce the manual effort required for tasks like data entry, OCR, and NLP. This means faster and more accurate data collection, leading to improved productivity and cost savings for businesses.
AR and VR for Data Capture: The use of AR and VR in data capture empowers readers with immersive experiences that can revolutionize how they gather information. For instance, creating 3D models of physical spaces allows for detailed and remote data collection, enhancing data accuracy and decision-making.
Real-Time Data Capture: Real-time data capture solutions enable readers to collect and analyze data instantly. This means that businesses can make timely decisions, improve safety, enhance efficiency, and ultimately offer better services or products to their customers.
User-Centered Data Capture: User-centered design in data capture forms ensures that readers have a seamless and enjoyable experience. This means fewer errors in form completion, less frustration, and increased data accuracy, benefiting both businesses and users.
Voice and Speech Recognition: Voice technology simplifies data capture for readers, especially those on mobile devices or with accessibility needs. This technology reduces typing effort, making it quicker and easier to provide information, and enhancing user satisfaction and inclusivity.
Additionally, it's worth noting that other emerging trends like multi-modal data capture, smart data capture, enhanced data privacy, and personalized contextual forms are also shaping the landscape, offering readers a diverse range of tools and strategies to stay ahead in the ever-evolving world of data collection. By embracing these innovations, readers can adapt to changing data capture needs, foster efficiency, and ensure compliance with stringent data privacy regulations.
Conclusion
Data capture forms are fundamental tools in the age of information. We've explored their types, components, and design best practices while stressing the importance of data security. Our list of top software solutions offers diverse options for effective form creation. Looking ahead, we anticipate exciting trends that will shape the future of data capture.
Whether you're a business owner, marketer, or data enthusiast, mastering these forms is a strategic advantage. They unlock invaluable insights and opportunities. As data continues to drive decision-making, efficient data capture remains essential. Embrace this capability to stay competitive in the evolving landscape of data management, and let your data tell the story of your success.