If you think freelancing is something you do in between jobs, you're wrong. The freelance will make up the majority of the workforce by 2027. People can work as freelancers, often known as contract workers, in the gig economy.
Working as a freelancer and earning a good salary while doing what you enjoy is perfectly possible. Of course, if you want to be a successful freelancer, you'll have to put money into your business.
Becoming a better freelancer involves improving your core skillset and then being able to communicate that to a client or lead. While the core skill set is different for everyone, there are soft skills that are applicable to all kinds of freelancers that will help your win and retain more clients. Plus, you'll need to know how to run a one-person operation!
To assist you, we've compiled a list of tried-and-true techniques for professionalizing you as a freelancer.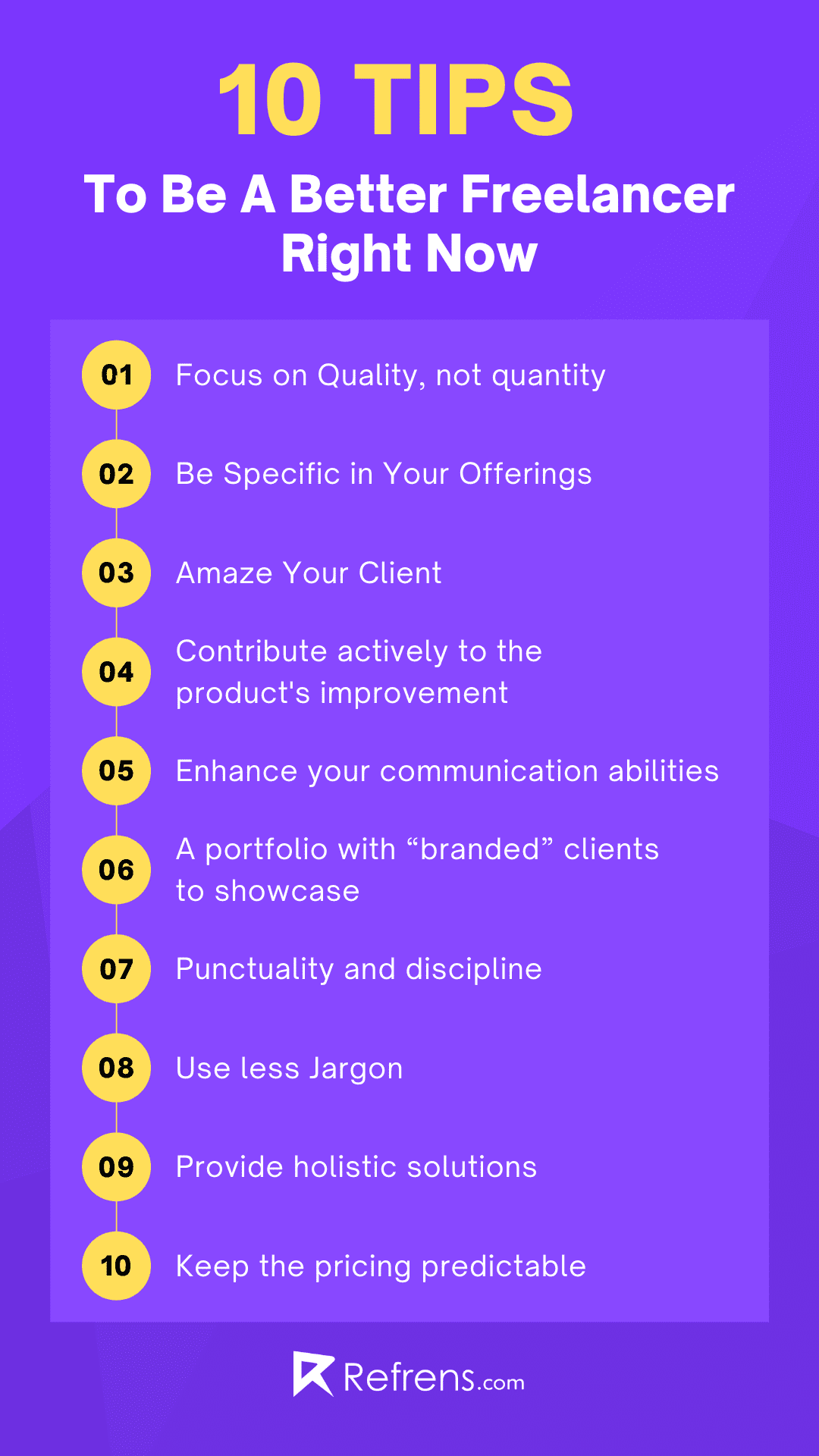 Quality, Not Quantity, Is Important
If you're just starting out as a freelancer, you're probably looking for work on sites like Refrens. It's natural for you to want to bid on as many projects as you can. However, a critical takeaway here is that the quality of the bid is more important than the quantity. Learn everything you can about a client's business, including what they do, how they do it, and what they expect of you.
Be Specific In Your Offerings
Freelancers that are bidding on good contracts are known for keeping their work methods under wraps. For example, if you're an Internet Marketer bidding on an SEO job, the customer will understandably want to know what procedures you'll use to get their website to Google's main page. This type of communication is crucial in building trust between the client and the freelancer. Make sure to mention your approach during this conversation. When potential client has faith in you, they are more inclined to hire you even though your quote is far more than that of competitors.
Amaze Your Client
Clients are also regular people. They enjoy being surprised. Always under-promise and over-deliver, as a rule of thumb. Do you believe you can assist the client in doubling their revenue? Surprises don't always have to come in the form of exceeding your goals. You can even take on extra jobs that weren't originally planned for the project. This displays your affinity for taking charge of initiatives. It also makes you efficient over time, which is crucial for building a loyal customer base.
Contribute Actively To The Product's Improvement
Contrary to what corporate firms would have you believe, their products and processes are not all thorough and flawless. Even in the largest corporations, there are numerous tiny but successful business innovations that are neglected. As a result, clients will always appreciate a freelancer that goes out of their way to make suggestions and changes.
Enhance Your Communication Abilities
Communication is one of your most valuable advantages as a freelancer working from home (oral and written). When it comes to establishing your authority, language is crucial. If English isn't your first language, consider enrolling in one of your neighborhood's popular English language classes. Even if you speak the language fluently, simple typographical errors leave a negative impression when you have client communication. So, before looking for freelance projects online, make it a point to brush up on your language skills.
A Portfolio With "Branded" Clients To Showcase.
Whatever industry you want to serve, try working for the leader in that industry, even if you have to do it for free. Even if that work is small. Having an endorsement from them will get you more work. People will feel "secure" about approaching you for their work. That "branded" client's brand equity will rub on you. You can create a rich "client verified portfolio" on Refrens, irrespective of your industry.
Punctuality And Discipline
Communicate. Communicate. Communicate. It is OK to miss deadlines sometimes but communicate about it well in advance. Most freelancers go silent for a long period of time after taking work. The anxiety for the client rises in such cases. Also in the initial days, it is important to keep showing your progress to keep the client on the same page. Don't come back after half the work is done only to learn that you misunderstood the requirements. Don't throw surprises, don't get surprised.
Use Less Jargon
When you are selling design, don't assume that the other person is a designer. When you are selling software, don't assume that the other person is a programmer. Their knowledge about your field is lesser than you think. They are not dumb fools so stop cursing them. They are good at their own work. Explain things to them in their words. Use less jargon. Don't go deep into details until asked for.
Provide Holistic Solutions
The client is more interested in finding a solution to his problem than in your goods. When selling software, it's possible that you'll also need to offer hardware. When selling a logo design, you may be asked to create the stationery and work with the printer. Become the client's one-stop-shop. Develop a reputation for dependability. It will also assist you in expanding your work sector and earning potential. The majority of full-service agencies began as a freelancer who prioritized the client's needs. Begin by teaming up with other service suppliers. If it makes financial sense, you can then start hiring full-time personnel.
Keep The Pricing Predictable
In India people are used to calculating services in hourly pricing. Even when hourly pricing is discussed, it is difficult for a client to guess how many hours it will take you to finish the work and then calculate the final expected amount. Communicate the pricing upfront without leaving any ambiguity. Do this in writing before starting the work. Don't throw surprises at your clients after the work is done. They might pay you once, but might may never comeback or refer another client to you. And you will never know why. People are shy to talk about money upfront but it is your job to keep them informed.
Check out how to price your service for first-time customers to know more about getting pricing right.
Keeping your profile on a platform, like Refrens, helps you set expectations with the client on pricing, and showcase your past clients.
Conclusion
Our suggestions in this blog can be summed up as "101 business essentials." You may be working alone right now, but following these suggestions will not only keep you on track to achieving your long-term professional objectives, but they will also lay the groundwork for building a team and thereby launching a successful freelancer business!
Recommended read:
Ultimate guide to become a web designer>