The field of content marketing is rapidly expanding. Entrepreneurial-minded writers are benefiting from this expansion.
Since its initial shaky steps ten years ago, the online content marketing sector has exceeded $400 billion in value.
By 2024, the figure will have increased by another $269.24 billion, bringing the total to over $600 billion!
This increase in demand for content leads to a need for skilled content writers who can create authority-driven, engaging written content that fosters the trust and loyalty required for success.
Despite their high demand, many individuals are still unclear about content writers' jobs: what they do as part of a content marketing team and what they write to attract viewers.
Let's get deep into freelance content writing!
What Is A Freelance Content Writer?
Bill Gates, the creator of Microsoft, wrote an essay titled "Content is King" in 1996. The phrase still holds after 26 years.
"Content is where I expect much of the real money to be created on the Internet, just as it was in broadcasting," he wrote.
He was correct. Any successful marketing effort relies on high-quality content, and content writing has become a hot-shot job profile due to the requirement to create a successful marketing campaign.
A content writer is a skilled communicator responsible for developing online written content such as blogs, articles, ebooks, white papers, social media copy, infographic copy, and more that engages and informs readers.
How To Become Freelance Content Writer With No Experience?
1. Start With The Basics Of Content Marketing
The first step for any profession is to start with the basics of content marketing. Check out articles on Medium, read them, and get an understanding of what a content writer has to do.
After that, you can start with some of the freelance courses regarding SEO and content online via Udemy, Coursera, or any other platform you want to choose from.
Remember, reading is crucial. That's how you will get to know the gist of it.
2. Start Applying The Basics & Practicing
After you learn the basics of content marketing, start writing small pieces of content for free in different fields. You can also incorporate AI writer as it becomes more essential day by day.
You can contribute free articles on Medium, and with that, you get experience writing in other areas.
This will boost your confidence; once you have completed at least ten small writing gigs, look out for paid projects. Moreover, start learning how to smartly use AI-powered text generators and similar solutions.
3. Make Your Freelance Profile
Now it's time to make a freelance profile on a freelancing marketplace like Refrens, update your profile and writing samples, and wait for leads.
In the meantime, write more and read more. The more you read and write, the more you will be able to grasp this subject.
4. Find Your Niche
After you have written small gigs, you will be able to find your niche, a niche that you enjoy writing about, for example, technology, education, or SaaS companies specifically.
Choosing an industry will separate you from the other digital and content marketing writers. This list of possibilities is endless, and choosing something you'll enjoy doing is critical.
Also Read: Content writing charges in India
5. Understand Your Worth
Glassdoor and PayScale provide good benchmarks for compensation if you're looking for work.
The remuneration for freelance work might vary considerably. If you're going solo and freelancing, set your rates according to your abilities.
If you're an excellent writer who understands content generation and your sector, clients will pay a premium, such as $100/500w.
Try to charge per word, then per project or on an hourly basis. As you start gaining more experience, you will be able to charge more per word. Try to look out for competitor pricing and then decide on yours.
What Qualifications Does Freelance Content Writers Require?
Content writers must have a diverse skill set. While this skill set may appear intimidating to newbies, mastering these attributes requires practice. You'll need the following skills to work as a freelance content writer: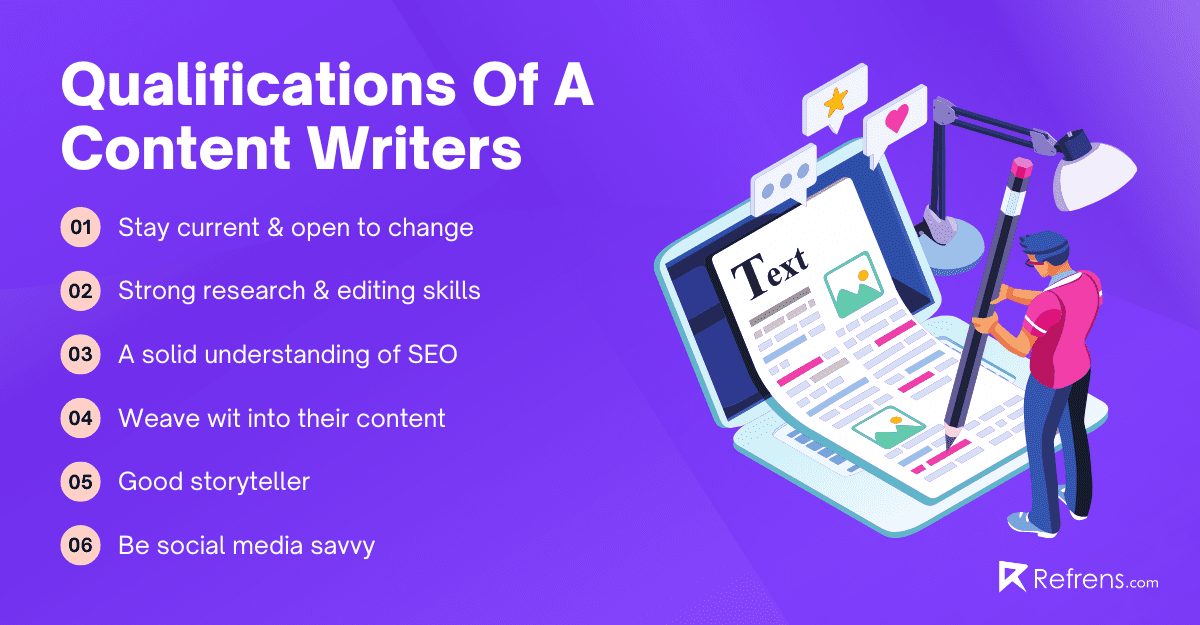 As you can see, writing talent is crucial, but it is far from the only requirement for working as a freelance content writer. Knowledge, inventiveness, and the ability to write quickly are required.
How To Create Quality Content?
Although there is no magic recipe for creating high-quality content, there are a few things you can do to increase the quality and quantity of your writing:
Create An Attention-Getting Headline– The headline decides whether or not readers will continue reading. You won't get the desired outcomes with your content if the headline doesn't pique the reader's curiosity, evoke an emotion, or make them want to learn more about the subject.
Make A Hook To Get Their Attention– You have three seconds after the headline to keep readers intrigued. The first sentence impacts whether or not people continue reading your post. As a result, it should catch the reader's eye and organically bring them to your initial point.
Complete Your Homework– In the B2B market, you must robustly understand the issue you're writing about. Create credibility and back up your arguments with statistics, data, and measurements.
Improve Paraphrasing Skills – Paraphrasing is an essential skill for any freelance content writer as it allows you to present information from other sources in a fresh and different manner while maintaining the meaning of the original content. Freelance writers can also improve their paraphrasing skills by using a paraphraser as it can help writers to restructure the content and make content unique.
Concentrate On A Single Goal! Before You Start– Writing your content, you should have at least one main message in mind. When registering, keep this in mind and connect your information to the main argument as much as feasible.
Write In A Distinct Tone- The material you post is your company's voice and should reflect your brand's personality. Matching your writing tone to your target audience, business objectives, and brand persona is critical.
Enhance Your Digital Content– Short paragraphs, short sentences, and bulleted lists are standard in the most significant digital material. To optimise digital material for reach, use best SEO practices and the most current content methods. Check out the 7 SEO tools for freelance content writers.
Revise Your work– Consider how you can improve the rough edges of your writing after you've finished your first draft. Writing frequently improves after a round or two of editing, even when professional content providers have produced it.
Effective content production is critical for converting site visitors into happy customers. It's not only about getting stuff out there; it's also about providing high-quality content. Search engines index website content and provide greater rankings to well-written articles in search results.
Also Read: Guide to become a content writer
Are You Ready To Rock The Space?
If you believe you possess the creative abilities to transform an idea or an opinion about a topic into something that can attract and interest an audience, you have a bright future.
There is never a scarcity of content on the internet, but good content and creative content writers are constantly in demand.

You can begin writing your blog by taking online certifications and taking on freelance writing tasks to kickstart your content writing business. Use social media, provide engaging content, and write as much as possible.

Now that you need a strong will to succeed, there are so many content writing jobs, opportunities, and channels to choose from.

Check out how to create 6 figure income as a freelance writer.
Good luck!