All the top-quality projects on Refrens are rewarded with a distinct badge. These featured projects get more visibility across Refrens Profile, Feed, and the Marketplace. Getting featured is a great way to increase the visibility of your projects with thousands of businesses on Refrens – for free!
Benefits of Featured Projects
1. Distinct badge on your projects
Featured Projects get a distinct badge that will be visible to everyone, and helps you stand out from your competition.
2. Special feature on your category page
With a featured project, you will get more visibility in front of people looking for your services in Refrens Marketplace.
3. Stand out in the Feed
All the featured projects will automatically get shared in your Feed. A distinct badge will make your projects stand out from others and catch the attention of businesses in your network.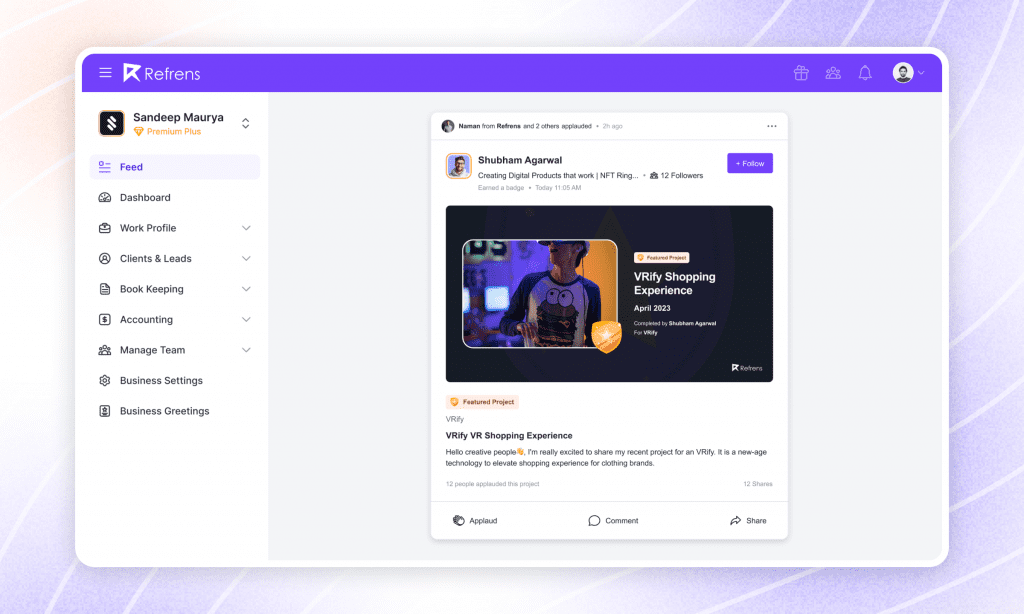 4. Shout-out in the newsletter
Top projects also get a shout-out in Refrens' weekly newsletter. This is a great opportunity to get your work featured in front of hundreds of thousands of users!
In short, getting featured on Refrens can help you get more visibility and generate more leads for your business!
Tips to get your Projects featured
1. Keep them detailed
Your past projects are a way to showcase to your potential clients how detailed and serious you are with your work. If you want to make a great first impression, this is not something to be lazy about.

Mention all the relevant details like- what were your client's requirements, what challenges did you face, how you went ahead with planning, and how you implemented the project.
2. Get your projects verified
Ask your clients to verify your projects. Verified projects are shown with a green tick mark, and help you get more credibility.
Learn how to get your projects verified>
3. Take care of the basics
Ensure that you have updated all the basic details. Add a project title, project categories, descriptions, relevant links, etc.
4. Add collaborators
Worked on a team project? Invite other team members to join as a collaborator.