In a modern world, you might assume that what if someone hasn't responded to your email and is not interested? But don't forget it's quite natural to reply, whether to an initial email from the brand or a text from relatives.
However, a right-crafted email catches your receipt's eye and lets them respond to your email the same day they receive it.
Before learning effective steps to write a follow-up email, let's take a small view of these mentioned queries.
What Is A Follow-Up Email?
A follow-up email is an email you send to the customer you have already contacted once to get an actionable response. By sending an email, you can alert a recipient to a previously sent email, request to get a response, and remind someone of an important sale, date, or time.
What Should You Say In A Follow-Up Email?
Suppose you are unaware of what to say in a follow-up email. You may get your answer by reading the following guidelines:
Explain the motive for writing a follow-up email.
Give polite greetings.
Emphasize your benefits, goals, and experiences.
Be as exact as possible.
Now, you might be wondering how to write a successful follow-up email that can engage more clients with your brand and help you to boost your email marketing rate.
Let's get started!
7 Steps To Write An Effective Follow-Up Email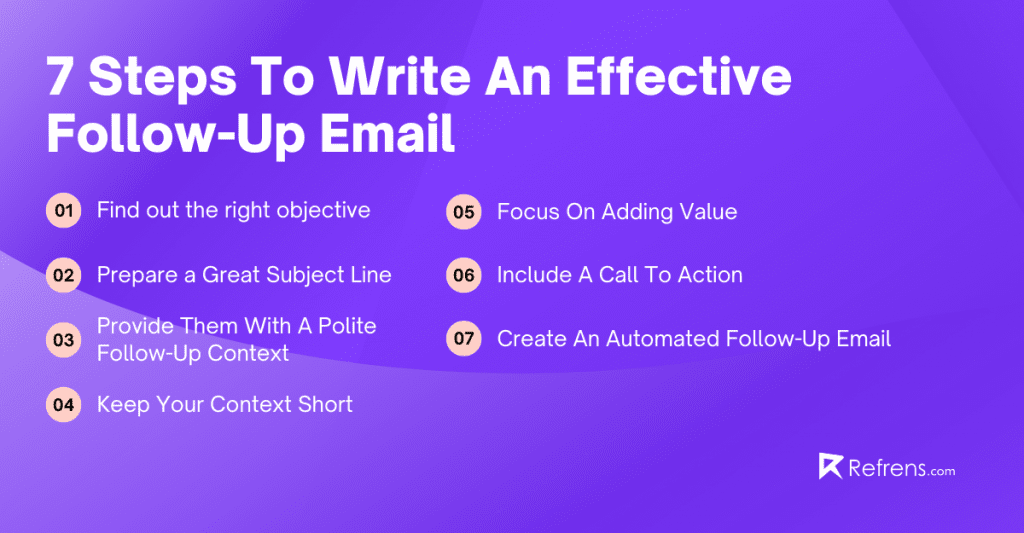 1. Find out the right objective
Before sending out any follow-up email, you must keep the following points in mind:
You must identify the purpose or goal of sending the email and what you hope to achieve by sending this follow-up email.
Design your objective in a way that can help the receipt to solve their issues quickly and efficiently.
Make sure the objective you have determined is pure and easy for your receipt to know and act on it.
You can make a professional-sounding message for your email by picking the right objective for your receipt.
Once you are done choosing a clear objective for your follow-up email, it will become easy for you to start writing an email with a clear purpose. Classifying the goal or the objective of your follow-up email priorly helps you to get the kind o response you want.
Check out how to write a perfect cold email in this blog!
2. Prepare a Great Subject Line
Without creating an exceptional subject line, you can not build your receipt interest in your follow-up emails. 
The optimized subject line plays an important role in your follow-up email as it is the first thing your receipt eyes glance at. Research by Harvard Business Review found that 47% declared that most emails are rejected or unreadable by the receipt as they don't find the subject line interesting.
Your subject line leaves a great impact and lets you get to succeed or fail in your email marketing campaign. There are basic guidelines that you can keep in mind when you write a subject line:
Keep it short and sweet.
Insert the reader's name into the email subject line.
Your subject line length should be 50 characters or less.
Following these useful tips, you can make the reader feel very impressed or interested in reading your follow-up email.
3. Provide Them With A Polite Follow-Up Context
When you write an effective and polite context, you may get a reply the same day you send it. It might be a challenging process, but once you do it, you will wonder to see its amazing results.
Be sure when you write the content, don't miss to add personalization in your content. It creates a great impact on the reader. Also, improve your follow-up email content by providing educational information and conveying the message politely.
People are busy and don't have time to read your email. However, if you provide them, interesting content enhances the value of your email marketing.
4. Keep Your Context Short
Sending an email is an essential part of many professional businesses but keeping the length of an email is necessary. Concise or interesting emails are more effective than any longer emails.
Furthermore, a study has that writing shorter emails can help you to communicate with the recipients and convey the information clearly and quickly that can be understood by the reader easily. Reading a short email doesn't require more time for the readers, so automatically, it increases your email campaign response rate.
In case you have already made contact with a potential client for mobile app development, it is important to write a follow-up email that is both professional and personable. Your first step should be to thank them for their time, followed by a reminder of your interest in working with them. If you think your previous work is relevant to their project, please include specific examples. Keep the email context short and to the point, and be sure to include your contact information.
5. Focus On Adding Value
Adding value to your email means creating powerful content that provides the right information to your targeted group. The more value you can add to your email, the more customers will look forward to seeing your email every time. Now the question is how to add value when writing content or the steps that can be followed. So here you go;
Please focus on the customer's needs to grab their attention.
To provide value in your follow-up email, show you care about them.
Providing educational content is a great way to add value to your content.
These tips will help you to accomplish your goals and create valuable content. Providing informative or educational content keeps the reader engaged with your content. Once you begin creating valuable content for the customers, your business will maximize email marketing success, which means more opens and clicks. Other than this, you also should do a DMARC setup to ensure your emails are sent safely.
6. Include A Call To Action
A call to action is a short, simple phrase that appears at the end of your email and asks for the receipt to take the deal forward. Before sending the email, you need to ensure you include a call to action for every follow-up email to get the desired response from your audience.
As you can see, a call to action is a way of marketing that drives your traffic to take action on it and makes your email marketing strong.
For example, "We are providing a flat 50% off in our store. When will we see you here?" is a more engaging way to move your deal forward.
Pro Tip: Make sure you provide them specific time and date for actionable responses from the clients.
7. Create An Automated Follow-Up Email
While creating automated follow-up emails, you will save time and build an effective marketing campaign. With automated emails, your business will build long-lasting and modified relationships with your audiences.
The good thing about building an automated follow-up email is that by spending less money, you can take full advantage of email automation. It allows you to sell your products more often and establishes your business faster than ever.
If you are in a hurry, automated email permits you to plan your emails and send them to appropriate users at the right time, which is essential for effective email marketing.
How Do You Ask For A Positive Response In An Email?
If you are writing an email to your client and waiting for a reply as quickly as possible. Then ending your email by using these polite and demanding steps would help you to get a positive response from your targeted group.
Your immediate response would be appreciated.
I would like to receive your feedback.
I feel happy to get attention from you.
The Bottom Line
And that's it! If you have followed all the above-mentioned tips correctly, Congrats! You have officially crafted a value-based follow-up email with the right amount of personalization.
You will soon start seeing favorable results, creating strong business relations, and achieving a high conversation rate with your audiences.
Muhammad Shoaib is a creative B2B writer, blogger, and tech geek who likes to write about emerging technologies and the latest trending topics such as B2B marketing, digital marketing, web designing, creative designing, and more.