Ganesh Balakrishnan is a serial entrepreneur who's currently building Flatheads – India's very own home-grown sneaker brand that promises its users 14 hours of uninterrupted comfort, and in this interview, he talks about his experiences as an Entrepreneur, and shares advice that freelancers and small businesses can learn and benefit from.
Highlights from the interview –
The early journey of Flatheads – Story of first few customers, early challenges
The Art of Building Relations with Customers
The Art of handling Client objections
Professional advice for early professionals, business owners, and Freelancers
How do you go about finding your first few customers for Flatheads?
We spent 9 months interviewing about 300 people, visiting their offices, and the homes of our friends, and friends of friends. We were talking to anybody, and everybody we met about shoes and their preferences in footwear.
A lot of times we'd peek into people's shoe racks, or spend time outside people's doors to observe the kind of footwear lying around.
In short, we were obsessed, and that obsession led us onto the path where we learned a lot about consumer behavior, and this helped us identify our early adopters, and build a product that suited their lifestyles perfectly.
2. The journey to your First 100 customers of Flatheads? How should one go about finding their initial customers?
We got our first 100 customers from the batch of people we had surveyed before we started working on our prototypes, and incidentally, most of them placed an order over Whatsapp without even looking at the shoe.
So my suggestion to someone who's starting out would be to find the "Early Adopters" from your personal network. Interview people, listen to their problems, think of how you could go about solving their problems effectively. That's what we did, and it worked.
3. The journey to the next 1000 customers?
We ran a pre-order campaign on Facebook where we spent about Rs. 600 and acquired 1500 email signups who showed interest in our product. Since Email, signups aren't too much of a commitment we got quite a few signups. When we launched, out of 1500, about 200 made a purchase. The effective cost of acquiring these customers was just Rs. 3.
Since we have always been obsessed with quality, the next 1000 customers followed through referrals, and our past customers talking to each other.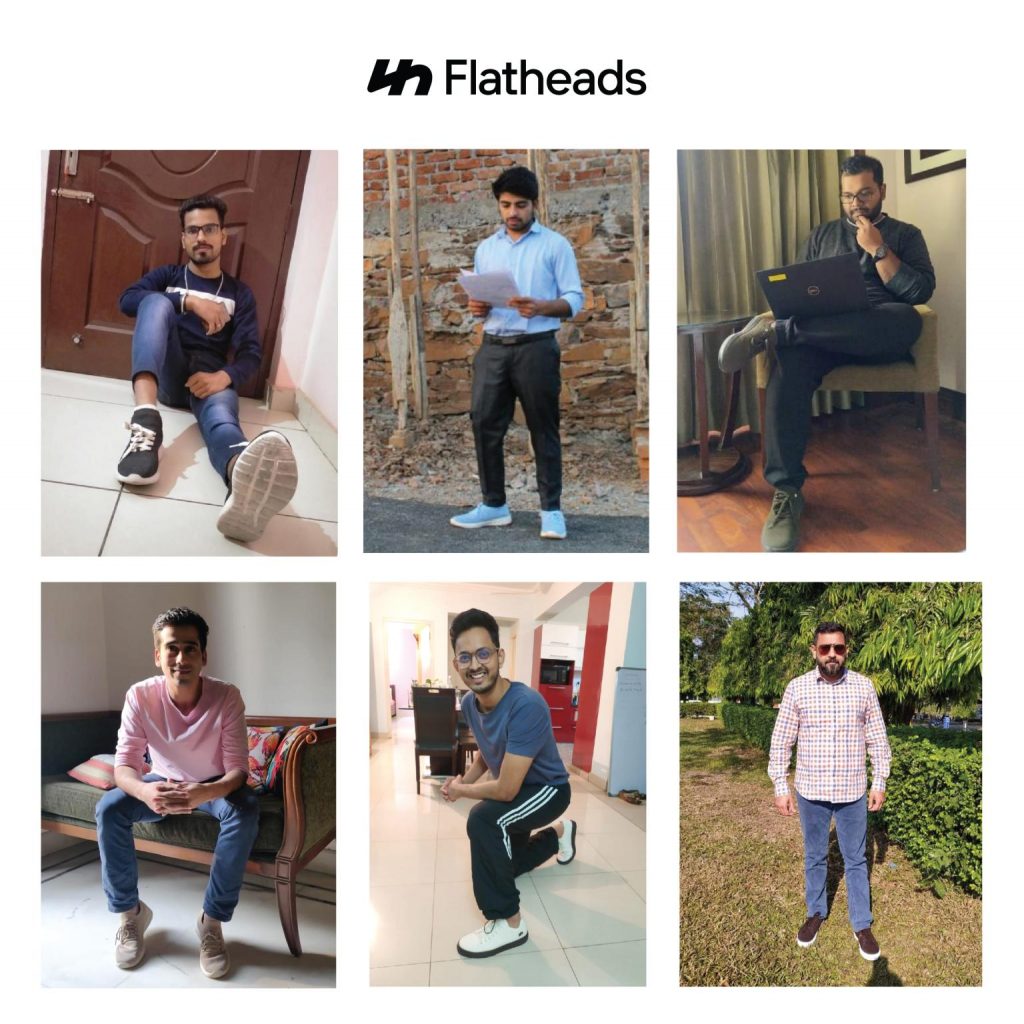 4. How do you go about retaining customers, and building a sustainable relationship with them?
"There is no substitute for customer obsession", it's non-negotiable. To build a sustainable brand that people love and talk about, one has to be extremely customer obsessed.
Delight 10 customers, and they will get you more, and the idea is to create growth loops around your consumers, and the only way to do it is to delight them. Your biggest users are talking about you.
Mygate is a good example of this – They solved the problem of guards, and entry logs so well that it got the security companies to introduce them to more apartment complexes, thereby increasing their business from the existing set of their customers.
One of the known ways to build a brand is to create a great product, and delight your customers.
Delight -> Retain -> Advocate -> Refer -> Repeat
5. Running a business can get challenging, and it's inevitable to avoid mistakes. How should one go about approaching such situations?
It may be your fault, or it may not be your fault. Irrespective of what's happening – "You need to own up to the mistake", and over-communicate in such cases. A lot of times, we get scared and back off with the fear of the customer being furious, but that's what one needs to avoid.
The best way to do this is to be transparent, being honest, and upcoming of the mistake committed. Here's what you can do –
Own up to the mistake even if it's not your fault
Communicate to the client that you are going to fix the problem
Overcommunicate in such cases of crisis
Learn to move on, and let it go in scenarios where you cannot do much about the situation
Once you have owned up to your mistake, and have updated your customers about the hurdles, you should listen to what they have to say, and then approach the problem.
Listen to everything the customer has to say
Once they are done venting, figure out ways to solve their problem
Sharing the story of a friend, and How he handled an extreme case of something going wrong
A friend of mine a remote infrastructure management company managing foreign clients. There was a situation where one of his clients who had critical data on his servers was lost due to some technical challenges. The situation got so bad that he was served with a notice to compensate for the losses that occurred.
This guy immediately wrote the check, and told the client that I will fix this problem, and spent a fortune to hire some of the best people to retrieve the data and get the systems running. All. this while he was overcommunicating with the client to ensure that the client is updated with the progress.
They retrieved about 80% of the data, and the client never encashed the cheque. The way this friend handled this situation further cemented the client's trust in him. Today, he still retains the client and has gotten him multiple referrals. It was because he was able to solve the problem for his client even in crisis, and that built trust.
6. How do you go about choosing partners – Vendors, and employees?
The answer to this question changes based on the stage of the company. For now, let's take early-stage companies, where you are just getting started.
Flexibility – When you're small you'd want to associate with people who are flexible and can adapt as the dynamics change.
Nimbleness – Startups scale fast, and if the people associated with you can adapt to the fast-moving dynamics, it's a great trait to look for
Coachability – If the person comes in, and says "I know how to do it", and this can be a challenge. At early stages where there's a lot of uncertainty, the people you work with should be able to listen and imbibe the learning.
In the early stages, it's important to hire for Attitude, over skill-sets.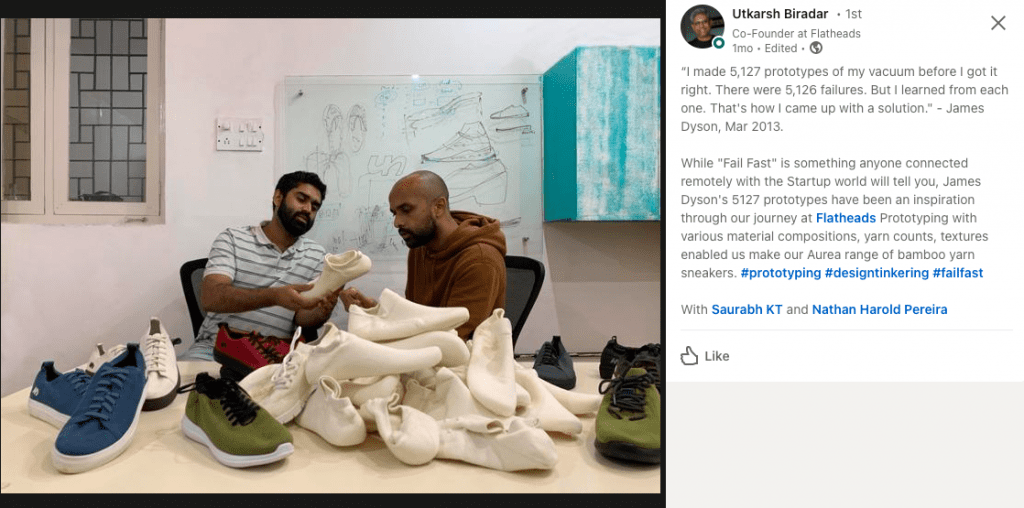 7. Going about Identity change of Flatheads
Everything initially was done internally. The entire marketing team consisted of 2 people, and the entire team decided the tone, the colors, the voice, the palettes, etc based on our hypothesis.
Our first logo stood out but brand flexibility was thin, and the feedback we got, resonated with our thoughts on the logo – it was too thin, and it looked powerful. It would look good on a cufflink but not on a shoe.
Wearability – We wanted the logo to look good on paper, and on the screen. We never thought about how wearable it is. The Swoosh is very wearable, perhaps the most wearable brand in the world, it just goes with any apparel seamlessly.
We onboarded an agency, and that's when we learned about the idea of "Wearable Logos", and one of our intentions was to build for the world, and we wanted our logo to reflect that. Our new logo is quite contemporary, inspired by the Devanagari font, the lines are a lot thicker, our choices of colors, our design, everything was designed to make it come out as happy, positive, and fun.
People often worry about undergoing brand identity changes because they fear being forgotten, but the truth is nobody cares. If you think you can do a better job than before, you should go out, and do it.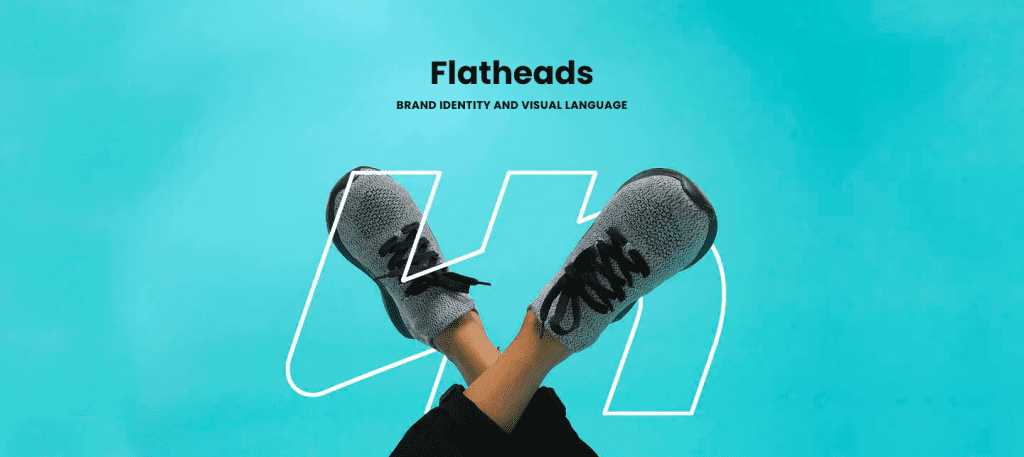 8. What impact does an MBA have on the ability to Freelance, or run a business?
Don't do it right out of college for sure.
I did my MBA from IIM-Bangalore to get into a corporate career. Prior to my MBA, I had been heavily involved in the Engineering aspect of things, and after consulting with a few colleagues who were MBAs, I learned that I needed to do the MBA to learn the business side of things.
The first 5 years of my professional life I picked up a lot of skills, but when I got into the MBA, it gave me a birds-eye view of the entire landscape of business, and a lot of perspective into "Why you are doing, what you are doing?"
It gives you a method to the madness.
9. Advice to someone for their first 5 years of careers –
Don't worry about the money, learn. The money will follow, always.
Find a Good boss – Learning should be fine, new perspectives and learning should be in place. You might not be enjoying it as much, but keep at it.
Take up new tasks – Focus on as much learning as possible.
Your first 5 years have to be purely about learning, and use this time to understand what you like, and use this time as an opportunity to dive deep into everything that comes your way.
Editors Note –
My first interaction with Ganesh was when I made my first purchase with Flatheads, and he was kind enough to expedite the shipping process, and that's when I sensed his obsession for being very customer-centric, and I thought it'd be great to talk to him about his strategies to find, and retain customers.
The 90 minutes I spent interviewing him gave me a lot of insights on the importance of building processes to make your business sustainable, and one of the known ways to achieve this is through being customer obsessed.
Interacting with Ganesh showed me a new side of doing an MBA to develop a method to the entrepreneurial madness that comes along when you're looking to build a business, and I hope the readers find this discussion insightful, and actionable.